Market update
Cointree Crypto Market Update - May 25th 2022

Market report for traders
BTC and alt coins
Trading between the range of AU$43,4975 and AU$42,158 this week, bitcoin sits at AU$41,256 at time of writing, with a drop of 2.91%.  Meanwhile, Ethereum is down 2.82% week on week, landing at AU$2,706. In other altcoin news, Cardano is down 3.2%, Solana also in the red by 6.21%, Avalanche dropped 5.69% while Polkadot decreased by a meagre 0.27%.
Meta and music Web3 fervour
Next level blockchain-integrated internet, aka Web3, is gathering steam from tech goliaths and the music industry alike, as former Facebook, Meta, filed five trademark applications last week suggesting the firm may be eyeing an entry into the crypto payments space. Meta seems to be getting serious about Web3, pivoting to a variety of crypto-related products and services including a crypto wallet and trading service.
Meanwhile, early person-to-person music sharing platform Napster may be getting a new lease on life after Hivemind, a crypto-focused investment firm, recently acquired Napster Group. Napster insiders say it could "revolutionise the music industry by bringing blockchain and Web3 to artists and fans."  In keeping with music pirates of the naughties, LimeWire relaunched this month as an NFT marketplace, maintaining its focus on music-related content, nearly ten years after it was shut down for copyright infringement. The project is already gaining traction and has struck a deal with Universal Music Group to licence content globally through digital collectibles.
Terra Bites
Terraform Labs founder Do Kwon's plan to revive the broken blockchain after stablecoin TerraUSD (UST) lost its peg to the U.S. dollar has sparked optimism in traders. As a result, Luna and UST were up 62% and 25%, respectively on Monday.
As part of Kwon's revival plan,1 billion new Luna coins will be created and distributed among developers alongside pre and post-crash holders of Luna and UST. Post the blockchain's collapse, the future of the Terra ecosystem is questionable at best, but many view it as an opportunity for regulators to look for a comprehensive stablecoin regulation while the blockchain is in self-reflection.
In an effort to salvage their investments, some Luna holders nursing enormous losses are proposing an unorthodox solution to salvage their investments, volunteering to destroy their own coins to partially deflate the supply and prop up the price. Kwon has publicly denounced the effort as, "Literally burning money."
Technician's Take
Bitcoin continues to move sideways
Following weeks of red movement, bitcoin (BTC) continued to move sideways over the past seven days finding support at ~AU42K, and dropping 1.33% to AU$41,904 at the time of writing. This area has remained a key holding area since earlier this month, with bears seemingly unable to push bitcoin's price further down. 
The 20, 50, and 200 EMA (Exponential Moving Averages) are all showing downward trends, yet seem to be stabilising as of now. However, the coming week may be key to understanding bitcoin's next movements, and whether the market will head back into expansion or continue further into consolidation. 
Bitcoin's RSI is approximately at 40% which indicates that it's slightly underbought, while the MACD convergence is showing a slight uptrend indicating that there may be an upswing in price. For now, we're watching to see if bitcoin can break out of its $41K - $45K range for a clear sign of longer change. 
Meanwhile, on the altcoin markets, Fantom (FTM) is up 22.55%, Loopring (LRC) up 14.97%, Tron (TRX) 10.99%, and loan protocol Aave (AAVE) is up 13.34%.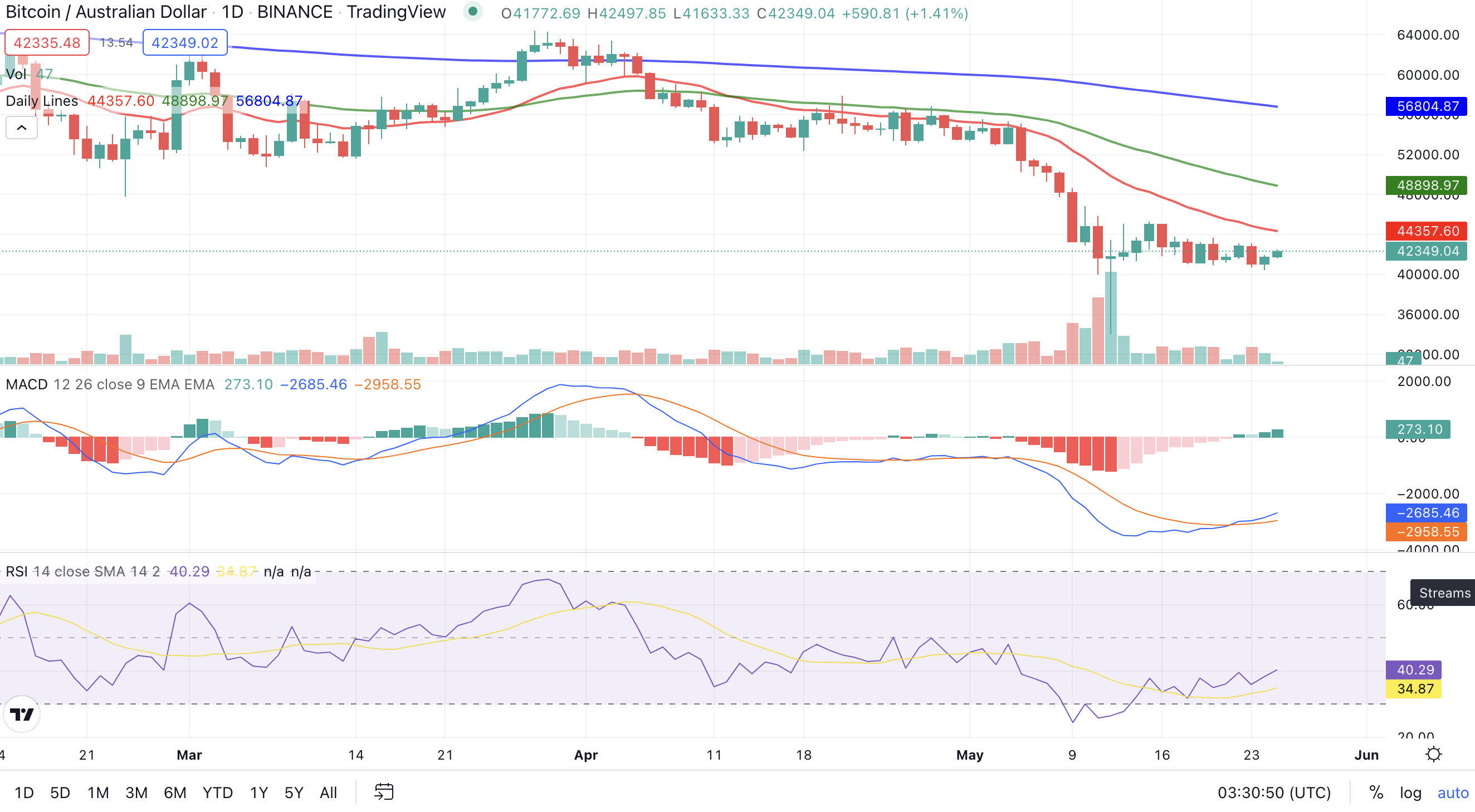 Beginners recap:
Disclaimer: Information provided is for educational purposes and does not constitute financial product advice. You should obtain independent advice from an Australian financial services licensee before making any financial decisions. As cryptocurrencies remain volatile, all prices and percentages may have changed since the time of writing.