Intermediate Series
Top 9 Smart Contract Platforms (Layer-1 Blockchains)

What's the best smart contract platform? Ethereum? Solana? Luna? As high fees on Ethereum pushed investors and users to explore alternative smart contract platforms, those layer 1 blockchains have now built thriving ecosystems. In this article, we explore the top ten smart contract platforms.
What is a layer 1 blockchain? 
Also known as a smart contract platform, a layer 1 blockchain is the base layer for a crypto ecosystem. For example, Ethereum is a layer 1 blockchain that has layer 2 projects built on top of it, including NFT, DeFi and web3 projects. In general, layer 1s act as a settlement layer and provide the security for the network. 
What's the main difference between layer-1 blockchains?
Smart contract platforms compete in three key areas: scalability, security, and decentralisation. It's very difficult to have all three of these areas, and this problem is known as the blockchain trilemma. 
Most smart contract platforms have managed to be strong in two out of three of these areas, but weaker in the remaining area. For example, Ethereum is incredibly secure and decentralised, but lacks scalability. In contrast, Binance Coins lacks meaningful decentralisation, but is still secure and is highly scalable. 
In fact, Ethereum's difficulty in scaling the blockchain led to its high fees and pushed user growth to other platforms where they could transact at lower cost.

As you can see in the graph above, the percentage of Total Value Locked (TVL) in Ethereum has decreased in comparison to other layer 1s. At the start of 2021, 96% of all DeFi TVL was in Ethereum, and by the end of 2021, that figure had dropped to 62%. However, with AU$214 billion TVL, Ethereum still held almost 10x the TVL of the next highest chain. 
As of December 2021, the top five layer 1s with the most TVL are: 
Ethereum - AU$214 billion
Terra - AU$25 billion
Binance Smart Chain - AU$23 billion
Avalanche - AU$16 billion
Solana - AU$15 billion
That activity has impacted the tokens underlying price. While Ethereum's price increased an impressive ~600% over the past 12 months, the growth in other layer 1s was far more impressive. Terra grew ~22,000%, Binance Coin increased ~1,700%, Avalanche is up ~4,100%, and Solana is up ~16,310%. 
So, why have competing layer-1s outgrown Ethereum so much in the past 12 months? 
According to Matthew Sigel, the Head of Digital Assets Research at fund manager VanEck, "The Layer-1s that can promise more transactions per second are starting to get more attention from investors." Essentially, with increased demand for low-cost transactions, users were forced to look beyond Ethereum. 
Now, there are a number of growing layer 1 blockchains that are competing for investments, developers, and users. 
The top 9 smart contract platforms - Preview
Ethereum
Binance Coin
Solana
Avalanche 
Cardano
Polkadot
Algorand
Near 
Cosmos
1. Ethereum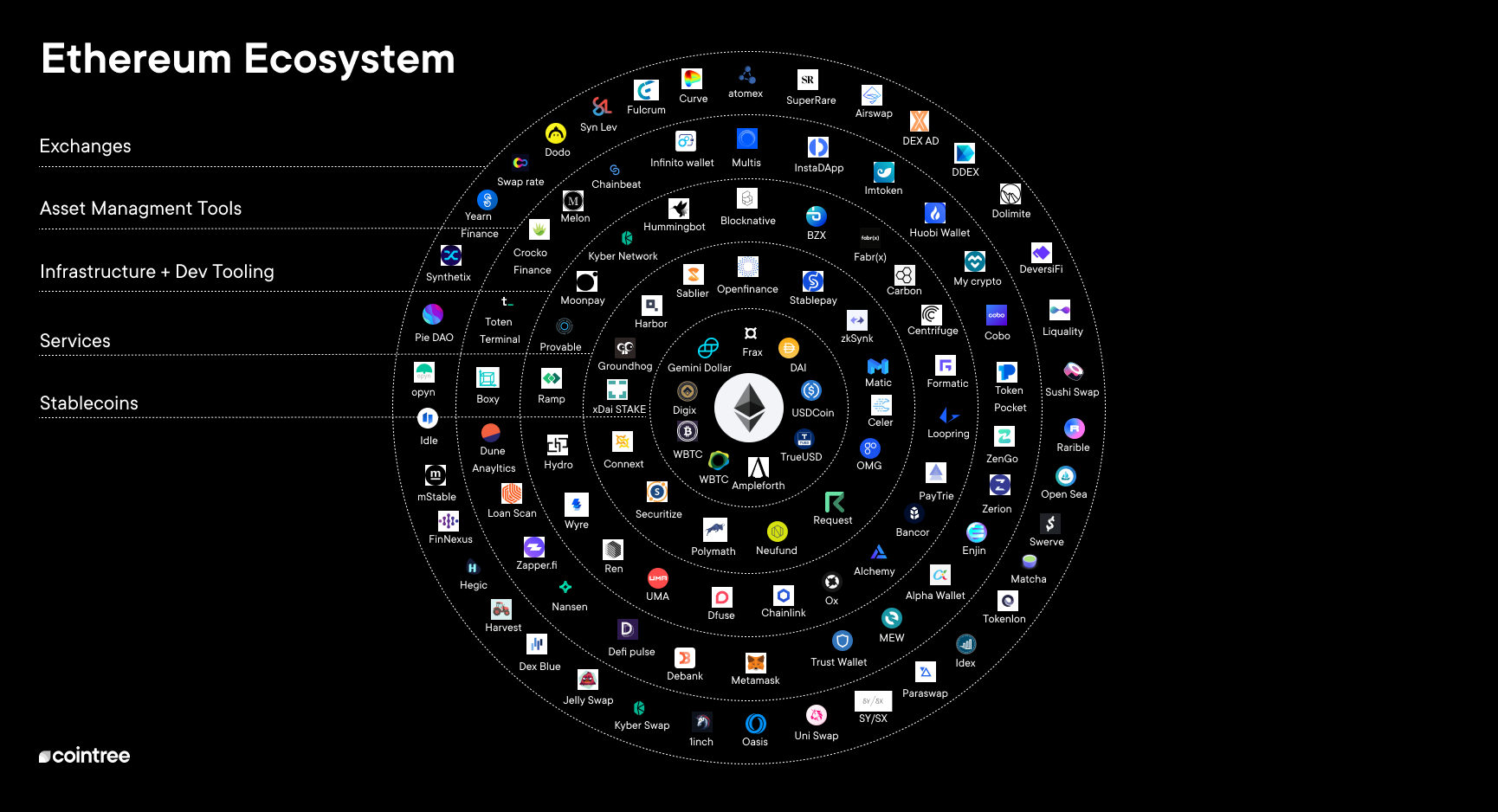 Quick overview
Ethereum was the first smart contract platform. Being the first layer 1, it has established itself as the leader of the pack and has the largest market cap by a factor of 5. 
One of the key things to note about Ethereum is the Ethereum Virtual Machine (EVM). The EVM is the decentralised computer that developers interact with when writing smart contracts on Ethereum. It's important to highlight in this article, as a number of other layer 1 blockchains are EVM compatible, including Binance Smart Chain and Avalanche. 
That means they use the same code as Ethereum and developers can easily deploy their projects across multiple blockchains and strengthen the ecosystem of EVM developers (they all use the programming language Solidity). 
Key features: 
The most decentralised layer 1 blockchain.
The most well-known cryptocurrency after bitcoin.
Thriving ecosystem.
Learn more: 
2. Binance Smart Chain
Quick overview
The Binance Smart Chain is one of the most popular blockchains amongst users. Its low fees make it an attractive chain for people with limited funds and it has received extensive support from the Binance exchange. What it lacks in decentralisation, it makes up for in scalability. 
Key features: 
Highly scalable
Lacks meaningful decentralisation
EVM compatible
Learn more: 
3. Solana
Quick overview
Solana is a high-performance blockchain with some of the fastest transaction speeds of any layer 1, with the goal to hit over 50,000 Transactions Per Second (TPS). That level of throughput could support decentralised applications with hundreds of millions of users. It's secure and scalable, but not as decentralised as Ethereum. 
Key features: 
High performance
Fast adoption
Web3 compatible
Learn more: 
4. Avalanche
Quick overview
Avalanche has the fastest time to finality, the moment when you can trust that a transaction cannot be reversed. This is thanks to its breakthrough consensus mechanism. Also, it requires minimal hardware to run a node, making it more decentralised than most layer 1 platforms. 
Key features: 
Blazingly Fast
>4,500 TPS
EVM compatible
Learn more: 
5. Cardano
Quick overview
Cardano's long-term vision is to empower those who need it most with a more inclusive, secure, scientific-based technology standard. Cardano aims to redistribute power from unaccountable structures to the margins – to individuals. Notably, the founder of Cardano, Charles Hoskinson, was also a co-founder of Ethereum. 
Key features: 
Uses peer-reviewed research
Evidence-based methods
Learn more: 
6. Polkadot
Quick overview
Created by Gavin Wood, another Ethereum co-founder, Polkadot uses parachains to create an internet of blockchains. Essentially, multiple blockchain projects are built on top of the Polkadot blockchain and can exchange data and information.
Key features: 
Interoperable ecosystem
Multi-chain architecture
Learn more: 
7. Algorand
Quick overview:
Algorand is focused on the future of finance, looking to grow the decentralised finance economy by replacing traditional financial models. Already, they've seen growth across a number of industries and have raised hundreds of millions of dollars to grow the ecosystem. 
Key features
Award-winning team
Decentralised finance focused
Learn more: 
8. NEAR Protocol
Quick overview
The Near protocol is a layer-1 blockchain aiming to be the base of the emerging web stack. With a sharded proof-of-stake design, it's highly-scalable and low-cost solution is set to compete with Ethereum and Polkadot.
Key features: 
Web3 focused
Highly scalable 
Learn more: 
9. Cosmos
Quick overview
Cosmos is an ever-expanding ecosystem of interconnected apps and services, built for a decentralized future. Notably, Binance Smart Chain and Terra are built with Cosmos technology. Many networks are choosing to build on Cosmos because it's easy for them to scale and they can interoperate with each other. 
Key features: 
Internet of blockchains
Thriving ecosystem
Highly scalable
Learn more: 
What comes next? Layer 2 vs 'Ethereum killers'
The incredible growth in layer 1 blockchains that we've seen on Cointree reflects the demand for blockspace as the dApp ecosystem and user adoption grows. While Ethereum's fees remain high, the move towards competing smart contract platforms appears set to continue. However, as Ethereum's layer 2 ecosystem makes fees cheaper and the user experience improves, some investors see potential for the Ethereum ecosystem to win back some of the lost market share. Regardless, many crypto investors will be watching closely as it's sure to impact their portfolio growth either way.
Start now.