Market update
Cointree Crypto Market Update - October 19th 2022

Market report for traders
BTC and altcoins
Over the last seven days, bitcoin has fallen 0.83% to AU$30,184 at the time of writing. Meanwhile, Ethereum is up 0.87% at AU$2,005 week-on-week. And in other altcoin movements, Cardano is down 5.17%, Solana fell 2.05%, and Avalanche dropped 0.27% while Polkadot contracted 0.30%.
What's happening in the world of crypto?
While the market may be feeling cold right now, there's still a ton of activity in the crypto-sphere with web3 developers reporting larger volumes of work in the space, some even saying it's the "biggest year yet".
We've seen the Merge, new token listings, NFT games and greater exploration by organisations in the space. But it's not stopping there…
Ethereum developers have already moved on from the Merge and can start testing out their next upgrades to the protocol on the new "Shandong" test network - the testnet for the Shanghai upgrade which is expected next year.
And a new layer-1, Aptos, has bombed after it debuted on a handful of exchanges, with the crypto community erupting in criticism of the project. The network had received a lot of hype in the lead-up to its launch, however the release of its tokenomics overview left many sceptical of the project.
Have layer-1s missed the boat at this stage? Or is it just a case of poor timing? You can read more on layer-1s here.
Project news:
Offchain Labs acquires core Ethereum Merge team, Prysmatic Labs
NFT Marketplace OpenSea now supports Avalanche
Google now shows Ethereum wallet balances
Technician's Take
🔔 Alert Ideas are presented throughout to help identify key levels of interest that may signify significant shifts in market performance. Cointree members can set a price alert directly from their Cointree account.
Weekly chart - Bitcoin has been holding above AU$30,000
Bitcoin (BTC) has been able to stay above AU$30,000 except for one day when it dropped to AU$29,500 before quickly bouncing back to close above AU$30,000.
Daily chart - Bitcoin is ranging between AU$29,500 to AU$31,400
In the last seven days, Bitcoin (BTC) has been ranging from AU$29,500 to AU$31,400 with below-average volume. The daily candles have also shown less activity, and less volatility with the Average True Range (ATR) which dropped from 3.49 to 2.62. This shows that prices are still consolidating and moving sideways.
For the bulls, BTC has managed to stay above its 21 day Exponential Moving Average (EMA) and 50 day Simple Moving Average (SMA). The 200 day SMA is getting closer to the current price and is sitting at AU$37,000. A break above 200 SMA would signal the start of a bull market.
For the bears, BTC needs to drop below its 21 EMA and 50 SMA at AU$30,000. It also needs to break the support area between AU$27,000 and AU$28,000 that have been proven very strong since June.
The weekly stochastic has continued its uptrend momentum from the start of October 2022.
🔔 Alert Ideas breaking above 200 SMA of AU$37,000 could indicate an uptick in bull activity, suggesting potential market strength and recovery.
Key:
50 Simple Moving Average (SMA), blue line
200 Simple Moving Average (SMA), black line
21 Exponential Moving Average (EMA), red line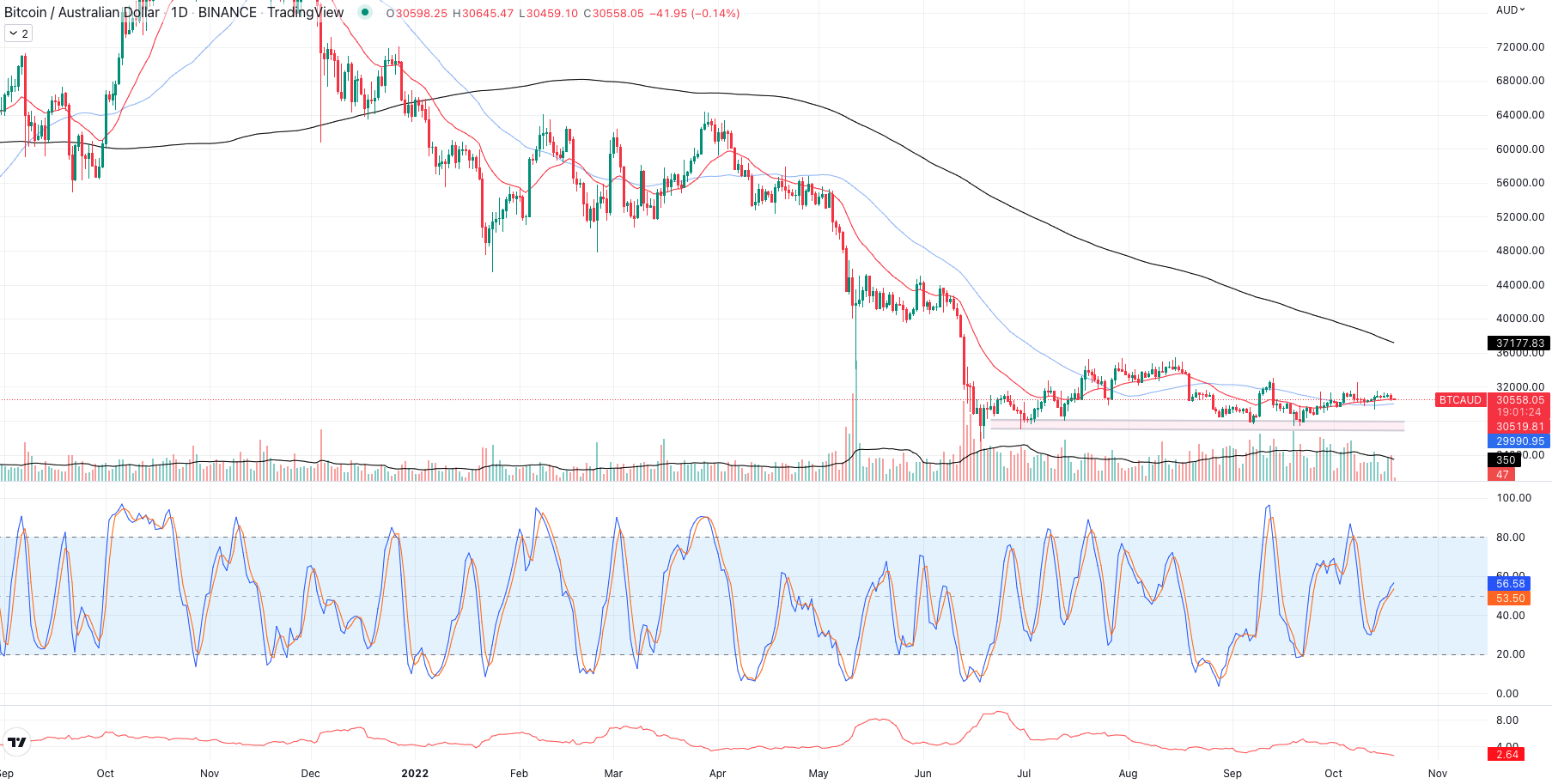 Beginners recap
Bitcoin has managed to stay above AU$30,000
Bitcoin needs to break above AU$37,000 to start the bull market.
Disclaimer: The information provided is for educational purposes and does not constitute financial product advice. You should obtain independent advice from an Australian financial services licensee before making any financial decisions.