Market update
Cointree Crypto Market Update - June 1st 2022

Market report for traders
BTC and alt coins
In case you haven't heard, bitcoin has bounced. After weeks of sideways action, bitcoin's movement rallied to AU$44,784, at time of writing; an increase of 8.04% over the last seven days. Meanwhile, Ethereum is up 7.00% week on week, landing at AU$2,609. In other altcoin movements, Cardano is up 28.51%, Solana also up 4.30%, Avalanche increased 13.20% while Polkadot rallied 11.43%.
Could this be the turning point? 
Bitcoin, the 10th largest asset by market valuation, broke above a short-term downtrend over the past few days, pushing through AU$44,000 at the time of writing. The king of crypto is now experiencing a relief bounce after several weeks of red on the charts. Still, there is likely resistance to be seen at the $45K level which you can read more about in our Technician's Take.
The Terra returns
Following a Friday delay, the new Terra (LUNA) blockchain began producing blocks on Saturday in an attempt to relaunch its ecosystem following a spectacular failure that erased billions of dollars in market value.
The old chain has been renamed Terra Classic, and its native token, Luna Classic (LUNC). Meanwhile, unlike the failed terraUSD (UST) stablecoin in the previous ecosystem, the new Terra ecosystem does not include an algorithmic stablecoin which caused some analysts to question its value proposition. Regardless of its value proposition, many of the original Terra chain's Dapps (Decentralised Applications) have already committed to migrating to the new chain. Since launching, the token has surged 40%.
Technician's Take
Bitcoin continues to move sideways
With bitcoin finding a relative bottom at ~ AUD $39,500 it has bounced nicely over the last 24 hours and had three days in the green which has been nice to see after the last few weeks. Interestingly the volume has been nothing to write home about, so this may be the sign the sellers have dried up.
MACD continues on a bullish cross but has shown a sharper divergence given the last couple of days. RSI is almost smack bang in neutral territory at 50. 
With the price hovering near the current resistance of ~AUD $45k the next 24 hours could be very telling as to where BTC may go in the near term. Either it retreats and starts ranging in the aforementioned range, or if it breaks the new resistance then we may well see it hunt for the previous AUD $53k level, unless of course it decides May/June is the time to range between AUD $39k and $53k as it did this time last year.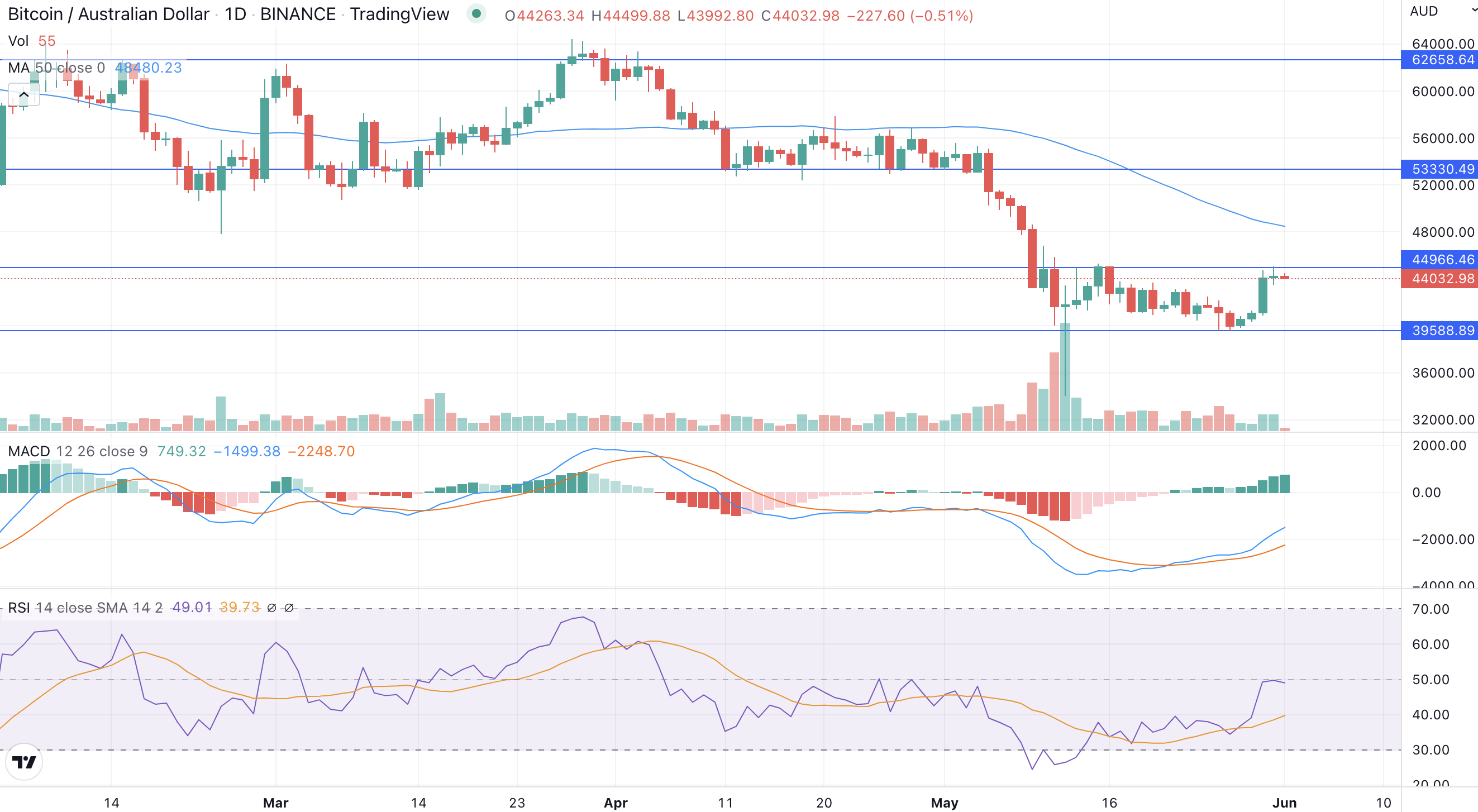 Hopefully we will see it push through this level as the price has generally not liked this zone, with very few exceptions. 
Global markets and the present geo-political situation seems to continue to influence the market with many investors a little more cautious. The news from this week's G7 about crypto regulation will add some more confidence for investors so it will be a development to watch closely.
Beginners recap:
Disclaimer: Information provided is for educational purposes and does not constitute financial product advice. You should obtain independent advice from an Australian financial services licensee before making any financial decisions. As cryptocurrencies remain volatile, all prices and percentages may have changed since the time of writing.