Market update
Cointree Crypto Market Update - December 22nd 2021

Market report for traders
What's happening in the market?
The final update for 2021! 
What a year! We've seen bitcoin become legal tender in El Salvador, mass adoption of DeFi and NFTs, and all-time highs across the board. While this update is our last for the year — we'll be back in your inbox from the 5th of Jan. Now, onto the news from this week. 
Terra overtakes Binance Smart Chain in TVL
While bitcoin dipped slightly, it's in almost the same spot as it was a week ago at AU$67,701. Most other top coins have been relatively stable, although Terra and Avalanche continued their strong runs, increasing 63% and 50% respectively. 
Terra's growth has made it the second-largest decentralised finance (DeFi) protocol, overtaking Binance Smart Chain. According to DeFiLlama, the total value locked (TVL) on Terra has increased to AU$26.7 billion, compared to Binance Smart Chain with AU$23.5 billion. Although that's still far less than Ethereum's AU$215 billion of TVL. 
As Ethereum 2.0 gets closer, the Ethereum community has launched the Kintsugi testnet so that developers and users can prepare for the upgrade. Interestingly, the name Kintsugi comes from the Japanese art of mending broken pottery with gold, an appropriate metaphor as Ethereum is expected to become a more valuable asset after the move from proof-of-work to proof-of-stake. 
Continuing the layer 1 development, parachains on Polkadot have gone live. Parachains are project-specific blockchains in the Polkadot ecosystem and support the web3 vision of interoperable blockchains. 
What's next for the future of crypto?
In the meantime, check out our latest article on the future of crypto. We spoke with Reef CEO, Alepheum CEO and some venture capitalists to bring you a collection of expert predictions on the future of DeFi, the metaverse and entire crypto space.
Technician's Take
Bitcoin finds support
While bitcoin (BTC) is still on a downward trend, it has been rejecting off of the 200 day Moving Average (MA) and has started a small uptrend. However, there is plenty of news pulling the market sentiment in different directions and causing some indecision. 
Personally, my big takeaway is that institutions are still accumulating, not dumping their holdings. Furthermore, supply remains very much finite with just 10% of the total supply left to be mined, which means scarcity could continue driving the price up. After all, supply vs demand are tenants of the economy.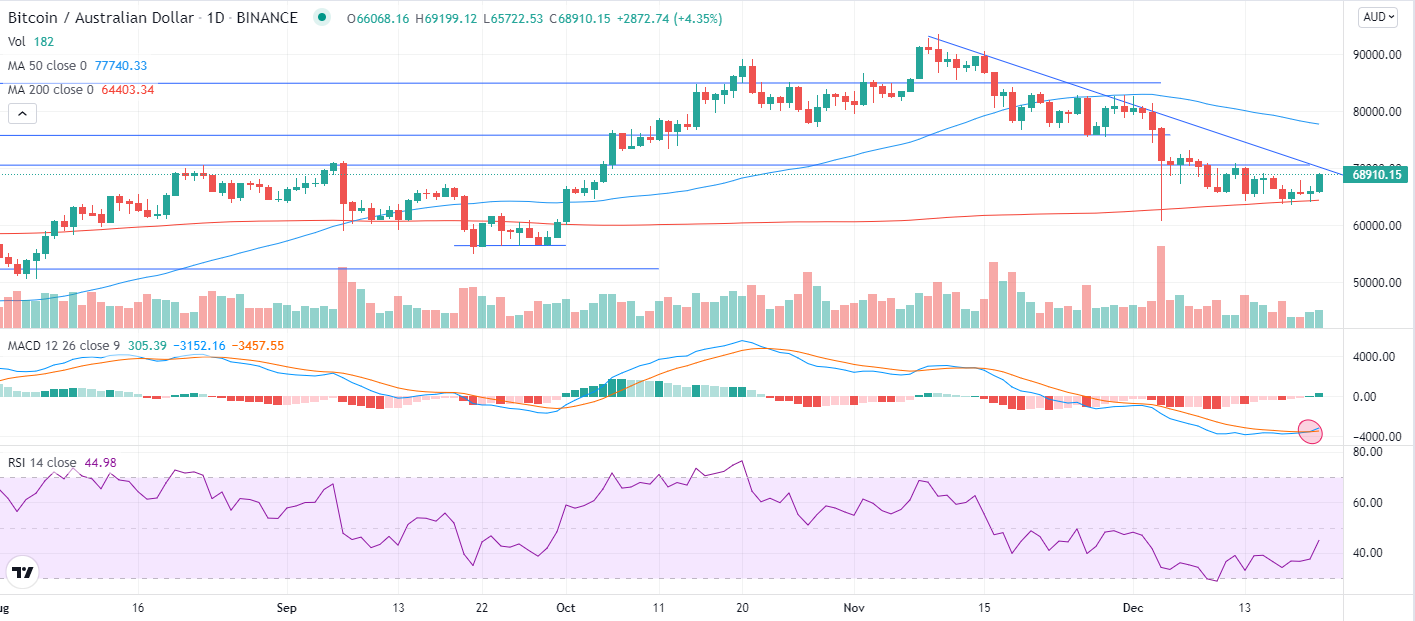 The Moving Average Convergence Divergence (MACD) has made a bullish cross with Relative Strength Index (RSI) still in oversold territory. From here I'm watching for a break of the descending triangle formation, which would signal a bullish move.
Beginners recap:
Disclaimer: Information provided is for educational purposes and does not constitute financial product advice. You should obtain independent advice from an Australian financial services licensee before making any financial decisions.\ As cryptocurrencies remain volatile, all prices and percentages may have changed since the time of writing.