Market update
Cointree Crypto Market Update - November 17th 2021

Market report for traders
What's happening in the market?
Bitcoin drop off from all-time highs creates opportunities for bounce trades?
Both bitcoin and Ethereum are now down ~10% from last week's all-time highs, dropping 8% in the past two days. Bitcoin is sitting at AU$83k while Ethereum is at AU$5.8k. 
What's next for bitcoin? Looking at the short-term, while there may be some further panic selling, our technician is looking for bounce trades in the support and resistance zones.
Crypto fund overtakes gold ETF as inflation concerns rise
With inflation rising, investors are increasingly turning to crypto over gold. In a momentous moment for the crypto industry, Grayscale's total assets under management, which include both bitcoin and Ethereum, has surpassed that of the world's largest gold ETF. Interestingly, large institutions have been investing in Ethereum at a faster rate than bitcoin, perhaps in anticipation of Ethereum 2.0. 
Bitcoin Taproot upgrade goes live
Looking beyond the financial flows, Bitcoin's long-awaited Taproot upgrade has gone live. Taproot improves the privacy, scalability, and security of the network. The key innovation of the upgrade is 'Schnorr', a new digital signature scheme that makes Bitcoin smart contracts more lightweight and complex. One key advantage is that multi-signature transactions will be cheaper and use less data.
Twitter, Reddit and Discord look to build crypto teams
It was a big week for social media sites looking to enter the crypto space. Twitter announced they are building a crypto team to focus on web3 and Reddit is hiring engineers to build an NFT platform. 
Discord's CEO also announced they are working on integrating crypto into their platform, and although he paused the project following some community pushback, he remains "Excited about the potential for web3 technology and the positive ways these communities are coming together on Discord."
Technician's Take
Bitcoin down 8% over the last two days
After some strong moves over the last few weeks, bitcoin (BTC) has taken a rather rapid descent from ~AU$91k to AU$82k in two short days. So what does that mean for bitcoin from a technical perspective?
The first thing I'll point out is if you look back at last week's column, I noted the possible formation of a bullish evening star formation. This was verified and the price did exactly what the price (usually) does in such a scenario; go down.
One thing to note is the second red circle I've drawn on the chart for today's candle. Notice this nice long wick at the bottom? This shows that while the bulls have pushed the price down to AU$80,490, the buyers have stepped in and started buying — causing the price to move back up.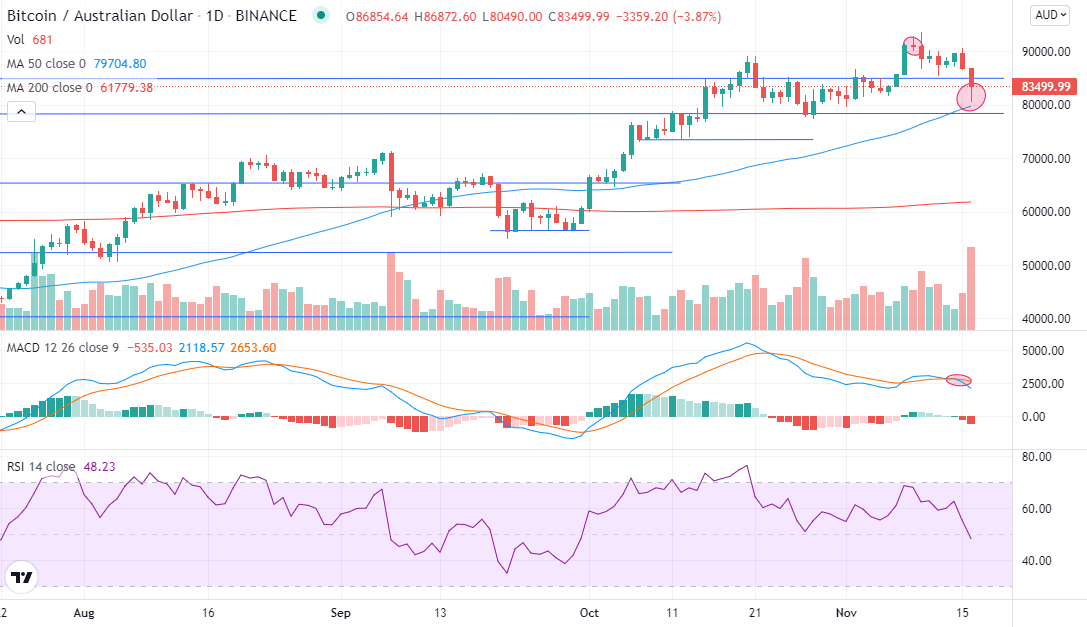 This is interesting for a very particular reason that we have not mentioned in this column previously; human psychology. While automated trading systems are actively trading in all markets, cryptocurrency included, humans are still large participants in these markets. And we bring subtle behaviours that are almost programmed into us. 
In this case, it's round numbers! If you look at the last candle on the chart above, you will see that as soon as the price got to $80,500, the buyers stepped in. While the $80,500 level closely corresponds to the top of the last brief dip, no human will generally go "OK, I'll buy at $80,492.63." Rather, they'll instinctively round it up to $80,500.
Psychological trading levels can be just another tool in your trading tool belt, especially when also looking at support and resistance.
Looking at the other indicators, Moving Average Convergence Divergence (MACD) has made another bearish cross and Relative Strength Index (RSI) is quickly moving towards oversold. While I wouldn't rule out some more panic selling on any negative moves, I will most definitely be looking for bounce trades in those support and resistance zones.
Beginners recap:
Disclaimer: Information provided is for educational purposes and does not constitute financial product advice. You should obtain independent advice from an Australian financial services licensee before making any financial decisions.