Market update
Cointree Crypto Market Update - November 10th 2021
Market report for traders
What's happening in the market?
Australia's crypto adoption continues 
In another massive week for crypto, bitcoin (BTC) and Ethereum (ETH) set all-time highs once again. BTC passed AU$92k and ETH passed AU$6.5k. 
Australia's Commonwealth Bank announced they will be rolling out a crypto service, and Blockchain Australia's CEO, Steve Vallas, expects that other Australian banks will offer crypto services as well. 
Meanwhile, the first crypto-related ETF listed on the Australian Securities Exchange shattered expectations by breaking the trading volume record within only 15 minutes of its launch. 
Will Zimbabwe be the next country to legalise bitcoin?
The government of Zimbabwe is reportedly considering adopting Bitcoin as a legal form of payment. That would make them the second country to make bitcoin legal tender, following El Salvador. 
The news broke when Zimbabwe's Head of e-government Technology Unit announced they were already consulting with the private sector about the move. With remittance payments accounting for 7.2% of GDP, there is a clear incentive to adopt the low-fee peer-to-peer digital currency. 
Solana passed AU$100 billion market cap
Earlier this week, the market cap for Solana passed AU$100 billion as it hit new all-time highs. The growth has been spurred on by significant investments in the Solana ecosystem. 
Firstly, Reddit's co-founder Alexis Ohanian announced he will be investing AU$135 million in social media on Solana. Secondly, a group of venture funds are launching an AU$135 million fund for web3 gaming on Solana. Thirdly, Neon Labs have raised $54 million to bring Ethereum Virtual Machine (EVM) capability to Solana. Finally, the crypto analysis company Nansen announced they will be bringing intelligence tools to Solana early in 2022.
As the Solana community says, the future looks bright. Check the latest SOL price now.
Technician's Take
Bitcoin hits another ATH!
There is no denying that bitcoin (BTC) has gone #BeastMode with its latest move over AU$91k and crypto hitting an AU$4.1 trillion dollar market cap.
After a very short consolidation period, BTC made a solid move through the AU$85K resistance level and pushed through it convincingly. With an uptick in volume, we could see some more exciting action from here.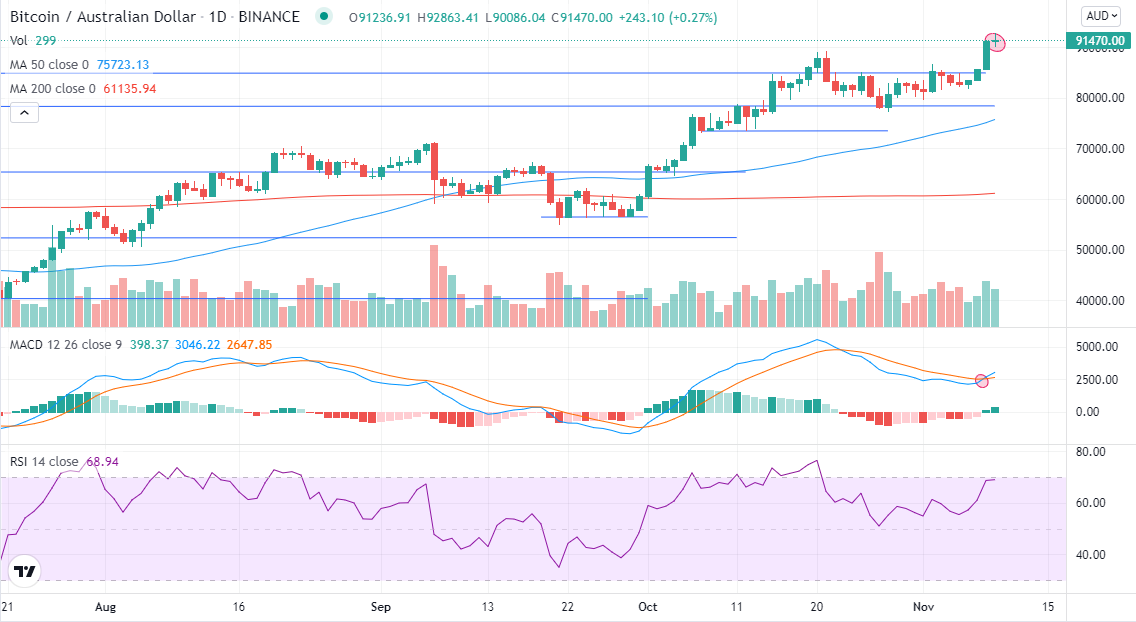 Moving Average Convergence Divergence (MACD) has made another bullish cross and Relative Strength Index (RSI) is just hovering below the overbought zone. Although given the current momentum, a cross into the overbought range may have a negligible impact on the price.
What I'm watching for here is confirmation of a further uptrend or a possible reversal. While the candle hasn't closed, we could be looking at an evening star formation, which would signal a possible reversal. Should a reversal happen, I'll be looking at the previous support and resistance levels for more bounce trades. If we continue on this strong push upwards, well then hold on to your seats! 
Beginners recap:
Bitcoin (BTC) hits another all-time high (ATH)
Moving Average Convergence Divergence (MACD) made a bullish cross
Relative Strength Index (RSI) is hovering just below the overbought range, but an entry into overbought may not see too much of an adverse effect on the price
Disclaimer: Information provided is for educational purposes and does not constitute financial product advice. You should obtain independent advice from an Australian financial services licensee before making any financial decisions.