Market update
Cointree Crypto Market Update - December 7th 2022

Market report for traders
🪙 BTC and altcoins
Over the last seven days, bitcoin has inched up 1.98% to AU$25,136 at the time of writing. Meanwhile, Ethereum has fallen 1.47% at AU$1,860 week-on-week. And in other altcoin movements, Cardano has lifted 0.53%, Solana gained 4.17%, while Avalanche and Polkadot recovered 4.88% and 0.86% respectively.
🗞 What's happening in the news?
It's been a bitterly cold winter for a lot of markets and the crypto space as a whole. And while bitcoin has had a beating, it pays to step back and take a look at the bigger picture. Take shares in Meta for example, the tech company's share price is down 64% over the last year, on par with bitcoin's price movement. 
A key difference however is that Meta's price now sits equivalent to its 2015 value, whereas bitcoin is more in line with its 2018 price. So is bitcoin more resilient than Meta? 
The data may suggest so… But what most investors really want to know is when can we call the bottom?
Capriole Investments fund analyst Charles Edwards is confident that the market will provide Bitcoiners with "extraordinary opportunity." 
In a recent Twitter thread, Edwards reveals a series of on-chain signals that make a compelling case for a crypto bear market bottom.
It's not just Charles talking about the bear market bottom, in a new interview on Stansberry Research, Bloomberg commodity strategist Mike McGlone said that he "think[s] we're in the final stages of this bear market for cryptos, but it's not going to be easy" and that he believes Ethereum (ETH) will come out ahead due to the smart contract platform's solid fundamentals.
Still, if you err on the side of caution, you could follow the advice of Jim Cramer who says "it's never too late to sell an awful position"… Wonder if he shared that view after pushing people to buy shares of Meta only for it to come crashing down to it lowest level in six years…
Of course, Ethereum's creator, Vitalik Buterin is optimistic about the space and Ethereum, he published a blog this past week covering all the reasons he is excited about Ethereum, referring to stablecoins, DAOs, DeFi and more.
What do you think? Is the bottom in? Or is there more bearish movement to come? Let us know on Twitter.
💻 Project news:
Warner Music, Polygon and LGND.io partner to launch Web3 music platform
Watchmaker Timex partners with Bored Ape Yacht Club to announce its first-ever collection
Ankr protocol has been hacked, with $5.5M of liquidity drained from BNB
✍️ Technician's Take
🔔 Alert Ideas are presented throughout to help identify key levels of interest that may signify significant shifts in market performance. Cointree members can set a price alert directly from their Cointree account.
Weekly chart - Bitcoin is above AU$25,000
Bitcoin (BTC) has been close to breaking resistance of AU$25,600 with bullish momentum.
Daily chart - Bitcoin has sneaked in past 21 day EMA
Bitcoin (BTC) has managed to close above the 21 day Exponential Moving Average (EMA) at AU$25,500 for the first time since the big drop on the 8th of November following to FTX collapse.
BTC has made higher highs and lower lows in the last seven days but the volume has remained light with a continued decrease in volatility. The Average True Range (ATR) has dropped from 4.53, 2.63 and 1.98 in the last three weeks.
For the bulls, the recent action looks healthy. The next price target is to move above the 50 day Simple Moving Average (SMA) of AU$27,700 and 200 day SMA at AU$31,300 with above average volume to prove that the accumulation has been met with more buyers.
For the bears, they may want to argue that the uptrend may not be sustainable due to below average volume. The critical support level of AU$23,400 needs to be broken to prove that BTC could go lower. However, the daily RSI (Relative Strength Index) has continued to be bullish in the uptrend momentum increasing from 32, 43 and 48.
🔔 Alert Idea breaking above resistance of AU$25,500 could indicate an uptick in bull activity, suggesting further strength.
Key:
50 Simple Moving Average (SMA), blue line
200 Simple Moving Average (SMA), black line
21 Exponential Moving Average (EMA), red line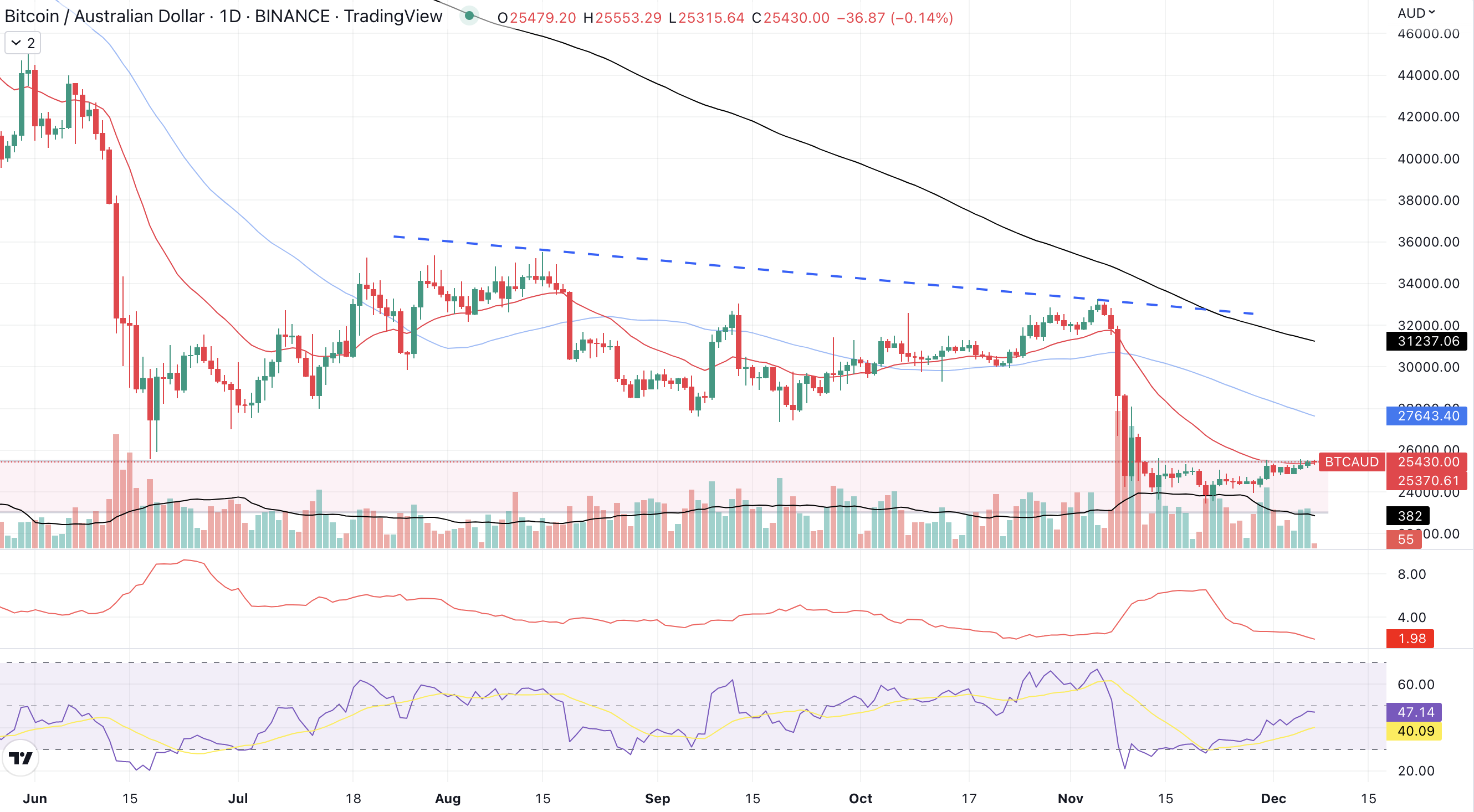 Beginners recap
Bitcoin has managed to move above AU$25,000
Bitcoin continued its uptrend in the last three weeks
Disclaimer: The information provided is for educational purposes and does not constitute financial product advice. You should obtain independent advice from an Australian financial services licensee before making any financial decisions.