Market update
Cointree Crypto Market Update - November 23rd 2022

Market report for traders
BTC and altcoins
Over the last seven days, bitcoin has fallen 0.87% to AU$24,381 at the time of writing. Meanwhile, Ethereum is down 2.99% at AU$1,688 week-on-week. And in other altcoin movements, Cardano has dropped 2.40%, Solana retracted 2.86%, while Avalanche and Polkadot fell 0.10% and 4.94% respectively.
What's happening in the world of crypto?
The fallout from FTX continues to ripple throughout the industry, with the latest reports coming in that the Digital Currency Group (DCG), which includes digital prime brokerage service Genesis, asset manager Grayscale, digital asset exchange Luno, and news website CoinDesk, may be in financial strife. 
Genesis has spent the last several days trying to raise US$1 billion in funds after its lending unit paused withdrawals in the wake of crypto exchange FTX's bankruptcy filing, and revelations arose that the trading arm had exposure of US$175M.
This bled out to the exchange and stablecoin issuer, Gemini, who also suspended withdrawals. They had earlier stated no exposure to FTX, however, they had exposure to Genesis, who had exposure to FTX.
Now speculation has surfaced as to where DCG will secure the funds they need to survive and avoid bankruptcy. 
Binance reportedly turned down a request to invest and DCG has said they "... have no plans to file bankruptcy imminently," so where will the funds come from?
It's likely DCG will need to sell off parts of DGC or liquidate some of its assets, which has some worried these could come from the Grayscale Bitcoin Trust (GBTC) - the world's largest bitcoin fund. 
Grayscale refused to show any proof-of-reserves for GBTC on Friday, sparking shares in the fund to plummet sharply and trade at a 45 per cent discount to its Net Asset Value - the underlying asset, bitcoin.  
While this all paints a rather dark picture for DCG, these events are common in a crypto winter and similar events have taken place over the past few cycles. To some, they're serving as a sign of warmer days while those new to the market are learning about the importance of protecting their investment.
If you'd like to learn more about keeping your crypto safe, read our guide here. 
Project news:
Technician's Take
🔔 Alert Ideas are presented throughout to help identify key levels of interest that may signify significant shifts in market performance. Cointree members can set a price alert directly from their Cointree account.
Weekly chart - Bitcoin reached AU$23,400
Bitcoin (BTC) has continued to move lower and reached as low as AU$23,400
Daily chart - Bitcoin is going sideways within its market structure
Bitcoin (BTC) has broken last week's support of AU$23,700 to drop as low as AU$23,400 with lower than average selling volume before bouncing back-up. The volatility has also reduced due to lower than average volume as shown by The Average True Range (ATR) moving from 6.53 to 4.53 and with smaller candle bars.
For the bulls, BTC is still holding its market structure between AU$23,000 to AU$25,000. It needs to break its resistance at AU$25,000, 21 day Exponential Moving Average (EMA) and 50 day Simple Moving Average (SMA) with above-average volume to put the bulls back in the driver's seat.
If you believe that this is the bottom then AU$24,000 could be an attractive price to start on your DCA (Dollar Cost Averaging) strategy given that BTC has dropped 74% from its high of AU$94,000.
For the bears, BTC is still in its downtrend which is shown by lower lows and lower highs. If BTC continues this downtrend pattern then it would go lower. Especially if it breaks the support of AU$23,400 with above-average volume. 
There has not been much change in the daily RSI (Relative Strength Index) which is hovering around 32-33 which means there is not much momentum. The next major support is at AU$23,400, we will need to pay close attention to see if a break below this is a fake-out or a real break.
🔔 Alert Ideas breaking below the resistance of AU$23,400 could indicate an uptick in bear activity, suggesting further weakness.
Key:
50 Simple Moving Average (SMA), blue line
200 Simple Moving Average (SMA), black line
21 Exponential Moving Average (EMA), red line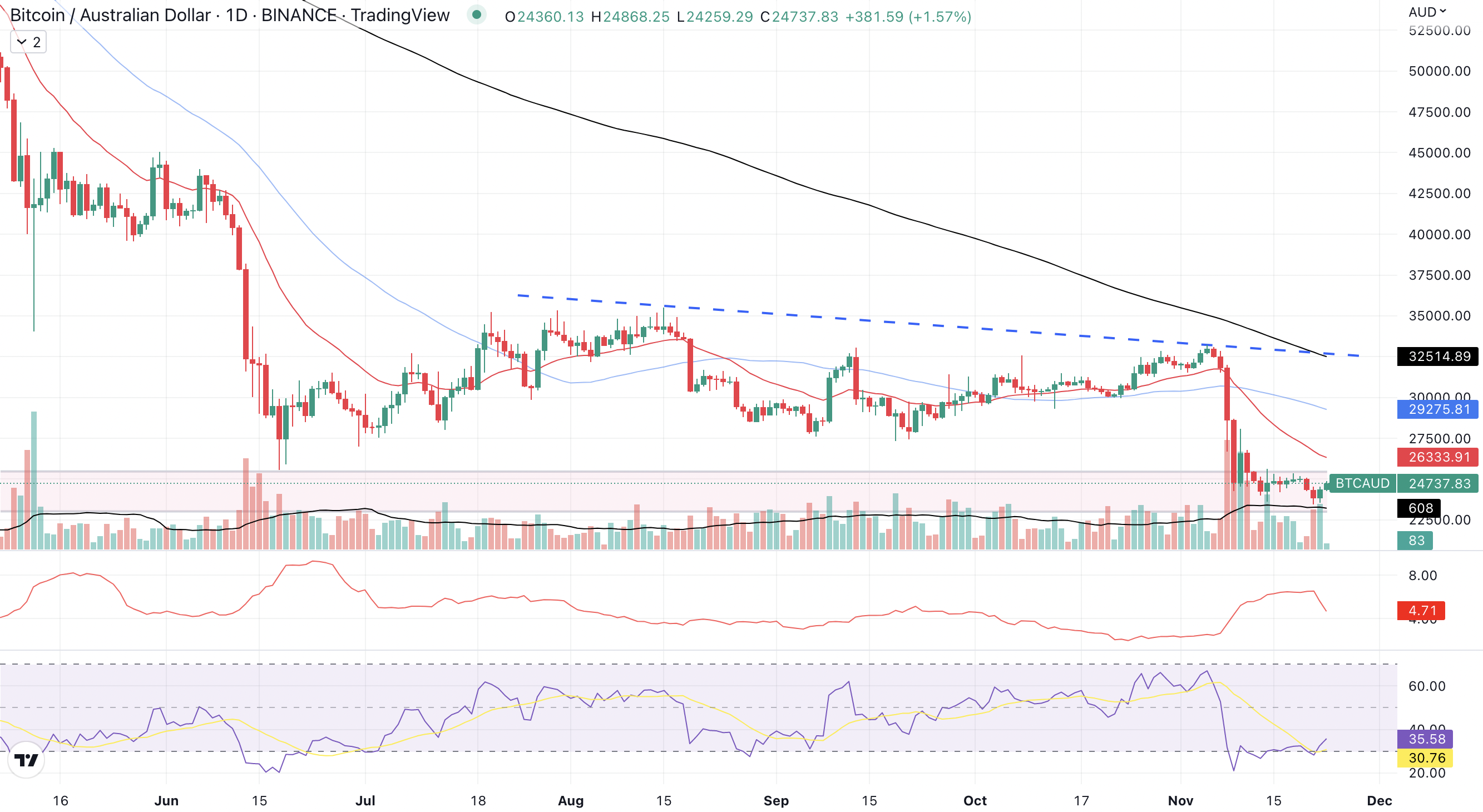 Beginners recap
Bitcoin dropped to as low as AU$23,400
Bitcoin had dropped 74% from its high of AU$94,000
Disclaimer: The information provided is for educational purposes and does not constitute financial product advice. You should obtain independent advice from an Australian financial services licensee before making any financial decisions.