Market update
Cointree Crypto Market Update - November 2nd 2022

Market report for traders
BTC and altcoins
Over the last seven days, bitcoin has gained 1.91% to AU$31,715 at the time of writing. Meanwhile, Ethereum is up 5.71% at AU$2,413 week-on-week. And in other altcoin movements, Cardano has climbed 4.02%, Solana rallied 6.09%, while Avalanche and Polkadot climbed 10.20% and 2.67% respectively.
What's happening in the world of crypto?
The last seven days have seen a huge rally for meme-coin, Doge with its price rallying 84.98%. But was it Elon Musk's cryptic Halloween Tweet that drove the price movement? 
Well perhaps… It might help to dive into what is happening beneath the surface to better understand. 
It's true, Musk's Tweets have often played a huge role in crypto rallies, except leaked SMS reveal Musk has larger plans for his newly acquired social media platform and his beloved meme-coin. 
A Twitter thread has documented SMS conversations between Musk and a number of notable people about his potential plans for Twitter to become a decentralised social media platform… Musk even mapped out a Plan B that would see users paying to Tweet with the cryptocurrency. 
Still, the conversation of Twitter becoming decentralised is nothing new. Sam Bankman-Fried had some "rambling thoughts" on it in a Twitter post in early April. Wonder if they were directed at Mr Musk?
And in other news, Ripple has just gained the support of US crypto exchange Coinbase in the US Securities and Exchange Commission (SEC) lawsuit over XRP. 
The exchange was one of the first to delist the asset when the SEC lawsuit began but its new filing argues that the absence of a regulatory framework should give Ripple "a robust fair notice defence..."
An answer in the lawsuit isn't expected until early 2023. This filing however makes a strong stance for the case of crypto needing proper regulation before enforcement.
Project news:
Arbitrum DeFi TVL surpasses Solana network
Binance reveals Chainlink competitor – Binance Oracle
Layer 2 solution Boba Network integrates with BNB Chain
Technician's Take
🔔 Alert Ideas are presented throughout to help identify key levels of interest that may signify significant shifts in market performance. Cointree members can set a price alert directly from their Cointree account.
Weekly chart - Bitcoin resistance at AU$33,000
Bitcoin (BTC) has not able to break its resistance at AU$33,000 since mid-September 2022.
Daily chart - Bitcoin is in an uptrend but volatility has increased
In the last seven days, bitcoin (BTC) has been ranging from AU$31,300 to AU$32,900 with above-average volume and increased volatility. The volatility has been shown by The Average True Range (ATR) which increased from 2.15 to 2.40.
For the bulls, things are moving nicely to the upside, it's the third week BTC has continued to stay above its 21 day Exponential Moving Average (EMA) and 50 day Simple Moving Average (SMA).
Above-average buy volumes pushed BTC to AU$32,900 but it appeared that some buyers were taking profit around this level, and then below-average sell volume pushed the prices down to AU$31,700.
Since then, it seems that BTC is heading down towards its 21 EMA at AU$31,300. In other words, it may do a 'mean reversion'. Mean reversion is a financial theory positing that asset prices and historical returns eventually revert to their long-term mean or average level. For the bears, BTC is still holding its key resistance at AU$33,000. If this breaks then the next resistance would be the 200 SMA at AU$35,300.
The daily RSI (Relative Strength Index) also continues to show that BTC is still in the uptrend momentum.
🔔 Alert Ideas breaking above resistance of AU$33,000 could indicate an uptick in bull activity, suggesting potential market strength and recovery.
Key:
50 Simple Moving Average (SMA), blue line
200 Simple Moving Average (SMA), black line
21 Exponential Moving Average (EMA), red line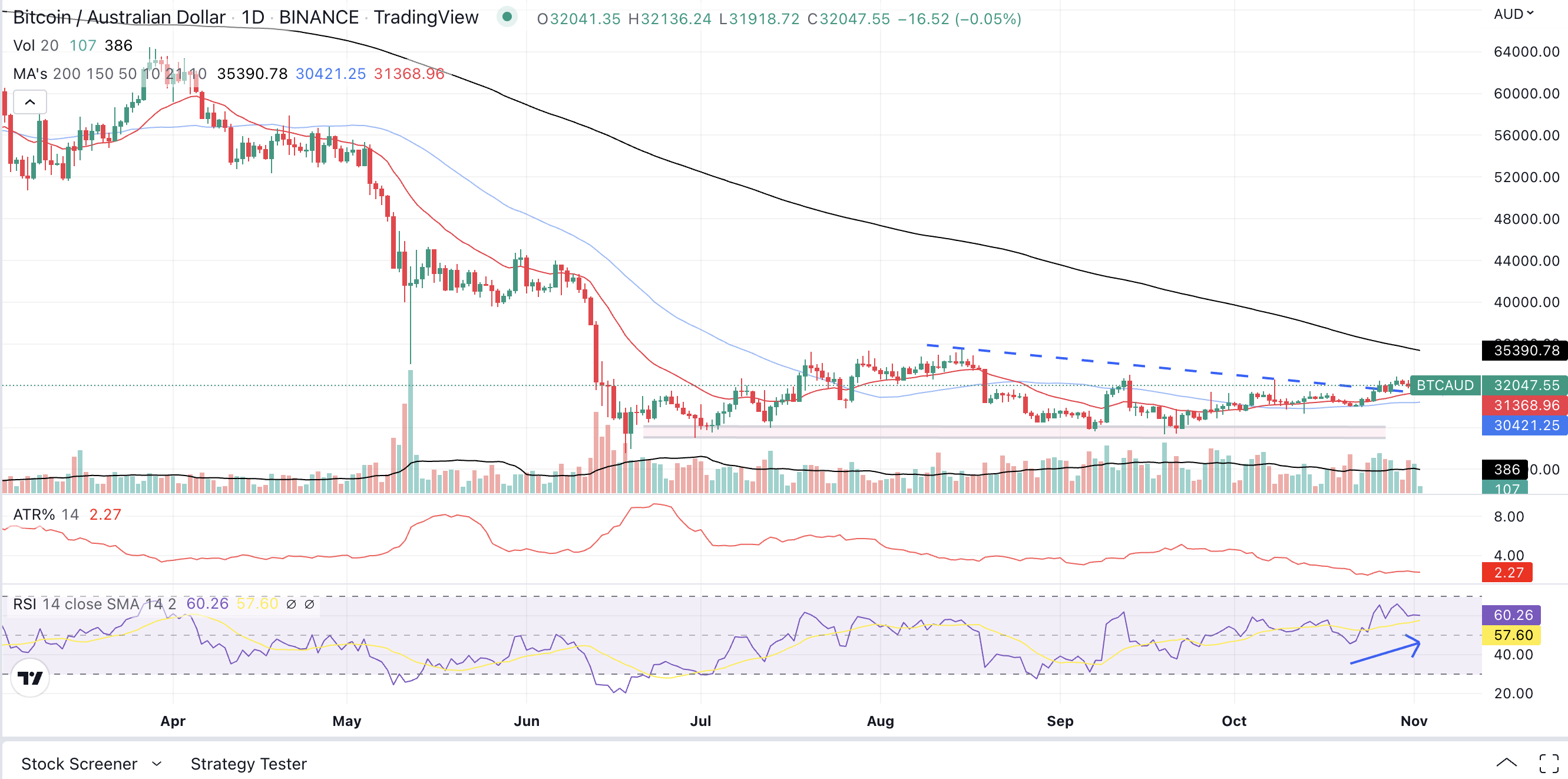 Beginners recap
Bitcoin could not break AU$33,000
Bitcoin is continuing its uptrend momentum
Disclaimer: The information provided is for educational purposes and does not constitute financial product advice. You should obtain independent advice from an Australian financial services licensee before making any financial decisions.