Market update
Cointree Crypto Market Update - October 26th 2022

Market report for traders
BTC and altcoins
Over the last seven days, bitcoin has climbed 4.19% to AU$31,272 at the time of writing. Meanwhile, Ethereum is up 13.57% at AU$2,257 week-on-week. And in other altcoin movements, Cardano has rallied 14.88%, Solana rose 9.33%, while Avalanche and Polkadot climbed 9.13% and 8.39% respectively.
What's happening in the world of crypto?
Bitcoin has been moving between AU$30K and AU$32K for several weeks now, with volatility remaining somewhat stable - in fact, bitcoin's rolling volatility over 20 days has now fallen below that of the S&P 500 and the Nasdaq equity indices for the first time since 2018.
Could this be signalling the bottom?
Across the globe overnight, UK lawmakers in the House of Commons took another step towards crypto adoption and voted to recognise crypto as a regulated financial instrument in the country. 
The news comes just days after the UK welcomed its new Prime Minister, Rishi Sunak, who has previously shown a bullish viewpoint towards crypto. In April, Sunak referred to his ambition of making the UK "... a global hub for crypto asset technology".
Still, the government remains concerned and is seeking great clarity for the industry, as many are, especially after the US$40b+ collapse of Terra over 5 months ago.
But it seems Do Kwon is back. Well at least to be interviewed… It's only the 2nd time Do has spoken publicly since the collapse. Interviewed by Laura Shin from the Unchained podcast, Do was grilled on whether Terra was a fraud or not. You can see the full interview here. 
And in other news… 
Think again if you thought NFTs were just about cartoon avatar animals, accusations of cash grabs, and losing money in a bear market. An entire house has just sold in the US as a non-fungible token, along with the keys.
Project news:
Decentraland announce 2nd Metaverse Music Festival
Solana Saga crypto smartphone specs get detailed
Cardano Founder, Charles Hoskinson teases something special is coming
Technician's Take
🔔 Alert Ideas are presented throughout to help identify key levels of interest that may signify significant shifts in market performance. Cointree members can set a price alert directly from their Cointree account.
Weekly chart - Bitcoin has stayed above AU$30,000
Bitcoin (BTC) has impressed since it has managed to stay above AU$30,000 with no single day drop below AU$30,000.
Daily chart - Bitcoin is continuing its uptrend momentum
In the last seven days, Bitcoin (BTC) has been ranging from AU$30,000 to AU$31,900 with below-average volume. The daily candles have also shown less volatility with the Average True Range (ATR) continuing to drop from 2.62 to 2.15. 
For the bulls, things are looking good because for the second week in a row BTC has managed to stay above its 21 day Exponential Moving Average (EMA) and 50 day Simple Moving Average (SMA).
The biggest above-average sell volume came on Friday the 21st of October but BTC still was not able to break below its 50 SMA at AU$30,000. On the contrary, BTC was able to increase from AU$30,500 to AU$31,900 in above-average buy volume with a big green engulfing candle on the 25th of October. It showed that BTC is currently very bullish. In technical analysis, this is called the Wyckoff Effort vs Result where a large effort (high volume) should lead to strong results (big price move) to confirm the direction of the trend.
For the bears, BTC needs to drop below its 21 EMA and 50 SMA at AU$30,000 and hold its resistance at AU$33,000. A break above this resistance would significantly indicate the bulls have taken control.
The weekly stochastic has continued its uptrend momentum from the start of October 2022 and the RSI (Relative Strength Index), which is also used as another momentum indicator, has confirmed the strong uptrend momentum.
🔔 Alert Ideas breaking above resistance of AU$33,000 could indicate an uptick in bull activity, suggesting potential market strength and recovery.
Key:
50 Simple Moving Average (SMA), blue line
200 Simple Moving Average (SMA), black line
21 Exponential Moving Average (EMA), red line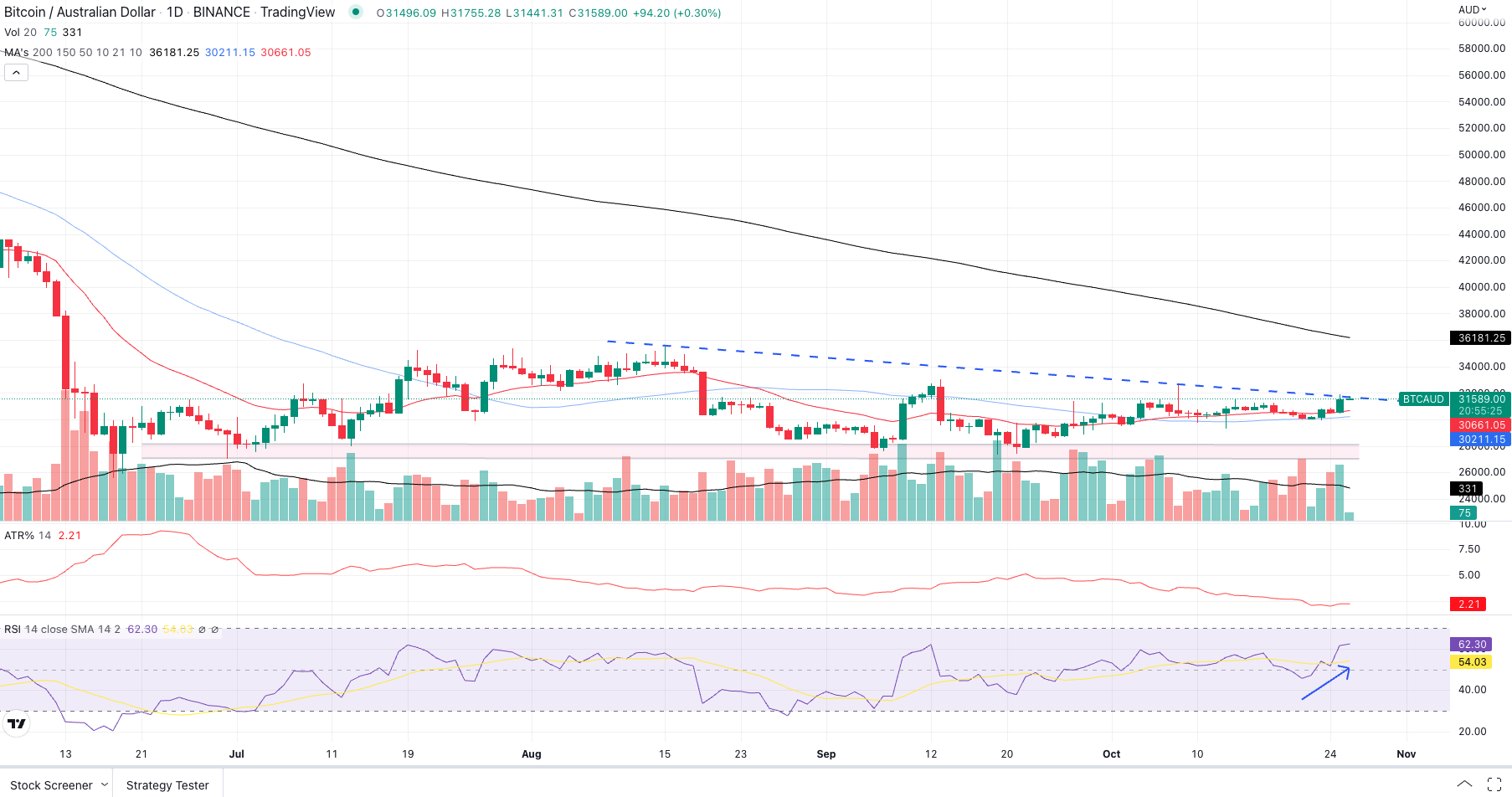 Beginners recap
Bitcoin has managed to stay above AU$30,000
Bitcoin needs to break above AU$33,000 to start the bull market.
Disclaimer: The information provided is for educational purposes and does not constitute financial product advice. You should obtain independent advice from an Australian financial services licensee before making any financial decisions.