Market update
Cointree Crypto Market Update - October 12th 2022

Market report for traders
BTC and altcoins
Over the last seven days, bitcoin has fallen 2.10% to AU$30,147 at the time of writing. Meanwhile, Ethereum also in the red, down 2.58% at AU$1,997 week-on-week. And in other altcoin movements, Cardano is down 6.24%, Solana fell 4.88%, and Avalanche dropped 4.24% while Polkadot had no change.
What's happening in the world of crypto?
Binance money printer go BRRRR…..
In an interesting event last week, a hacker was able to exploit Binance's cross-chain bridge, BSC Token Hub, last week which resulted in the minting of extra Binance Coin (BNB).
Binance Smart Chain (BSC) halted activity after the exploit was discovered with validators quickly stepping in to suspend withdrawals and deposits, which meant the hacker only walked away with US$100M in assets, from what was reported to be around US$586M.
Had the hacker been able to walk away with it all, it would have made it the second-largest hack in crypto history.
The attacker's account has since been frozen along with US$7M in funds and a software update was made, allowing the chain to resume operations.
BSC will be performing a hard fork tomorrow following the exploit, with a "temporary urgent patch" being released.
Meanwhile, new reports are showing that bitcoin (BTC) has outperformed the ASX. At least in the last quarter that is.
In the first quarter of the financial year, bitcoin was up 1.8% compared to the S&P/ASX 200 Index (ASX: XJO) which shed 1.4%. This news will surely challenge some ideas about bitcoin's correlation to the stock market. It just did better…. 
And if you're looking for something to lighten up your mood right now. Michael Saylor ran a meme competition after being questioned on his experience with the Lightning Network. You can see the Twitter thread here and thank us later. 
Project news:
Technician's Take
🔔 Alert Ideas are presented throughout to help identify key levels of interest that may signify significant shifts in market performance. Cointree members can set a price alert directly from their Cointree account.
Weekly chart - Bitcoin has been holding above AU$30,000
Bitcoin (BTC) has surprisingly holding above AU$30,000.
Daily chart - Bitcoin is ranging between AU$29,800 to AU$32,500
In the last seven days, Bitcoin (BTC) has been ranging from AU$29,800 to AU$32,500 with below average volume. There were a lot of doji and long wicks candles that show the market is indecisive as to which direction it intends to go. When BTC surged to AU$32,500, it was met with a lot of sellers that pushed the price back down to AU$30,200.
For the bulls, BTC has broken its long term downtrend and it appears that Prices have been consolidating sideways. Another positive note, BTC has managed to stay above its 21 day Exponential Moving Average (EMA) and 50 day Simple Moving Average (SMA). It is an incredible feat given the bearishness in the stock market.
For the bears, BTC needs to break its major support of its June low at AU$25,600. If BTC breaks this support then the drop could be catastrophic with all stop losses below this support being triggered.
The weekly stochastic has shown momentum to start its uptrend with its 200 SMA has continued to decrease at AU$38,400. The start of the bull market will start when it starts breaking above its 200 SMA.
🔔 Alert Ideas breaking above 200 SMA of AU$38,400 could indicate an uptick in bull activity, suggesting potential market strength and recovery.
Key:
50 Simple Moving Average (SMA), blue line
200 Simple Moving Average (SMA), black line
21 Exponential Moving Average (EMA), red line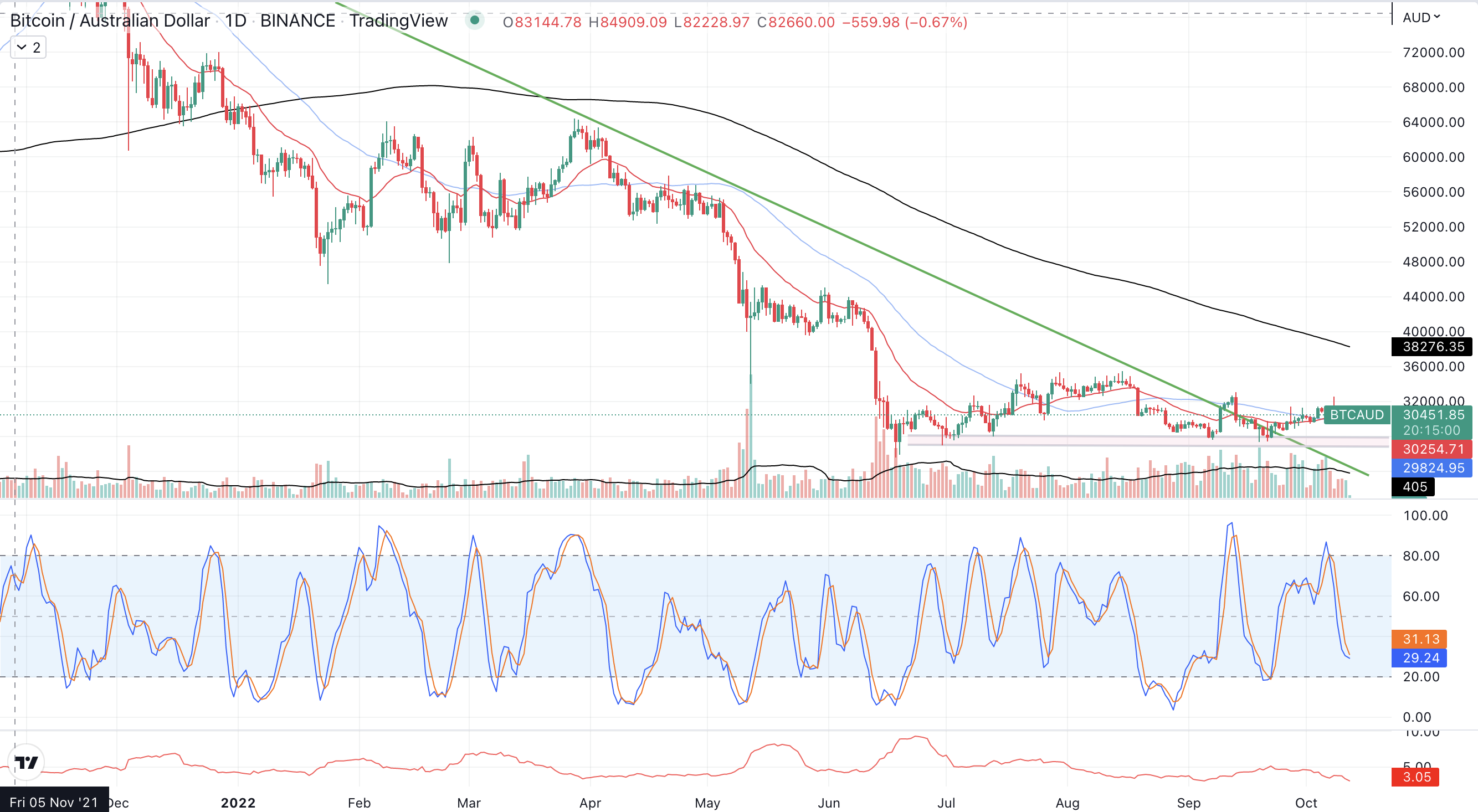 Beginners recap
Bitcoin has broken its long term downtrend and managed to stay above AU$30,000
Bitcoin must be able to stay above AU$25,600 to maintain its bullishness.
Disclaimer: The information provided is for educational purposes and does not constitute financial product advice. You should obtain independent advice from an Australian financial services licensee before making any financial decisions.