Market update
Cointree Crypto Market Update - September 28th 2022

Market report for traders
BTC and altcoins
Over the last seven days, bitcoin has gained 0.12%, at AU$28,904 at the time of writing. Meanwhile, Ethereum climbed 0.45% week-on-week to AU$1,948. And in other altcoin movements, Cardano is down 2.64%, while Solana is up 3.63%, Avalanche is down 0.48% and Polkadot climbed a modest 0.80%.
What's happening in the world of crypto?
Could the link between cryptocurrencies and equities be beginning to break down?
Despite a decline in US equities, with the S&P 500 ending at its lowest level since 2022, bitcoin has been seeing an upswing this week. The cryptocurrency market as a whole pushed closer to the all-important USD$1 trillion to boot!
Still, a rapidly tightening monetary policy to combat inflation and fears of a recession is leaving some uncertainty in the market.
Rich Dad Poor Dad author, Robert Kiyosaki, even thinks this could be the biggest crash in world history however, there are three assets he likes; metals, bitcoin and food.
Meanwhile, Cardano celebrated two events over the past week, its fifth birthday and the network's Vasil upgrade.
The upgrade went live on Sept 22 and promises to make its scalability better and cheaper than before! But the upgrade hasn't really budged the native token's price, at the time of writing Cardano (ADA) is down 2.51% for the week.
And the rumours were right!
Cosmos released a new white paper at the Cosmoverse conference on Monday. The white paper proposes a revamped Cosmos Hub aimed at strengthening interoperability and security, along with key changes to its Cosmos (ATOM) token.
Project news:
Polkadot updated its roadmap and eyes increasing transaction speed
Layer-1 blockchain Tezos activated an upgrade called Kathmandu, adding new scaling capabilities
Technician's Take
🔔 Alert Ideas are presented throughout to help identify key levels of interest that may signify significant shifts in market performance. Cointree members can set a price alert directly from their Cointree account.
Weekly chart - Bitcoin is in a range
Bitcoin (BTC) has been ranging from the low of AU$27,400 to the high of AU$31,300.
Daily chart - Bitcoin is still holding its support
Bitcoin (BTC) started the week holding its support to AU$27,400 and managed to bounce back to AU$31,000 with light volume but got rejected very quickly with another bearish candle. In the previous week, BTC reached the high of AU$33,000 and if the bulls want to regain control then it needs to be able to break above this level.
Over the past seven days, BTC has managed to break above the 50 day Simple Moving Average (SMA) but has since dropped to its 21 day Exponential Moving Average (EMA) at the time of writing. BTC will need to stay above both 21 EMA and 50 SMA levels to break this downtrend.
The weekly Stochastic indicator is still showing a downward trend but the daily Stochastic indicator showed an upward trend reversal after the BTC bounced from its support at AU$27,400. Any short term reversal trend needs to be taken cautiously to avoid getting whipsawed in this current market.
The Average True Range Percent (ATRP) has gone lower to 4.18 with less activities and lower volatility.
🔔 Alert Ideas breaking above AU$33,000 could indicate an uptick in bullish activity, suggesting the bulls are in control
Key:
50 Simple Moving Average (SMA), blue line
200 Simple Moving Average (SMA), black line
21 Exponential Moving Average (EMA), red line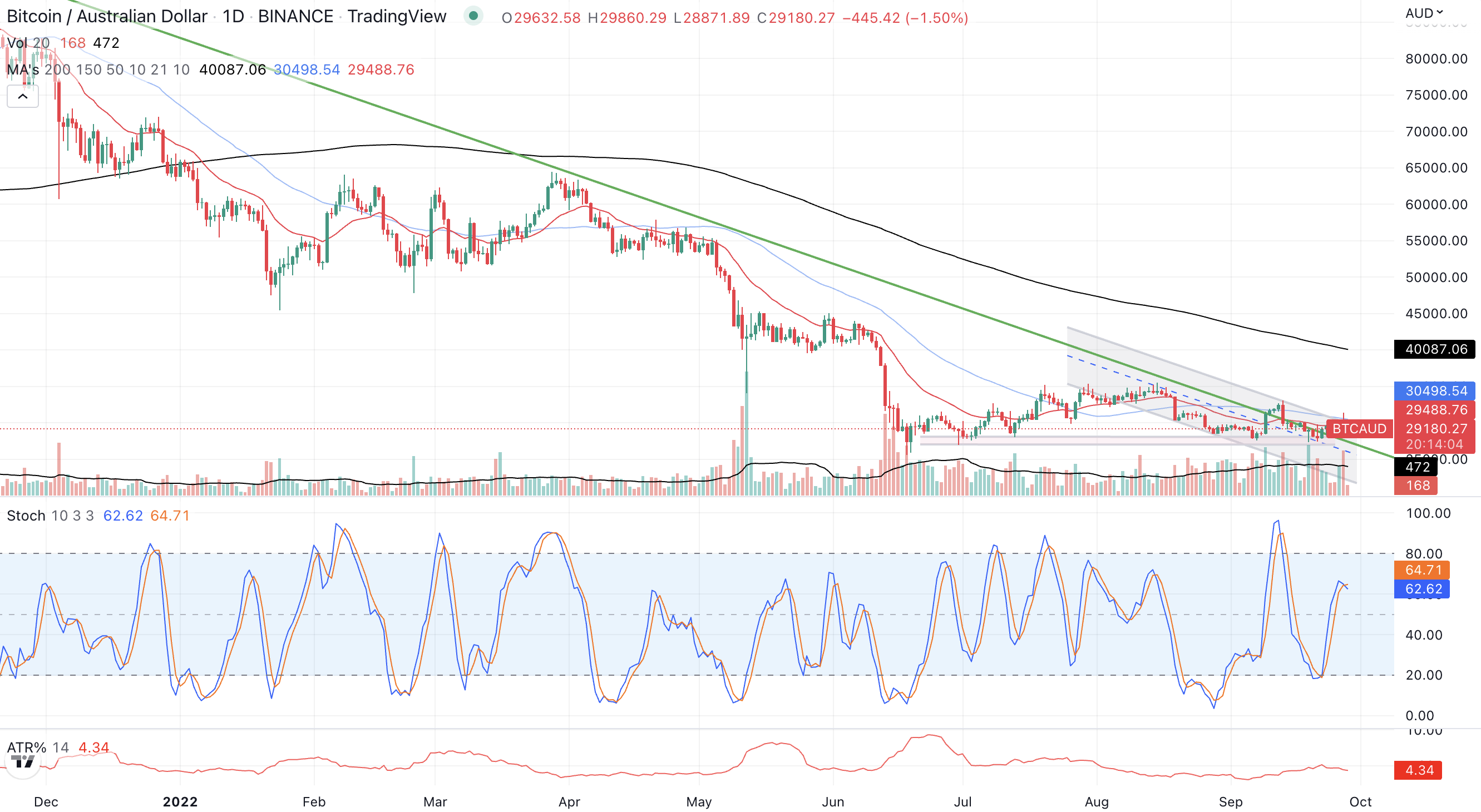 Beginners recap
Bitcoin (BTC) ranged between AU$27,400 and AU$31,300
BTC is currently still in the downtrend with reduced volatility
Disclaimer: The information provided is for educational purposes and does not constitute financial product advice. You should obtain independent advice from an Australian financial services licensee before making any financial decisions.