Market update
Cointree Crypto Market Update - September 21st 2022
Market report for traders
BTC and altcoins
Over the last seven days, bitcoin has dropped 3.31%, at AU$28,166 at the time of writing. Meanwhile, Ethereum tumbled 9.07% week-on-week to AU$1,946. And in other altcoin movements, Cardano is down 2.02%, Solana, is down 3.56%, while Avalanche gained a modest 0.69% and Polkadot dropped by7.93 and 8.63% respectively.
What's happening in the world of crypto?
The merge happened, successfully! And boy did we celebrate... Anyone join the merge viewing party?
Since then, Ethereum has fallen just over 10%. Strange really, especially as many were expecting Ethereum's migration to Proof-of-Stake (PoS) to be a game changer for the layer-1.
Could this just be a case of BTRSTF (buy the rumour, sell the fact)?
With the promise of the Merge solving many of Ethereum's challenges came rumours of the price rocketing 2X, 5X and even 10X. However, the reality is this hasn't happened. At least not overnight. Which meant many investors who bought in on speculation have since learnt that it might take a bit more time for the benefits to shine and sold out of their positions.
Now Ethereum no longer operates with Proof-of-Work (PoW), Doegcoin has taken out the title of the second largest PoW coin.
And while all this is happening, we seem to have stumbled across a real-life recording of Catch Me if You Can. A court in South Korea issued an arrest warrant for Terra Luna boss, Do Kwon, last Wednesday.
However it seems he can't be located… is he in Singapore as he says? The Singapore Police Force says otherwise. So where in the world is Carmen Sandiego? I mean, Do Kwon… guess we'll leave that mystery to Interpol.
Project news:
Cardano's Vasil hard fork and the next three to six months 
Ethereum Fork ETHPoW Suffers Bridge Replay Exploit 
The Cosmoverse conference: Cosmos could announce an interchain security feature
Technician's Take
🔔 Alert Ideas are presented throughout to help identify key levels of interest that may signify significant shifts in market performance. Cointree members can set a price alert directly from their Cointree account.
Weekly chart - Bitcoin is at key resistance
Bitcoin (BTC) could not break its key downtrend resistance that spanned back to its all-time high (ATH) in November, 2021. In the last seven days, BTC dropped from AU$30,000 to as low as AU$27,400
Daily chart - Bitcoin just managed to hold its support
Bitcoin (BTC) dropped to AU$27,400 and managed to bounce back to hold this key support with the highest volume in the last seven days with a bullish doji candle to AU$29,000. Unfortunately, in the next day the bears used this strength to short the market with a bearish engulfing candle and BTC dropped back to AU$28,000.
BTC has continued to stay below the 21 day Exponential Moving Average (EMA) and 50 day Simple Moving Average (SMA) and it is just tagging along its downtrend resistance. If BTC can break its downtrend resistance then I would expect BTC to rally to the 21 EMA and 50 SMA levels between AU$30,000 to AU$31,000.
The Stochastic indicator has continued to show a downtrend reversal with its next support at AU$27,000. Should this support break, the last line of defense / major support will be at AU$25,600. It would not be surprising if the bulls are lining up to buy at AU$$25,600 that could result in a quick bounce. However, if the price continues to drop below this level then it would trigger a lot of stop losses that could further push the price down to AU$18,000. Capital protection is very important in this volatile market.
The Average True Range Percent (ATRP) has continued its uptrend and it reached as high as 4.81% that may signal even higher volatility ahead.
🔔 Alert Ideas breaking below AU$27,000 could indicate a downtick in bear activity, suggesting the bears are in control
Key:
50 Simple Moving Average (SMA), blue line
200 Simple Moving Average (SMA), black line
21 Exponential Moving Average (EMA), red line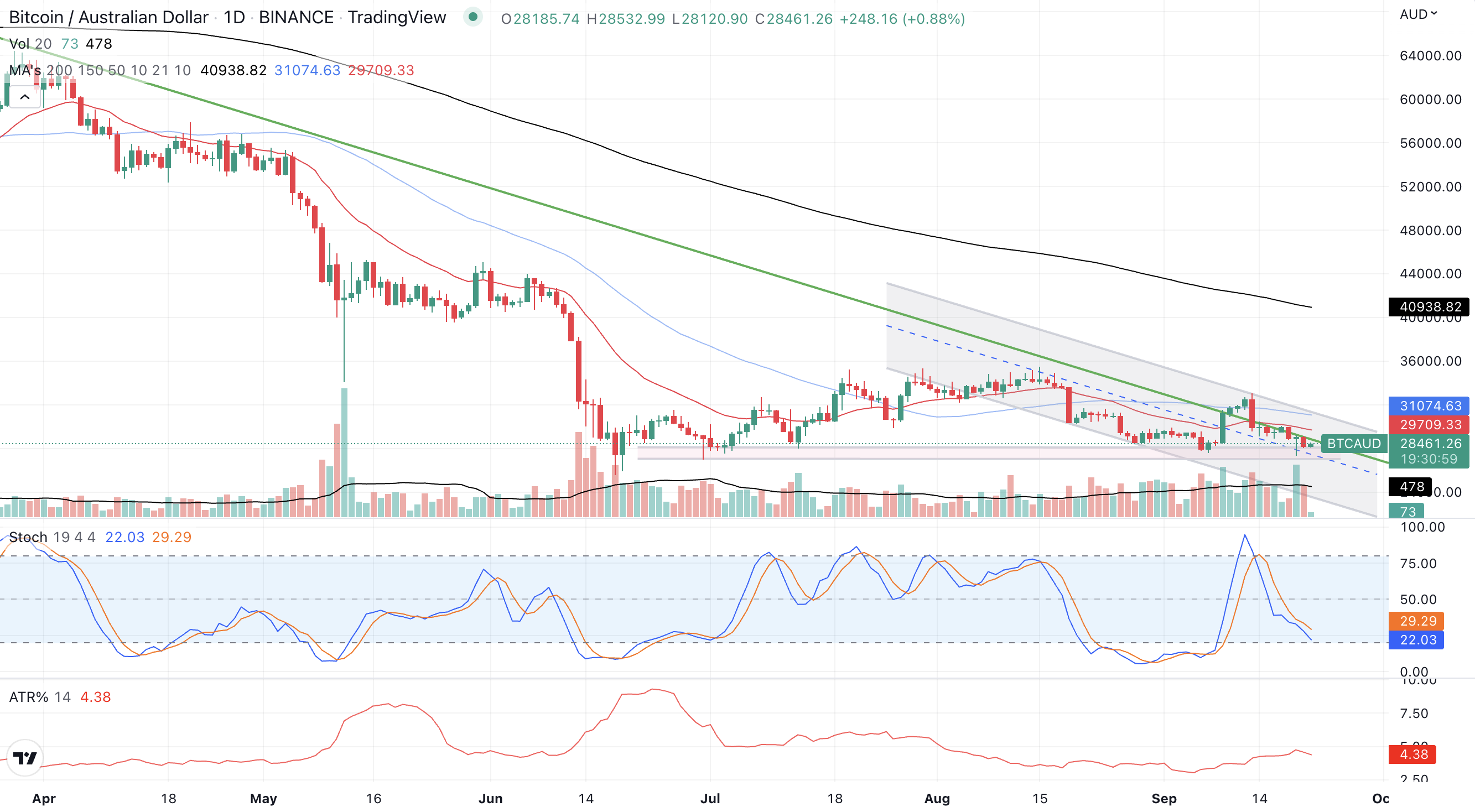 Beginners recap
Bitcoin (BTC) dropped to AU$27,600 and it managed to bounce off this key support
BTC is currently still in the downtrend with higher volatility ahead.
Disclaimer: The information provided is for educational purposes and does not constitute financial product advice. You should obtain independent advice from an Australian financial services licensee before making any financial decisions.