Market update
Cointree Crypto Market Update - September 14th 2022

Market report for traders
BTC and altcoins
Over the last seven days, bitcoin has dropped 5.87%, at AU$27,580 at the time of writing. Meanwhile, Ethereum tumbled 3.25% week-on-week to AU$2,193. And in other altcoin movements, Cardano is up 1.78%, Solana, is down by 0.88%, while Avalanche gained a modest 0.69% and Polkadot dropped by 1.28%.
What's happening in the world of crypto?
Markets around the globe were green on the weekend! Some thought it may have been a sign the bulls were back in town, we even moved out of 'extreme fear' territory on the Fear and Greed Index…
Then that word 'inflation' propped its head back up…. And the U.S. Consumer Price Index (CPI) report was released which showed the August 12-month inflation rate fell to 8.3%, a minor decrease but still hotter than expected and one that will likely keep investors concerned about price pressures. 
The news even caused users to experience some "... wonky auto-refreshing …" on the crypto exchange, FTX as investors rushed to the market.
Still, all eyes are looking to this Thursday which is when the total Terminal Difficulty is expected to hit 58750000000000000000000 and the Merge is set to take effect. This is the most anticipated event of the year, what will happen? 
There's still a little uncertainty. Blockchain analytics platform Nansen and data firm Kaiko have published reports on what to watch, there's the possibility a new forked token will be born called Ethereumpow (ETHW). 
Ultimately, however, should everything go to plan, we are likely to see more efficiencies from Ethereum as well as layer-2 solutions like Polygon, Arbitrum One, Boba Network and Loopring.
So what will happen? We'll know in 24 hours…
Project news:
Technician's Take
🔔 Alert Ideas are presented throughout to help identify key levels of interest that may signify significant shifts in market performance. Cointree members can set a price alert directly from their Cointree account.
Weekly chart - Bitcoin is very volatile
Bitcoin (BTC) has broken its descending parallel channel when it increased by 20% from the low of AU$27,600 to AU$33,000 before it dropped 10% in the last 24 hours to below AU$30,000 due to the worse than expected US inflation data.
Daily chart - Bitcoin dropped 10% in 24 hours
Bitcoin (BTC) bulls may not have expected the sudden drop of 10% in the last 24 hours when it dropped from AU$33,000 to AU$29,600 with above average selling volume.
In the last seven days, BTC has rallied strongly to pass the 21 day Exponential Moving Average (EMA) and 50 day Simple Moving Average (SMA) to break the downtrend resistance. The rally had decreased buying volume as the price moved higher from AU$28,000 to AU$33,000 before BTC quickly dropped below the 21 EMA and 50 SMA in the last 24 hours.
The Stochastic indicator has also shown a trend reversal from bullish to bearish that could mean more downside risks with the next support at AU$27,000. On the other hand, if BTC can break its 21 EMA and 50 SMA to the upside then BTC may rally to a price target of AU$35,000.
The Average True Range Percent (ATRP) has also increased from 3% to 4% that signals higher volatility ahead. Adequate risk management such as stop loss may be necessary to avoid getting whipsawed in this market environment.
🔔 Alert Ideas breaking below AU$27,000 could indicate a downtick in bear activity, suggesting the bears are in control
Key:
50 Simple Moving Average (SMA), blue line
200 Simple Moving Average (SMA), black line
21 Exponential Moving Average (EMA), red line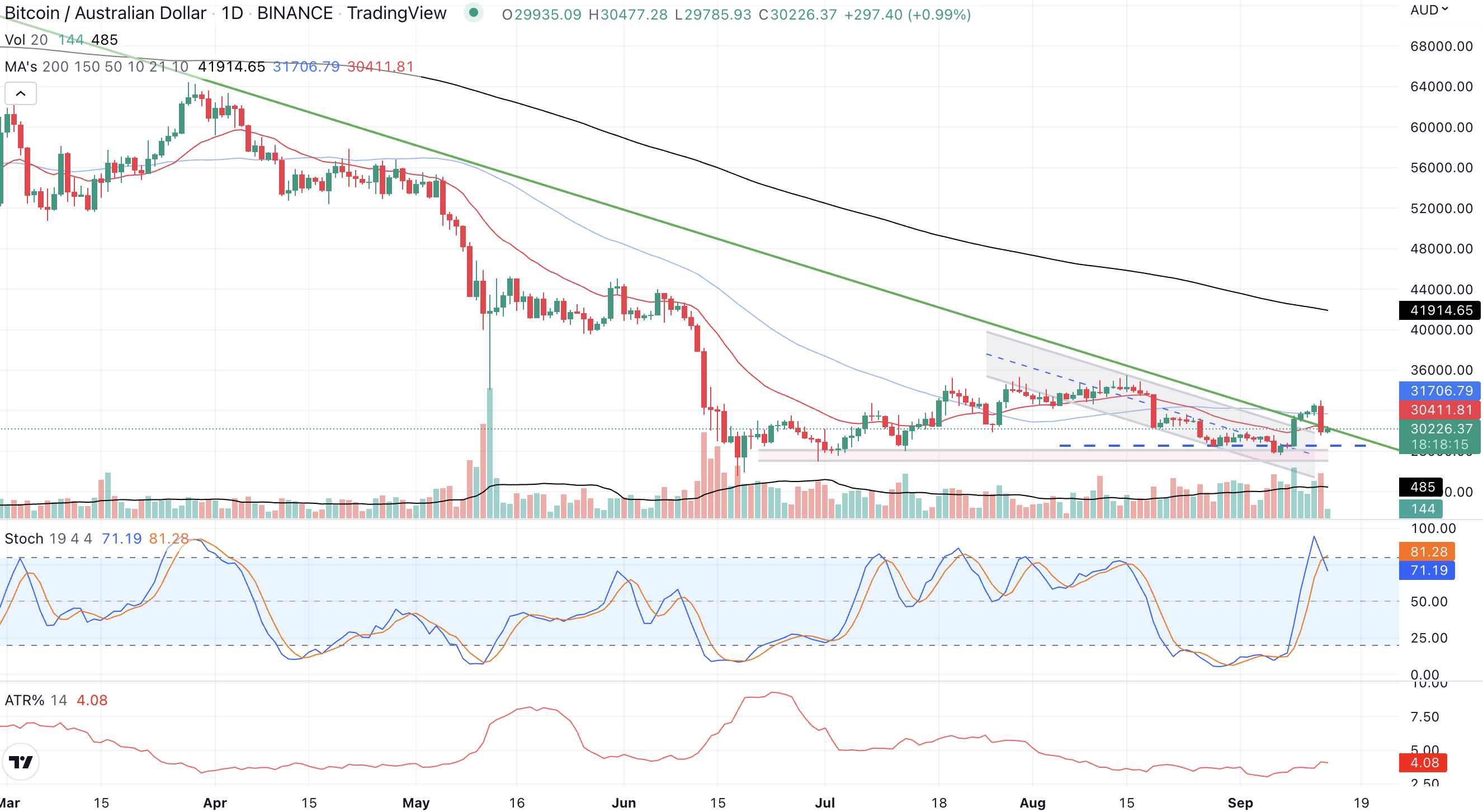 Beginners recap
Bitcoin (BTC) has increased 20% before giving back 10% from AU$33,000 to AU$29,600
Key support of AU$27,000 must hold up to ensure BTC can continue its recovery
Disclaimer: The information provided is for educational purposes and does not constitute financial product advice. You should obtain independent advice from an Australian financial services licensee before making any financial decisions.