Market update
Cointree Crypto Market Update - September 7th 2022

Market report for traders
BTC and altcoins
Over the last seven days, bitcoin has dropped 5.87%, at AU$27,580 at the time of writing. Meanwhile, Ethereum also tumbled 3.25% week-on-week to AU$2,193. And in other altcoin movements, Cardano is up 1.78%, Solana, is down by 0.88%, while Avalanche and Polkadot dropped by 4.28% and 2.94% respectively.
What's happening in the world of crypto?
The merge… the merge… The MERGE!
In case you missed it, which is probably hard to do these days - even my 60-something-year-old accountant is talking about it, the Merge is coming! In fact, it's anticipated to arrive in just over seven days... 
But while many have been clambering over the merge and wondering whether it will cause the "flippening" to happen - when Ethereum overtakes bitcoin for crypto market dominance, its OG - Ethereum Classic - has been rallying on the sidelines, climbing more than 20%. Even its hashrate reached an all-time high over the last week, so you can be sure eyes will be on ETC post-merge as the hashrate is expected to move from ETH to ETC. 
BTC short-term holders are dominant
Glassnode's latest analyses look at short-term holders VS long term, uncovering the insight that many long-term holders are standing strong in their activity while short-term holders are the traders driving the sideways movement as they look to find better re-entry points and reclaim earlier losses.
It's expected that much of the movements in the coming weeks will be from these holders, that is unless something else happens.. perhaps some relief from constant interest rate hikes?! [Cough-cough, Mr Lowe]
Project news:
Technician's Take
🔔 Alert Ideas are presented throughout to help identify key levels of interest that may signify significant shifts in market performance. Cointree members can set a price alert directly from their Cointree account.
Weekly chart - Bitcoin dropped below AU$28,000
Bitcoin (BTC) has continued its downtrend and has dropped as low as AU$27,600 as at the time of writing.
Daily chart - Bitcoin broke its key support at AU$28,500
Bitcoin (BTC) continued its descending channel by breaking key support at AU$28,500 which came from August 28th's low. This will be a concern for bulls because it was sold off with the highest daily sell volume since the recovery in June.
As long as BTC continues to stay below the 21 day Exponential Moving Average (EMA) and 50 day Simple Moving Average (SMA) then we can expect BTC to continue trending lower.
The next support level will be AU$27,000 and if this breaks then BTC could certainly test the next support from the June low of AU$25,600. If BTC does break AU$27,000 then It would be interesting to see if BTC can bounce off the June low because usually there are a lot of buyers waiting at this key support level and it could potentially support the price.
Average True Range Percent (ATRP) is a technical analysis tool to measure volatility and is very similar to Average True Range (ATR). Both ATR and ATRP are continuing to show downtrend signals which could provide a good indication for lower volatility.
🔔 Alert Ideas breaking above AU$30,000 could indicate an uptick in bull activity, suggesting potential market strength and recovery.
Key:
50 Simple Moving Average (SMA), blue line
200 Simple Moving Average (SMA), black line
21 Exponential Moving Average (EMA), red line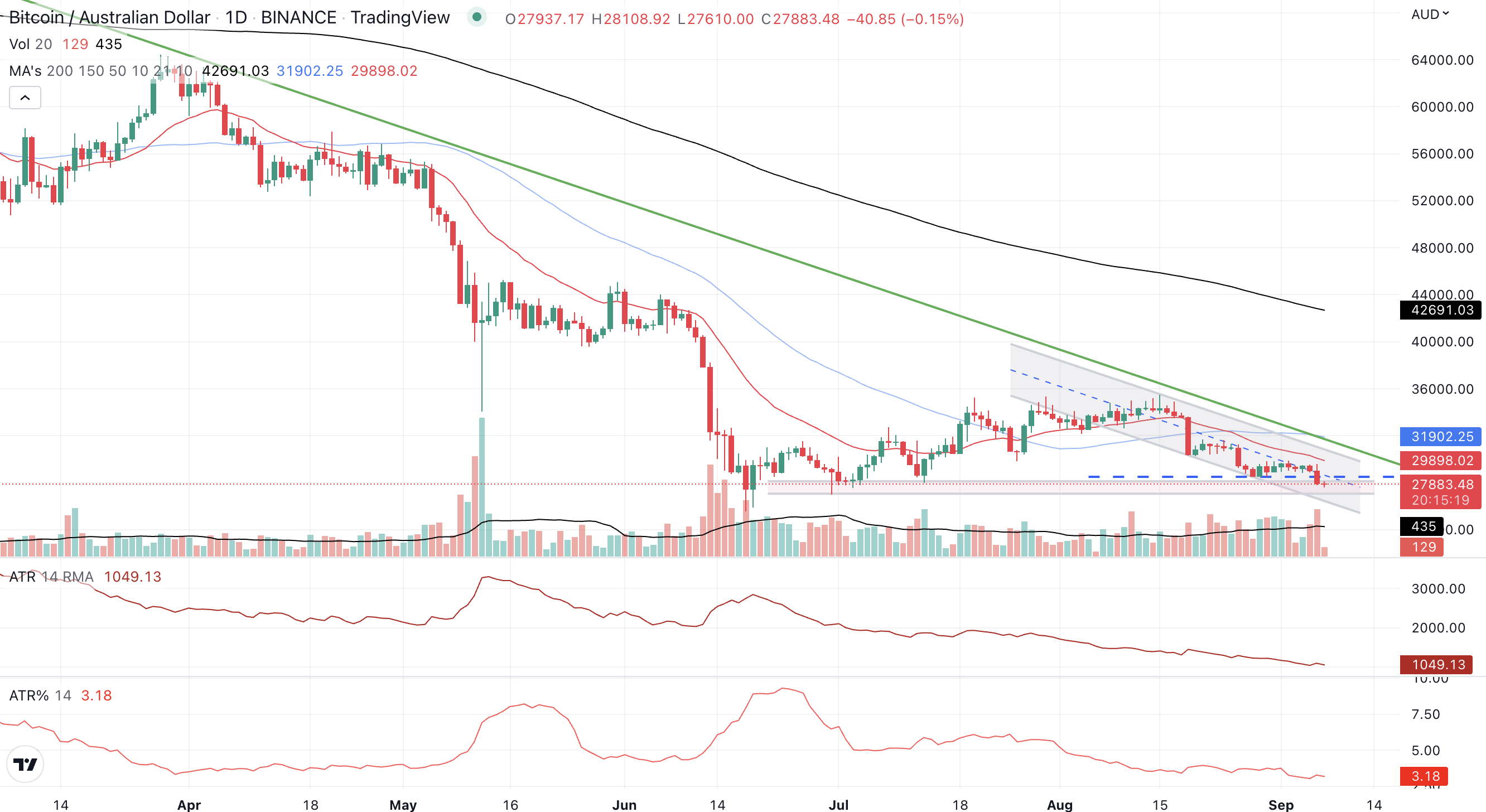 Although BTC's price remains in downtrend, we have seen evidence that bitcoin whales (wallet addresses that contain large amounts of BTC) are continuing to acculumate BTC at depressed prices as shown in the below Glassnode chart. A positive sign that long-term players aren't afraid of the current conditions.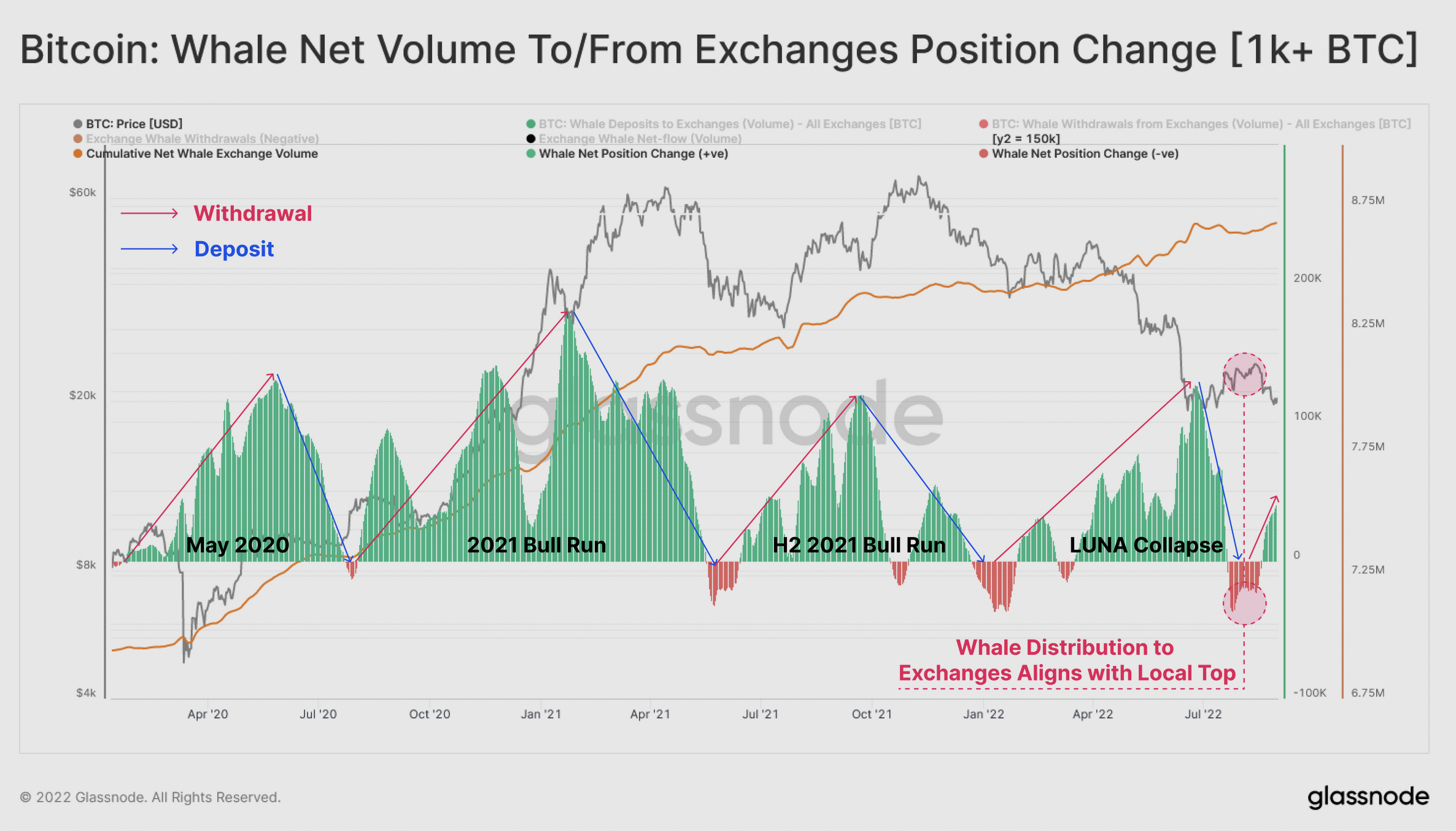 Beginners recap
Bitcoin has dropped below its key support of AU$28,500
Disclaimer: The information provided is for educational purposes and does not constitute financial product advice. You should obtain independent advice from an Australian financial services licensee before making any financial decisions.