Market update
Cointree Crypto Market Update - August 24th 2022

Market report for traders
BTC and altcoins
Over the last seven days, bitcoin has dropped 8.40%, at AU$30,423 at the time of writing. Meanwhile, Ethereum also tumbled 12.57% week-on-week to AU$2,274. And in other altcoin movements, Cardano fell 11.23%, Solana, also down by 12.64%, while Avalanche and Polkadot dropped by 5.05% and 7.64% respectively.
Bitcoin unable to hold its six-week rally
While last week's hopes for an immediate bitcoin recovery may not have come to be, some analysts believe that if bitcoin follows the pattern from previous historical price cycles, it might fall as low as US$10,000 before finally heading higher. But is this the case? More on that in the Technician's Take…
Australia announced a new tokenisation naming program
The Treasury department announced a new 'token mapping' exercise this week that "will help identify how crypto assets and related services should be regulated".
While it may not be the first time we've heard of a 'token mapping' exercise – it was one of last year's 12 recommendations in the "Australia as a Technology and Financial Center" senate report, it is the first time the new government has shown a path forward for crypto regulation
NFT records set
NFTs (Non-Fungible Tokens for those not clued on just yet) have blown up in the last year with projects like CryptoPunks making it to the list of the most expensive NFTs ever sold. Yet, it's not just artists that have jumped on the technology… brands have too! 
According to Dune Analytics data compiled by @kingjames23, Nike has amassed nearly US$1.3 billion in transaction volume from secondary trading of its NFTs, in addition to US$93 million in primary sales and US$92 million in royalties.
And it's not just Nike... D&G, Tiffany, Gucci, and Adidas have amassed US$25.6 million, US$12.6 million, US$11.5 million, and US$10.9 million, respectively. Although the NFT craze has died down in recent months, the new technology's impact is expected to be long-lasting, with many of these brands looking to expand their efforts into the Web3 arena. 
Technician's Take
Weekly chart - 6 weeks of uptrend
Bitcoin (BTC) has broken its 6 week uptrend and it has dropped from AU$35,500 to AU$30,500 (14% drop) which could present a buying opportunity for those more experienced.
Daily chart - Bitcoin broke its main supports but holding up
Bitcoin (BTC) has broken its 21 day Exponential Moving Average (EMA) and 50 day Simple Moving Average (SMA) on the same day with above average volume. It appeared that the selling came as a result of bulls hitting their stop losses on these two main support areas but it's holding support at AU$30,200. Bears will be in control if BTC cannot pass above its 21 day EMA and 50 day SMA.
AU$30,000 is a good psychological support level that we need to watch closely but it also could present a good buying opportunity for those who have been watching on the sideline. In addition, the Average True Range (ATR) has continued its downward trend which shows the volatility kept decreasing. Generally speaking, lower volatility decreases its risk.
If AU$30,000 support is broken then the next support level is between AU$27,000 - $28,000.
BTC has also broken its uptrend parallel channel that started 7 weeks ago so a new trend will need to form as prices are consolidating.
Key:
50 Simple Moving Average (SMA), blue line
200 Simple Moving Average (SMA), black line
21 Exponential Moving Average (EMA), red line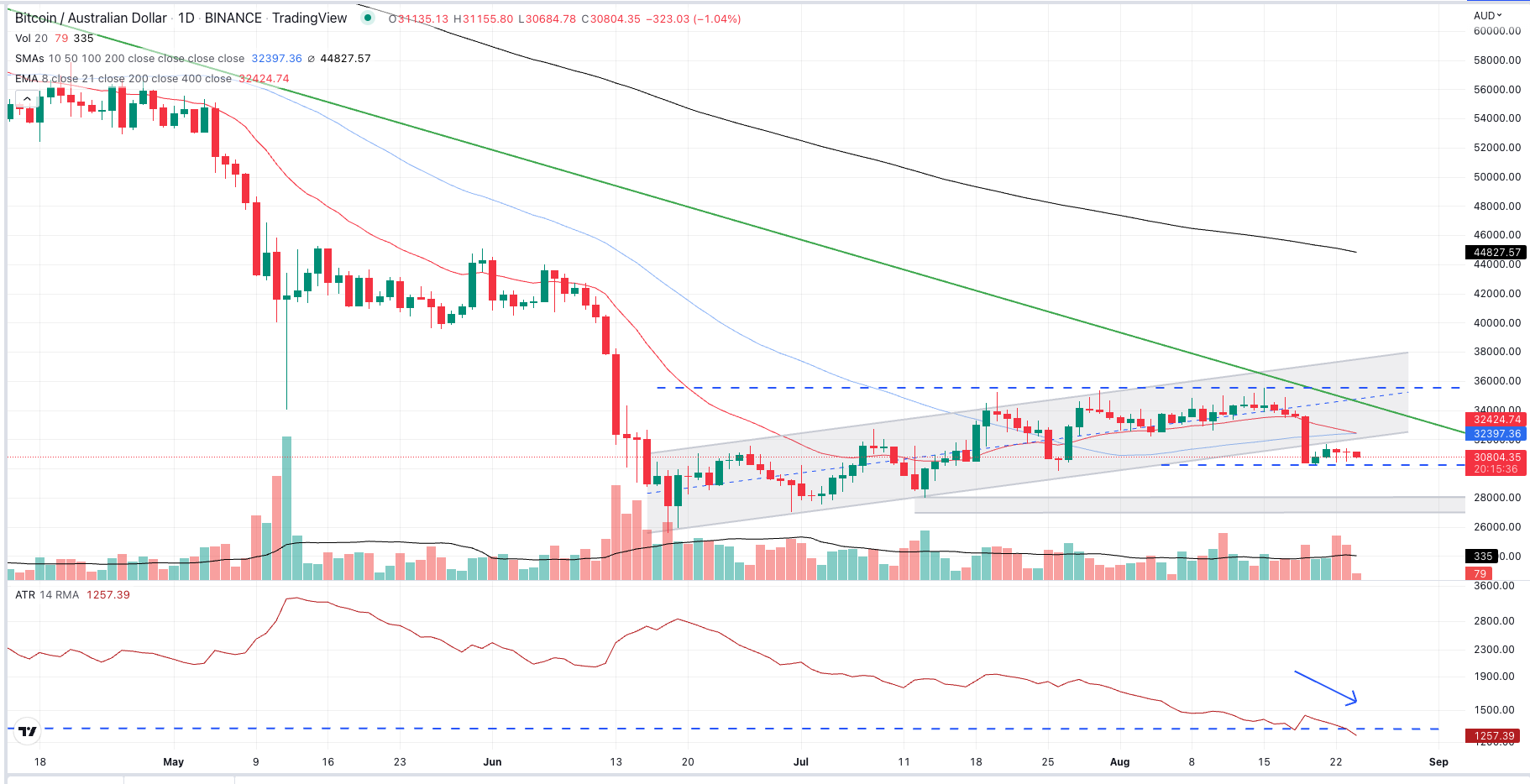 Beginners recap
Bitcoin has broken its 21 day EMA and 50 day SMA with 14% drop in last 7 days
Bitcoin is holding at its psychological support of AU$30,000 which could present a good buying opportunity.
Disclaimer: The information provided is for educational purposes and does not constitute financial product advice. You should obtain independent advice from an Australian financial services licensee before making any financial decisions.