Market update
Cointree Crypto Market Update - August 10th 2022

Market report for traders
BTC and altcoins
Over the last seven days, bitcoin is up 1.17%, at AU$32,580 at the time of writing. Meanwhile, Ethereum also climbed 3.98% week-on-week to AU$2,344. And in other altcoin movements, Cardano rose 1.53%, Solana, also up by 1.39%, and Avalanche soared 17.58% while Polkadot went up by 6.52%.
In market news
In a week that has seen Vitalik play down the impact of future Ethereum forks, bitcoin and Ethereum have grown modestly over the past seven days.
Ethereum outpaced bitcoin in a week that continued to be surrounded by news and opinions of its upcoming merge, while news of bitcoin has mostly circled around company impairments.
Gold as a defensive strategy
Gold is undoubtedly one of the most popular assets on the planet, held by everyone from central banks worldwide to individuals in India. There are four key reasons that investors choose to hold gold in their portfolio but one of the most important right now is its defensive play.
Defensive play Gold is known for maintaining its purchasing power across the centuries and is considered a defensive play in times of high inflation. For example with current inflation rates of over 6%, the value of a dollar is going backwards, whilst gold continues to perform.
Sanctions widen across crypto mixing services
Earlier this week, the use of Tornado Cash, a cryptocurrency transaction anonymiser, was barred by the US Treasury Department.
Most blockchains are entirely public; you can easily head to any blockchain explorer and see a record of all the transactions ever processed on the network.
For many, this is a core feature of the technology, and not a problem. However, there are some who desire a little more anonymity, which is where crypto mixing otherwise known as crypto tumbler services come in. These are tools that mix up crypto in private pools before distributing it to its intended recipients.
The idea is that by rerouting bitcoin through a black box, it becomes difficult to determine that person A sent 10 bitcoins to person B. A public explorer will only show that person A sent bitcoin to a mixer, as did a dozen others, and that person B received bitcoin from a mixer, as did a dozen others.
Tornado Cash is one of these tools and according to the US Treasury Department, has been used by a hacking group tied to the $625 million March hack of Axie Infinity's Ronin Network. This is not the first service to be sanctioned, earlier this year, the agency also issued sanctions against Blender.io.
Technician's Take
Weekly chart - Critical resistance level to watch out for
Major bitcoin resistance (green line) at AU$36,600 (A) and if bitcoin bulls can break this downtrend resistance level then it could climb to 200 SMA (black line) at AU$46,000 shown on the daily chart.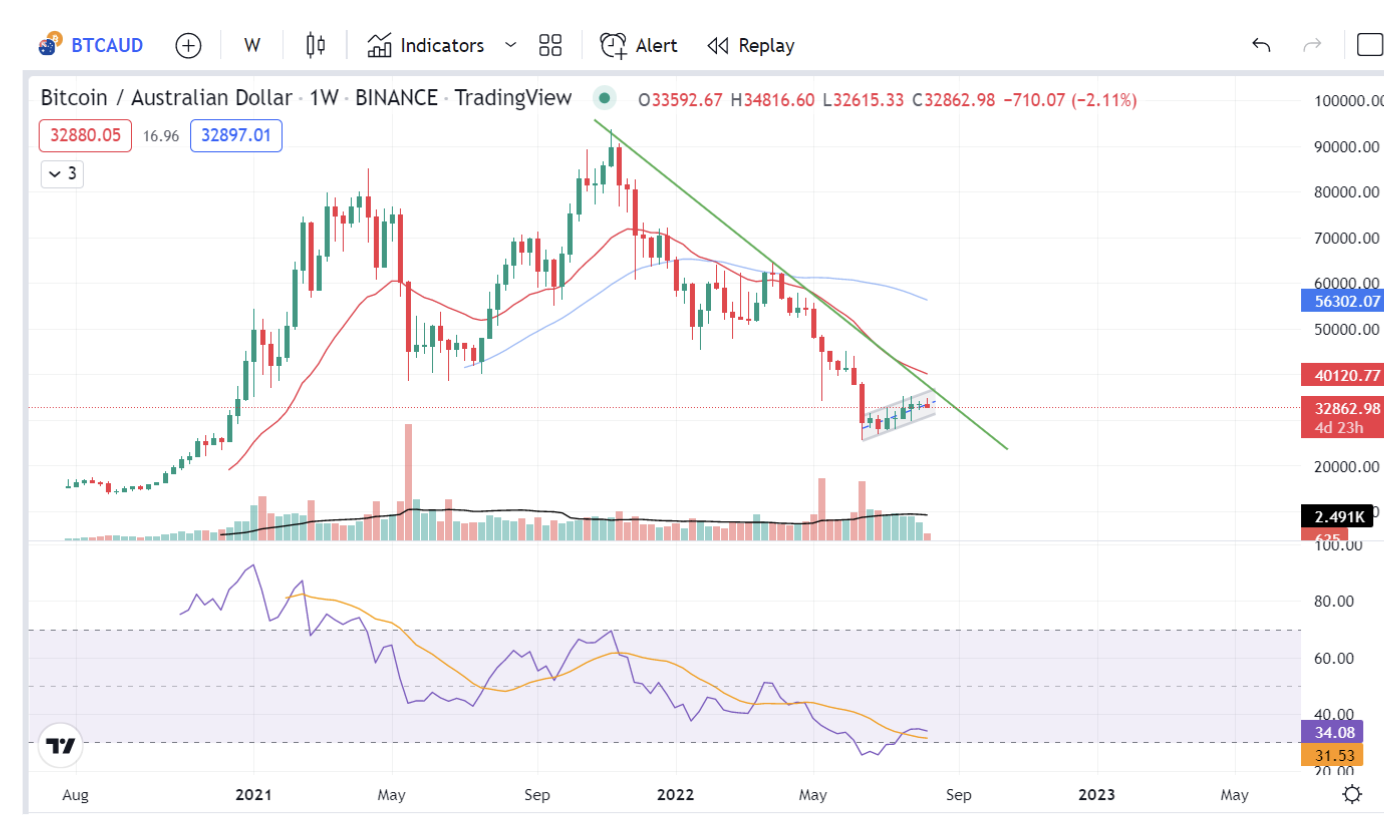 Daily chart - Bitcoin is holding its support
In the last 7 days, bitcoin has held its support at the 21 day Exponential Moving Average (EMA), AU$33,000, which shows positive strength.
As long as bitcoin can stay above the 21 EMA and 50 day Simple Moving Average (SMA) at AU$31,400, then it will be a clear sign the bitcoin bulls are in control.
Bitcoin prices have been ranging from AU$32,300 and AU$34,800 with low volatility and lower average volume. RSI has also been ranging between 50 and 55.
It seems that the market is indecisive about whether it should go higher or lower after it advanced 37% from its lowest level in June 2022 at AU$25,600.
Key:
50 Simple Moving Average (SMA), blue line
200 Simple Moving Average (SMA), black line
21 Exponential Moving Average (EMA), red line
Beginners recap:
In weekly chart, major downtrend resistance level at AU$36,600 to monitor
Bitcoin prices have been ranging from AU$32,300 and AU$34,800 with low volatility and lower average volume in the last 7 days.
Disclaimer: The information provided is for educational purposes and does not constitute financial product advice. You should obtain independent advice from an Australian financial services licensee before making any financial decisions.