Market update
Cointree Crypto Market Update - July 27th 2022

Market report for traders
BTC and altcoins
Over the last seven days, bitcoin is down 8.88%, at AU$30,137 at the time of writing. Meanwhile, Ethereum fell 9.04% week-on-week to AU$2,012. And in other altcoin movements, Cardano tumbled up 7.70%, Solana, also down by 16.62%, and both Avalanche and Polkadot fell by 18.54% and 11.00% respectively.
In market news
Bitcoin has been on a rollercoaster this week, with the cryptocurrency achieving one of its highest highs in five weeks and then falling back to Earth. Meanwhile Ethereum was able climb in its lead up to the merge, which is when the network will finally switch from proof-of-work, an energy intensive way to secure blockchains, to the environmentally friendlier proof-of-stake protocol.
Does crypto still care about Elon Musk?
Only a few months ago the SpaceX Founder could cause a tsunami of activity with a single tweet about DOGE and drive the price up 10, 20, or even 30%. Yet news of Tesla selling off 75% of its bitcoin holdings barely rocked the market. So does the market even care about what Elon Musk believes anymore? Or has it simply become more stabilised?
Inflation set to continue climbing
There is no doubt that inflation is a worry for many people right now. After all, it can have a major impact on the cost of living, eating into wages and savings. But did you know that inflation can also affect the crypto market?
When prices rise, companies often find it difficult to maintain their profit margins. This can lead to a decline in share prices, which can in turn flow on to crypto markets. We've seen this before with BTC correlating closely with stock markets. So if you're worried about inflation, it's worth keeping an eye on the crypto market too.
With the RBA expected to raise interest rates next week. What will happen?
If inflation has got you down, there are still strategies like Dollar Cost Averaging and automated trading to accumulate crypto and manage volatility.
Technician's Take
BTC losing steam - down 14% for the week
After showing signs of life and a healthy ascent from ~AU$27k last week it looks like bitcoin lost a bit of steam, initially breaking the 50-day moving average (MA) and now slowly drifting down to finish the week, down 14% from its highs just seven days prior.
Everyone is still watching global news and markets for an indication of the much spoken about global recession or if government action will prevent it, or at the very least soften it. Needless to say many investors appetite for risk has diminished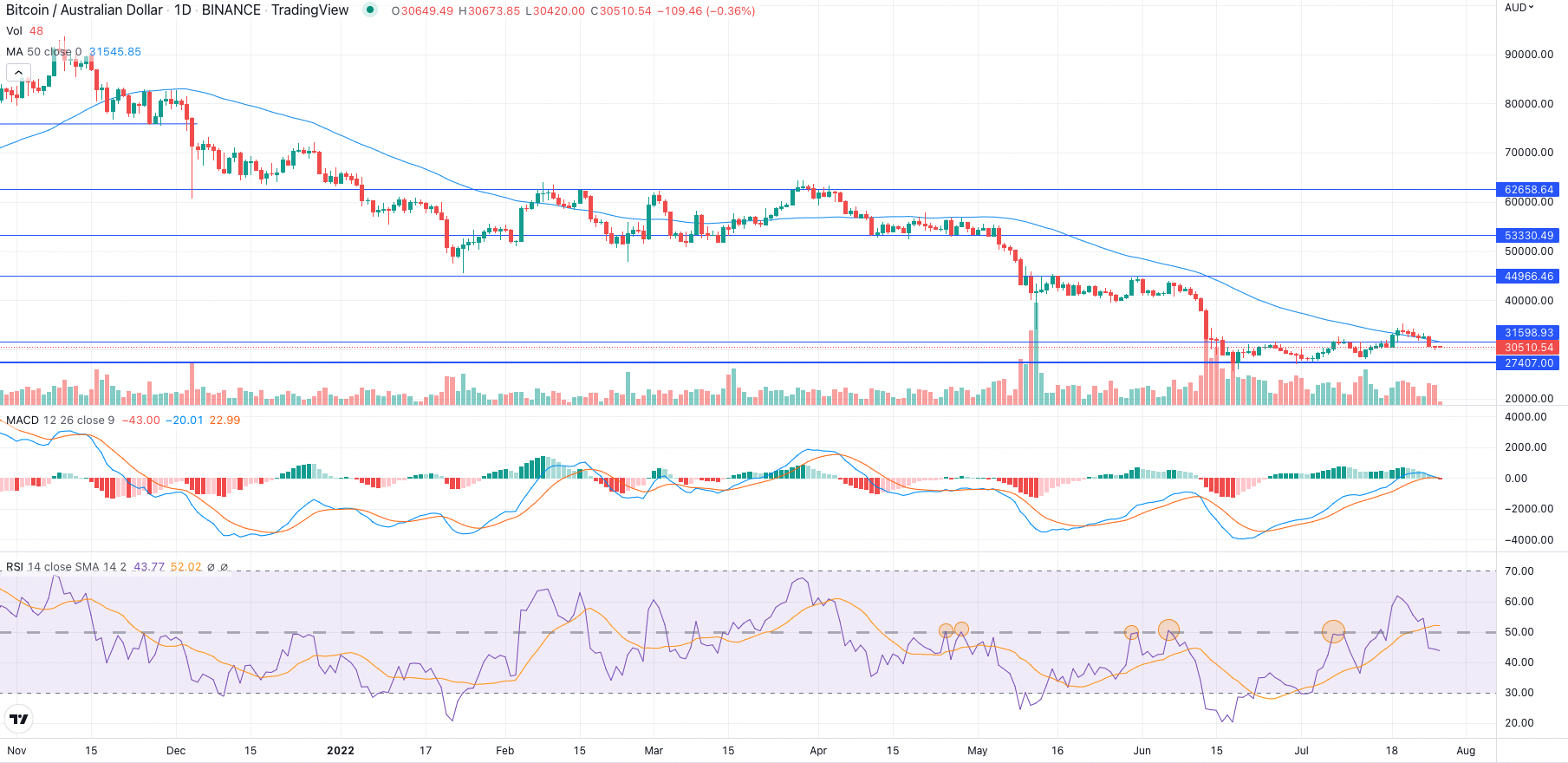 The 50MA will be one to watch here as this has posed its own resistance in recent months and BTC will need a solid and sustained break up to move the MA from bearish to bullish. MACD is once again looking like it may make a bearish cross, but waiting on confirmation. RSI is back in neutral territory below the 50 mark and has made a bearish cross of its MA.
Beginners recap:
Disclaimer: The information provided is for educational purposes and does not constitute financial product advice. You should obtain independent advice from an Australian financial services licensee before making any financial decisions.