Market update
Cointree Crypto Market Update - July 13th 2022

Market report for traders
BTC and altcoins
Over the last seven days, bitcoin is down 8.82%, at AU$28,421 at the time of writing. Meanwhile, Ethereum fell 13.73% week-on-week to AU$1,512. And in other altcoin movements, Cardano tumbled up 10.74%, Solana, also down by 13.20%, and both Avalanche and Polkadot fell by 14.40% and 11.58% respectively.
In market news
The indecision in the crypto market continues. Investors remain undecided on which way the market will go. Some believe that the market will rebound, while others think that it will continue to decline. However, one thing is certain: anything could happen. And while we wait for the markets to warm, regulators pace towards crypto legislation.
Australia among the countries still waiting for clarity on cryptocurrency
Jon Cunliffe, the Deputy Governor for Financial Stability at Britain's Bank of England has called for a clear regulatory framework to be put in place when it comes cryptocurrency trading.
Meanwhile in the US, the Treasury said it had reported on a regulatory framework for cryptocurrencies in consultation with the Secretary of State, the Secretary of Commerce, the Administrator of the U.S. Agency for International Development and other government. 
Closer to home, the recent change in government has led many to question whether or not Australia is moving closer towards constructing a framework around crypto. The new Australian Labor Party Prime Minister, Anthony Albanese, has made regulating the cryptocurrency space one top priority for his cabinet but they have yet provide any indication on how he or his party proposes approaches this issue.
Voyager digital set out its recovery plans
On July 5, 2020, Voyager Digital and its main operating subsidiaries filed for Chapter 11 bankruptcy off the back of hedge fund Three Arrows Capital's bankruptcy. The filing followed a difficult week for Voyager, during which its VGX token saw a 35% price drop. However, the company provided an update this week that outlined its plan to recover customer assets. The market received the news well, and the token has since surged more than 100%. \
Technician's Take
Indecision continues
With support still continuing, a new lower resistance line has formed around the AU$32.6k mark. Today we saw a quick attempt to push beyond this level but it was rejected quite quickly and is continuing its acceleration south. The close of this 24-hour period could be very telling as to what lies ahead in the near term.
The state of the economy and inflation will be a major focus for investors this week as earnings season starts. If past years are any indication, it's likely that we'll see some more turmoil if those numbers come out flat or subpar when they're released. Any sharp decline in other markets may spell bad news for BTC in the short term while many investors reconsider their positions and may see some moving to less volatile investments for the time being.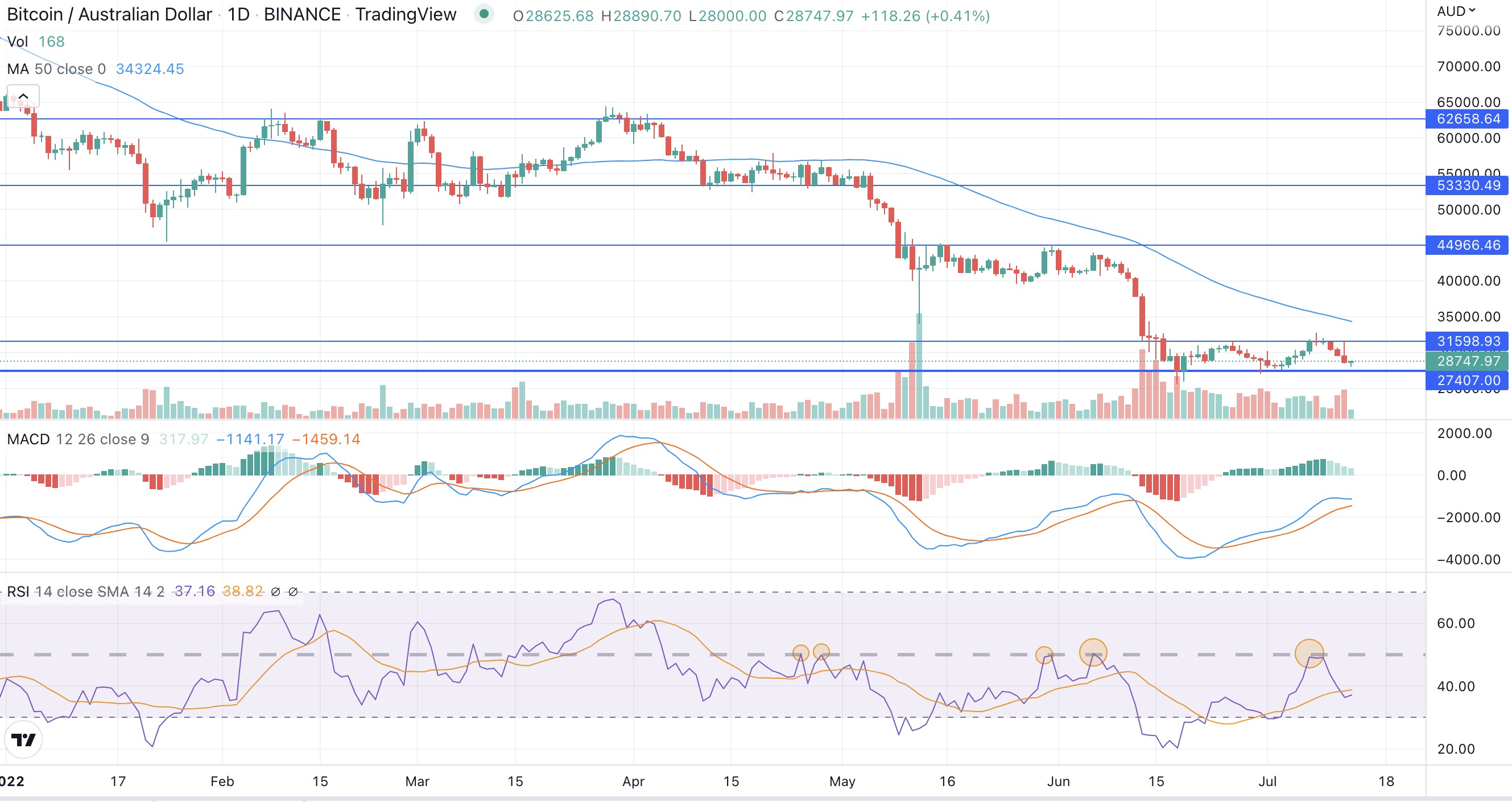 We are also seeing indicators starting to show signs of another bearish move with MACD converging and RSI crossing its moving average and heading back to oversold territory. If you take a look at RSI a little more closely you will notice that since April RSI has rejected at, or close to, the 50 level (where it starts moving towards oversold). This highlights the regime we are currently in and who is in control.
Beginners recap:
Bitcoin (BTC) found lower resistance at AU$32,600
Moving Average Convergence Divergence (MACD) converging for a potential bearish cros
Eyes on earning season to see what the effect may be for the cryptocurrency market at large
Volatility can present opportunities but is probably reserved for the more experienced and disciplined traders
Disclaimer: The information provided is for educational purposes and does not constitute financial product advice. You should obtain independent advice from an Australian financial services licensee before making any financial decisions.