Market update
Cointree Crypto Market Update - July 6th 2022
Market report for traders
BTC and altcoins
Over the last seven days, bitcoin is up 1.45%, at AU$28,985 at the time of writing. Meanwhile, Ethereum has climbed 7.10% week-on-week to AU$1,615.12. And in other altcoin movements, Cardano crept up 0.19%, Solana, also up by 6.84%, Avalanche saw an increase of 8.23% and Polkadot fell by 2.28%.
In the market
You can't help but feel uneasy when you see the news these days. The stock market is volatile and now crypto is imploding... 
It feels like everything is crashing down around us. Is this the end of the world? Or is this just a natural correction in the new and uncharted financial territory? 
Time will tell, but in the meantime, it might be a good time to take a step back and assess where we are and where we're headed. So pull up a chair, because today we're going to take a look at the crypto landscape over the last seven days. What went wrong, what went right, and where do we go from here?
Europe takes a step forward in blockchain adoption
The UK's new Financial Conduct Authority (FCA) crypto and payments unit has brought on a new director as part of an increase in staffing as the regulator wrestles with new tasks, including potential new stablecoin laws. While regulation is its focus, the Italian government has announced $46 million in government subsidies for IoT, AI and blockchain companies developing in specific sectors like health care.
Hodlers are keeping the faith in cryptocurrencies
Despite bitcoin's ongoing struggles and the fact that crypto traders are currently experiencing a historic bear market, several metrics and the strong hodler base suggests there may be some hope for those who have faith in cryptocurrencies. The most dedicated bitcoin holders continue to hold the line, and they're likely to do so until market turmoil subsides. Could this be telling the bears that hodlers aren't playing into their narrative?
\
No matter the answer, there are strategies for managing a bear market, all you need to do is know them. Read on for four strategies for surviving a bear market. \
Technician's Take
Bitcoin finds slightly higher support
Bitcoin (BTC) seems to have found support at a slightly higher AU$27,400 level. However, it's a little early to celebrate and hope that this downturn is over.
With the better part of this week seeing BTC slowly head south, it is a welcome reprieve to see it reverse a little. Volume is still very much down and it's not taking much to move BTC which means there is not any strong buying (or selling) at any level right now, this means that we could see the price move in either direction with any major development, such as economic news. 
While banks around the world are increasing their interest rates to try to bring inflation down, there is also plenty of negative news affecting markets right now and not just the crypto markets. One only needs to look at some of the prominent names on the NASDAQ to see how some retail investors got stuck on "sure thing" investments that seemed only to see blue sky, only to see the price crashing down and having some portfolios wiped out completely. With some retail investors losing large chunks of their portfolio and the increasing cost of living, we'll probably not see as much volume over the next little while until economies calm down.
Ongoing instability in the markets has still kept expectations low and caution high. This could see us in more of a consolidation phase again with a bit of range left for trades, however with volume low these trades can be tricky as they can be caught out in what looks like a nice push-up only for the buyer's volume to dry up.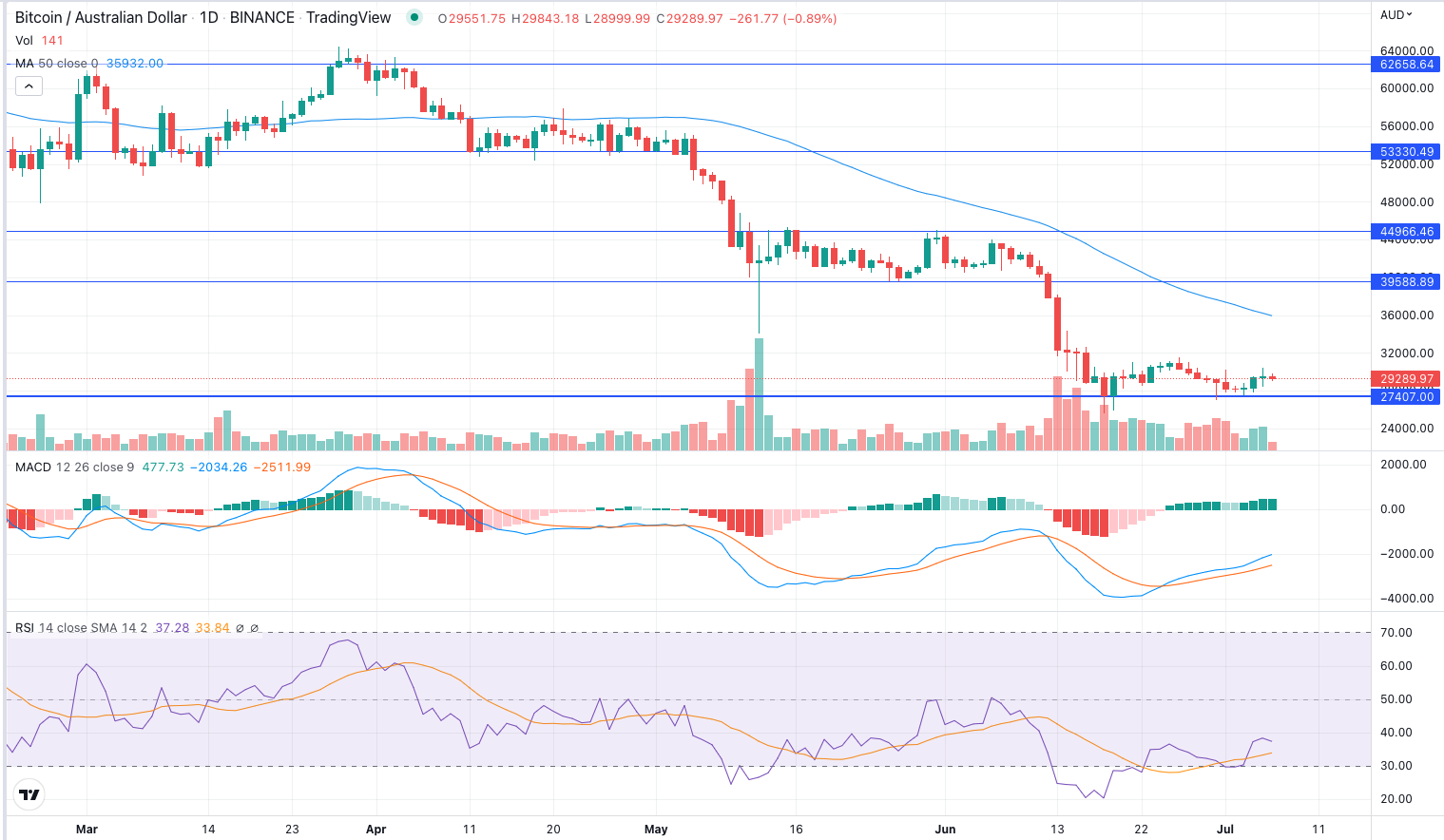 With MACD making a bullish cross we may see a few buyers step up, though much like life, there are no guarantees in this game.
Beginners recap:
Disclaimer: The information provided is for educational purposes and does not constitute financial product advice. You should obtain independent advice from an Australian financial services licensee before making any financial decisions.