Market update
Cointree Crypto Market Update - June 29th 2022

Market report for traders
BTC and altcoins
Over the last seven days, bitcoin is down 4.01%, at AU$28,973.12 at the time of writing. Meanwhile, Ethereum has climbed 0.09% week-on-week to AU$1,559.64. And in other altcoin movements, Cardano fell by 1.41%, Solana, also down by 6.77%, Avalanche saw an increase of 1.25% and Polkadot fell by 4.92%.
Looking for the bottom
While a handful of cryptocurrencies have seen stronger than 10% growth in the past several days, the overall markets have remained bearish with many still looking for signs of change.
Investors have been speculating that the market could decline further in the near future, with bitcoin (BTC) possibly reaching US$10,000; however,  on-chain and technical analysis indicators suggest that the price of BTC has bottomed.
It's still hard to tell whether a bottom has certainly been found until we see it happening on the charts, but these signs seem to be adding comfort to many in the community. 
Crypto lending continues to cause controversy
Celsius, a crypto lending platform, informed customers 16 days ago that it was suspending swaps, transfers, and withdrawals and did not specify when the services would be resumed. 
Its most recent problems started after Celsius made a significant investment in the stETH staking coin. A sharp drop in the value of crypto assets in May resulted in stETH trading at a discount, making the token more illiquid. This made it more difficult for Celsius to raise funds for redemptions when users wanted to withdraw their funds.
The company's management has reportedly been in arguments with its lawyers over whether or not the business should file for bankruptcy, while many of its customers are wondering why they are still receiving rewards. Since then, lending platforms BlockFI and Voyager Digital have received loans to help support the businesses and maintain a positive view of the industry in the current conditions.
Technician's Take
Bitcoin ranging for the week
Bitcoin seems to have taken a bit of a breather after its dive earlier this month. Currently in a ~16% range between AU$26k and $31k. Volume has dropped off with movements a little less severe than in recent times, however, this also shows that there is no sign of a rally just yet.
Ongoing instability in the markets has still kept expectations low and caution high. This could see us in more of a consolidation phase again with a bit of range left for trades, however with volume low these trades can be tricky as they can be caught out in what looks like a nice push up only for the buyer's volume to dry up.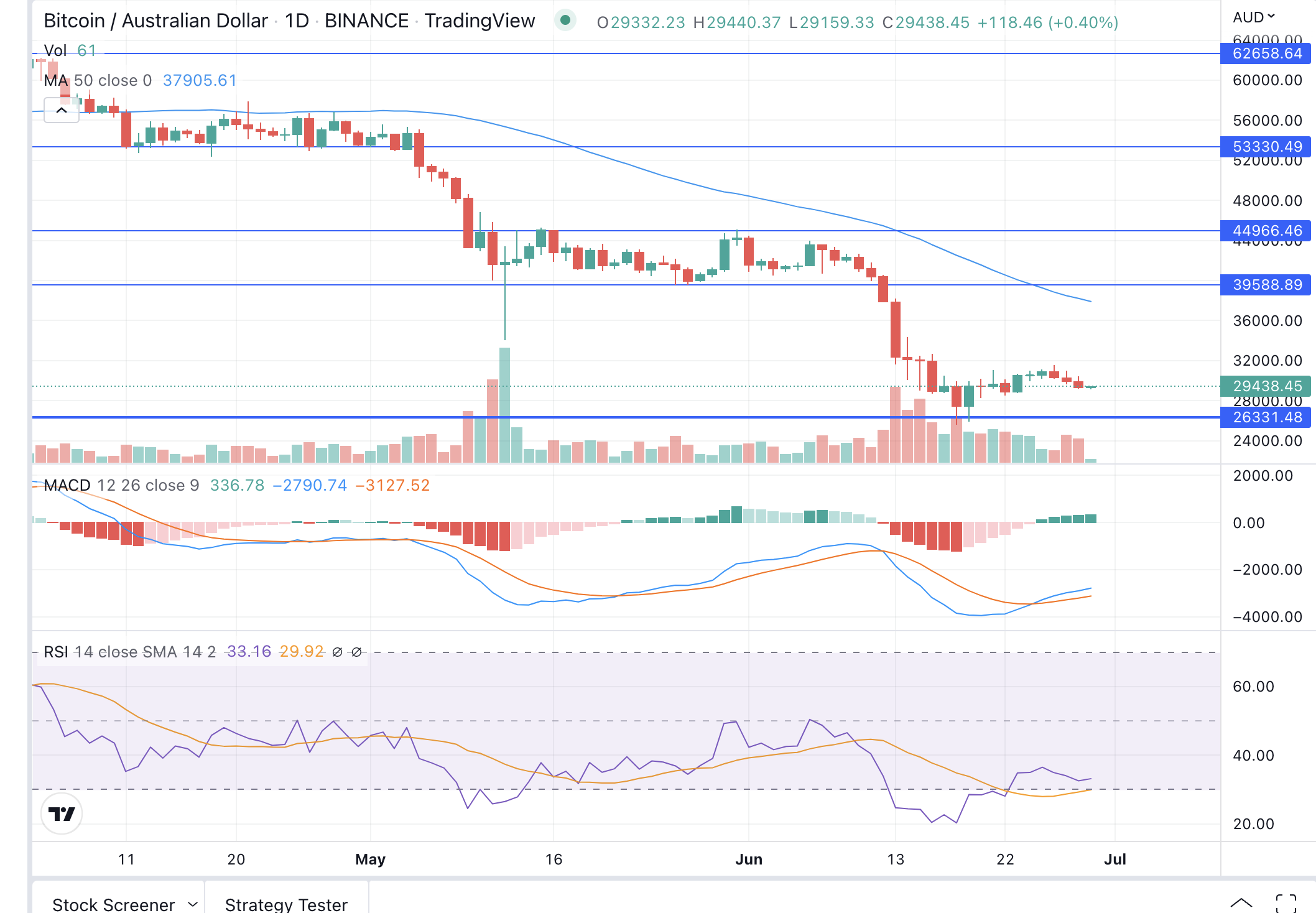 With MACD making a bullish cross we may see a few buyers step up, though much like life, there are no guarantees in this game.
Beginners recap:
Disclaimer: The information provided is for educational purposes and does not constitute financial product advice. You should obtain independent advice from an Australian financial services licensee before making any financial decisions.