Market update
Cointree Crypto Market Update - February 2nd 2022

Market report for traders
What's happening in the market?
Have inflation fears already been priced in? 
Bouncing back from a tough start to the year, the crypto market has had a strong week, with bitcoin rising 5% and Ethereum up 12%. Undoubtedly, January was a rocky month for crypto investors. As the total crypto market dipped from AU$3.2 trillion to AU$2.5 trillion, the crypto fear and greed index dropped into extreme fear. 
Much of this fear has been driven by expectations that, faced with rising inflation, the US Fed will raise rates and end its quantitative easing program. Down under, the Reserve Bank of Australia is beating them to the punch and ending our own quantitative easing program immediately. Although, as crypto is a global market, the actions overseas will likely have the greatest impact on crypto prices.
How are governments confronting crypto?
The world's governments can't ignore crypto anymore. After Russia's central bank called to ban crypto, President Vladimir Putin publicly highlighted that crypto has 'advantages'. Now, the Russian government is drafting a roadmap to regulate crypto. 
Meanwhile in India, the Finance Minister announced they're launching a central bank digital currency (CBDC) this year and plan to tax gains from other cryptocurrencies at 30%. And over in the USA, the White House is reportedly preparing an executive order on crypto. There's speculation that the order will focus on how stablecoins will fit into the current financial system. 
It seems that while some governments see crypto as a threat, others recognise the incredible opportunity it presents. Luckily, the Australian government has been welcoming to the emerging digital economy.
Ethereum 2.0 Changes Name To 'Consensus Layer'
In an effort to remove confusion, the Ethereum Foundation has removed all references to 'Ethereum 2.0' and 'Eth2' in favour of calling the upgraded proof-of-stake (PoS) chain the 'consensus layer.' 
Regardless of the name, the impact of the upgrade could be massive, with Ark Invest releasing a report that predicts Ethereum's market cap will reach AU$28 trillion by 2030.
Technician's Take
Bitcoin recovers slightly
After a steady grind down through January, with only eleven green candles for the month, bitcoin has had a stronger week. It traded between the AU$53k to AU$55k levels and finished up 5%. 
With inflation fears driving both traditional markets and bitcoin down over the past month, it'll be interesting to see what happens from here, especially if bitcoin can decouple from 'risk assets' like the NASDAQ and start correlating with traditional inflation hedges like gold.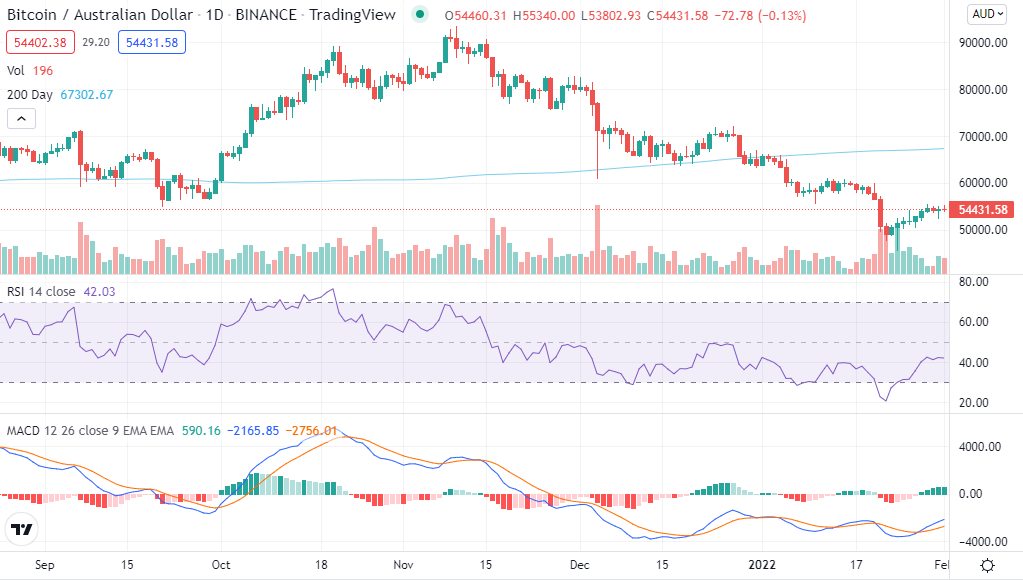 As you can see in the chart above, the Relative Strength Index (RSI) is no longer in oversold territory and the Moving Average Convergence Divergence (MACD) has continued its bullish trend. 
While bitcoin may stay range-bound between AU$49k and AU$61k, a break of these levels could signal swing traders to be more cautious and momentum traders to be more aggressive. As always, risk management is key during indecisive market conditions.
Beginners recap:
Disclaimer: Information provided is for educational purposes and does not constitute financial product advice. You should obtain independent advice from an Australian financial services licensee before making any financial decisions.\ As cryptocurrencies remain volatile, all prices and percentages may have changed since the time of writing.