Market update
Cointree Crypto Market Update - January 19th 2022

Market report for traders
What's happening in the market?
Crypto adoption set to soar, according to Visa and Fidelity 
Bitcoin and Ethereum were relatively stable this week, finishing up 1.4% and 2.5% respectively. The big movers for the week were Binance Coin up 10.6%, Terra up 15.4%, and Dogecoin up 15.9%. However, the standout was Cardano, which rose 26%. 
It could be the year that crypto payments go mainstream. Visa ran a survey amongst small and micro-size businesses and found that 25% plan to accept crypto payments this year. Meanwhile, another major financial company sees adoption coming from larger players. 
Fidelity is one of the biggest asset managers in the world and, in a note to investors, stated that they, "Wouldn't be surprised to see other sovereign nation states acquire bitcoin in 2022 and perhaps even see a central bank make an acquisition."
They continued, "History has shown capital flows to where it is treated best and embracing innovation leads to more wealth and prosperity. We also think there is very high stakes game theory at play here, whereby if bitcoin adoption increases, the countries that secure some bitcoin today will be better off competitively than their peers."
To that end, Rio de Janeiro's mayor announced plans to invest 1% of the city's treasury in cryptocurrency.
Cardano briefly surpasses Ethereum's transaction volumes
Cardano's 24-hour transaction volume briefly passed Ethereum's, putting it in second place behind bitcoin. The move coincided with the launch of the first decentralised exchange on the Cardano blockchain.
While Cardano is now back in the third spot with a transaction volume of AU$10.2 billion, Cardano's price remains up 26% for the week.
Technician's Take
Bitcoin found interim support
Despite a whole lot of hype about bitcoin tanking, it has entered another round of sideways movement, finding support around AU$58k. Volume has been pretty lacklustre, with much of the trading currently happening on altcoins — some showing massive gains. It has been quite interesting to see Solana and Cardano tussling for position in the top 10, with Cardano up 26% for the week.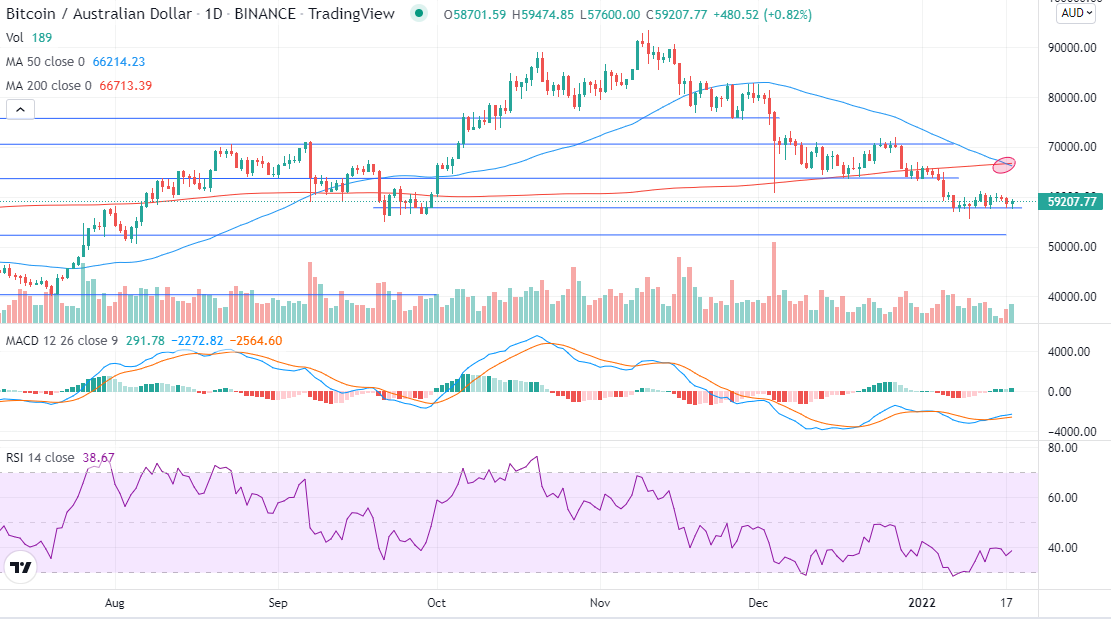 Back on bitcoin, we have hit a death cross with the 50 day Moving Average (MA) crossing the 200 day MA. On the technical front, this is a sign of us entering strong bearish action. This has happened several times recently with BTC, but with mixed results, so only time will tell what will happen from here. Interestingly though, the Moving Average Convergence Divergence (MACD) has made a bullish cross and the Relative Strength Index (RSI) is still in oversold territory.
It should be noted that no one indicator can magically predict what is to come. All good technical analysts will look at several indicators to give them an indication as to what the next move might be and will have a plan for how and when to make their entry and, most importantly, when to exit a position.
Beginners recap:
Bitcoin (BTC) moving sideways, finding support at AU$58k
Lots of indecision currently
Moving Average has made a death cross
Relative Strength Index (RSI) is oversold
Both negative and positive news could factor in the next move
Disclaimer: Information provided is for educational purposes and does not constitute financial product advice. You should obtain independent advice from an Australian financial services licensee before making any financial decisions.\ As cryptocurrencies remain volatile, all prices and percentages may have changed since the time of writing.