Market update
Cointree Crypto Market Update - January 12th 2022

Market report for traders
What's happening in the market?
Investors get nervous as the crypto market dips 
What a week! In one of crypto's worst starts to a new year, both bitcoin and Ethereum dipped below the key psychological levels of AU$55.7k (US$40k) and AU$4.1k (US$3k) respectively. This saw the fear and greed index drop to 10 — a five-month low. 
Now, both the price and market sentiment has recovered slightly, with bitcoin sitting at AU$58,775, Ethereum at AU$4,370, and the fear and greed index at 21. Notably, bitcoin is entering the Buy Zone on Glassnode's Domancy Flow chart, a bottom signal that we've only seen five times in bitcoin's history and has preceded some historic bull runs.
Is macro driving the crypto market? Bitcoin is set to compete with gold
There has been a lot of talk that the macro landscape is impacting the crypto market, with inflation expectations growing and the Federal Reserve looking to hike rates up to four times, while simultaneously shrinking the size of their balance sheet. The chief concern is that some investors see crypto as a risk asset and will look for something more stable. 
In periods of strong inflation, investors have often turned to a strong store of value assets like gold. However, as Goldman Sachs noted this week, bitcoin is set to take market share from gold. Bitcoin already accounts for about 20% of the total "store of value" market, and if it can rise to 50%, it would push the price of bitcoin to more than AU$130,000. Regardless of which grows faster, inflation concerns are driving many investors towards both assets.
Which coins have shown strength in a weak market?
Many of the most popular cryptos are down over the past month, including Binance Coin (-12%), Solana (-10%), Cardano (-4%), and Polkadot (-2%). During a market downturn, many traders often look for coins that have been bucking the trend. Two highlights are ChainLink and Cosmos, up 50% and 75% over the past month. 
Tellingly, both coins are focused on interoperability; making it easy for users to move assets and data across chains. As 2021 saw the rise of multiple layer 1 protocols, 2022 could see the growth of a cross-chain ecosystem that bridges those layer 1 chains together.
Technician's Take
Bitcoin on shaky ground?
With much publicity and hype around the apparent 'fall of bitcoin' in the media, we have seen a continued slump in the price. With the price down around 38% from the highs, this is far from ideal and elicits a strong emotional response in some investors. 
However, perspective is always important in trading and solid trading decisions should always include as much data as possible. While there is definitely a current downtrend on the price, we are barely at the prices seen in September 2021 — prices which saw the next big move up from bitcoin.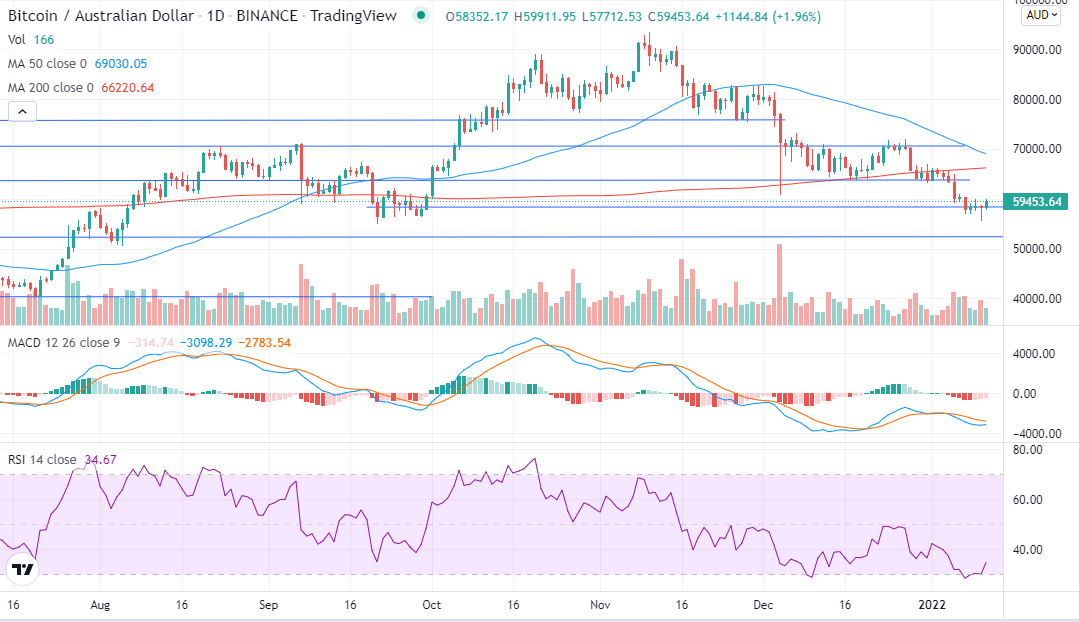 Following strong sell pressure earlier this week, we're seeing sell pressure wane and, at least for the moment, there don't seem to be many sellers at these levels. The Relative Strength Index (RSI) has entered oversold territory and the price bounced pretty soon after, but not with the sort of momentum that would indicate an immediate reversal. The Moving Average Convergence Divergence (MACD) may make a bullish cross soon if the price continues up, but only time will tell how the market may react to this.
My personal feeling is that bitcoin is looking for a proper base to form support. Once this has been found, we may see some consolidation until it moves any further. What the current move and general sentiment does highlight is that investment decisions are not something that should be made on emotion. Always be aware of what your appetite for risk is, how you will manage your money, and when you want to enter and exit a position.
As the saying goes; Plan the trade and trade the plan.
Beginners recap:
Bitcoin (BTC) continues down but sell pressure is waning
Lots of indecision currently
RSI oversold
Both negative and positive news could factor in the next move
Disclaimer: Information provided is for educational purposes and does not constitute financial product advice. You should obtain independent advice from an Australian financial services licensee before making any financial decisions.\ As cryptocurrencies remain volatile, all prices and percentages may have changed since the time of writing.