Market update
Cointree Crypto Market Update - January 5th 2022

Market report for traders
What's happening in the market?
Bitcoin celebrates its 13th anniversary with a hashrate all-time high! 
Both bitcoin and Ethereum have been relatively flat over the week, sitting at AU$63,170 and AU$5,118 respectively. Despite the total crypto market cap sitting relatively steady around AU$3 trillion, the fear and greed index is showing extreme fear. Still, it was a week to celebrate.
Happy birthday Bitcoin! On Monday, Bitcoin celebrated the 13th anniversary of the mining of its very first block, known as the 'Genesis Block.' In that block, Satoshi Nakamoto, the pseudonymous creator of Bitcoin, included The Times headline "Chancellor on Brink of Second Bailout for Banks." Consequently, many people believe that Satoshi created Bitcoin, at least in part, in response to the financial mismanagement that led to the 2008 financial crisis.
As if to celebrate its birthday, the amount of computing power backing the network (hashrate) hit an all-time high of 203.58 exahashes. And the higher the hashrate, the more secure the network. Moreover, the hashrate is now up 49% over the past 12 months.
Is Synthetix one to watch?
Synthetix is up 19.5% in the past 7 days, following a strong 2021 that saw solid user growth and development continue. With many new products set to use their synthetic assets, they could increase their Total Locked Value (TVL) beyond the current AU$2.06 billion. With solid fundamentals, it could be an asset that investors move to amid an indecisive market.
Technician's Take
What will the new year hold for bitcoin?
With bitcoin's price moving sideways, the new year hasn't shown much indication as to whether the price is headed up or down. The technical signals are also showing us that there is real indecision right now. The Moving Average Convergence Divergence (MACD) is generally flatlining and the Relative Strength Index (RSI) is hovering in neutral territory.
Given the current economic situation with the new variant surging globally, and trading in the shares of the Chinese real estate developer, Evergrande, going into suspension, there are plenty of factors that could affect the price. With previous negative news having had an adverse effect on BTC's price, it could be seen as a positive that we haven't seen any large moves in the price beyond the range we've been trading in for the last few weeks.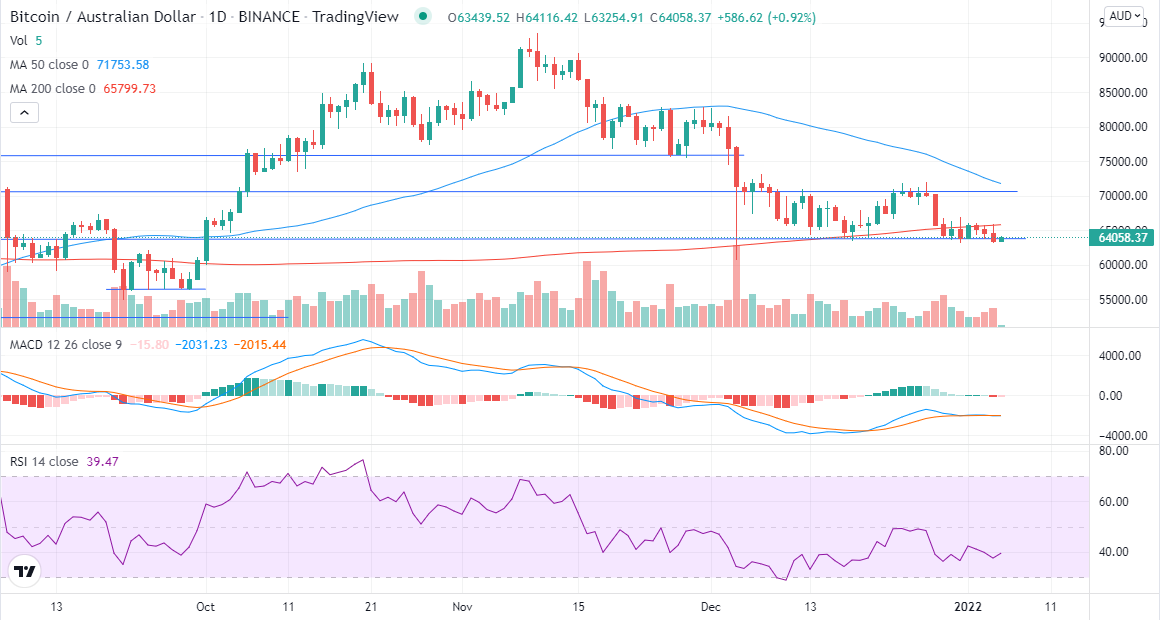 While there has been a bit of an uptick in volume over the last few days, we're not seeing any large increases in volume that would signal its next move.
While I wouldn't rule out a further retrace to previous support levels, there are not many negative factors in play here. It should most definitely not be overlooked that large institutions have been buying up BTC at these levels and increasing their overall positions.
Beginners recap:
Disclaimer: Information provided is for educational purposes and does not constitute financial product advice. You should obtain independent advice from an Australian financial services licensee before making any financial decisions.\ As cryptocurrencies remain volatile, all prices and percentages may have changed since the time of writing.