Market update
Cointree Crypto Market Update - December 8th 2021

Market report for traders
What's happening in the market?
Bitcoin recovers after dropping 27%
Bitcoin (BTC) had a volatile week. After dropping 27% over the weekend, it bounced off AU$60k and is back at AU$69k, down only 12% for the week. Most coins followed bitcoin, with Ethereum (ETH) down 7%, Solana (SOL) down 6.5%, and Cardano (ADA) down 14%. Impressively, Terra (LUNA) showed strength against a weak market as it broke through AU$100 for the first time and hit an all-time high.
What drove the crash? The drawdown likely followed broader market moves. As fears that the Omicron variant could push markets into lockdown and slow the economy, equities markets dropped sharply. The bearish sentiment then spread to crypto. 
While there was only a small increase in selling volume, the initial price dip was enough to liquidate some traders who had borrowed money to invest with. Known as a liquidation cascade, an estimated AU$2.9 billion of leveraged long positions were liquidated in an hour. As their positions were liquidated, that caused the price to dip further and trigger more liquidations, and the cycle continued.
Now, with both equity and crypto markets already recovering, it looks like the bull market could be set to continue with Terra leading the way.
Terra (LUNA) becomes a top 10 cryptocurrency
Terra (LUNA) has broken into the top 10 cryptocurrencies, ranked by market cap. It's a layer-1 blockchain that lets users swap the LUNA token for a variety of decentralised stablecoins pegged to fiat currencies. The bullish momentum continues from last month when the Terra community passed a proposal to burn 88.7 million LUNA tokens, worth AU$6.3 billion at the time. As its ecosystems continue to grow, it'll certainly be a coin to keep watching.
Technician's Take
Bitcoin wavering, looking for support
In a volatile week, bitcoin (BTC) has continued its downward trend with a few sharp sell-offs.  While some people panicked after a 27% selldown on the 5th, the bounce from the low of ~AU$60,700 to the close of AU$71,377, saw a healthy 17% bounce. As with anything in life, sometimes it takes perspective to see things clearly. 
Right now, it will be a case of 'wait and see' to determine where Bitcoin finds its next area of support. It may be around the AU$71k mark, though with the lack of a strong bounce off these levels, I would expect it to go hunting for something a little more solid.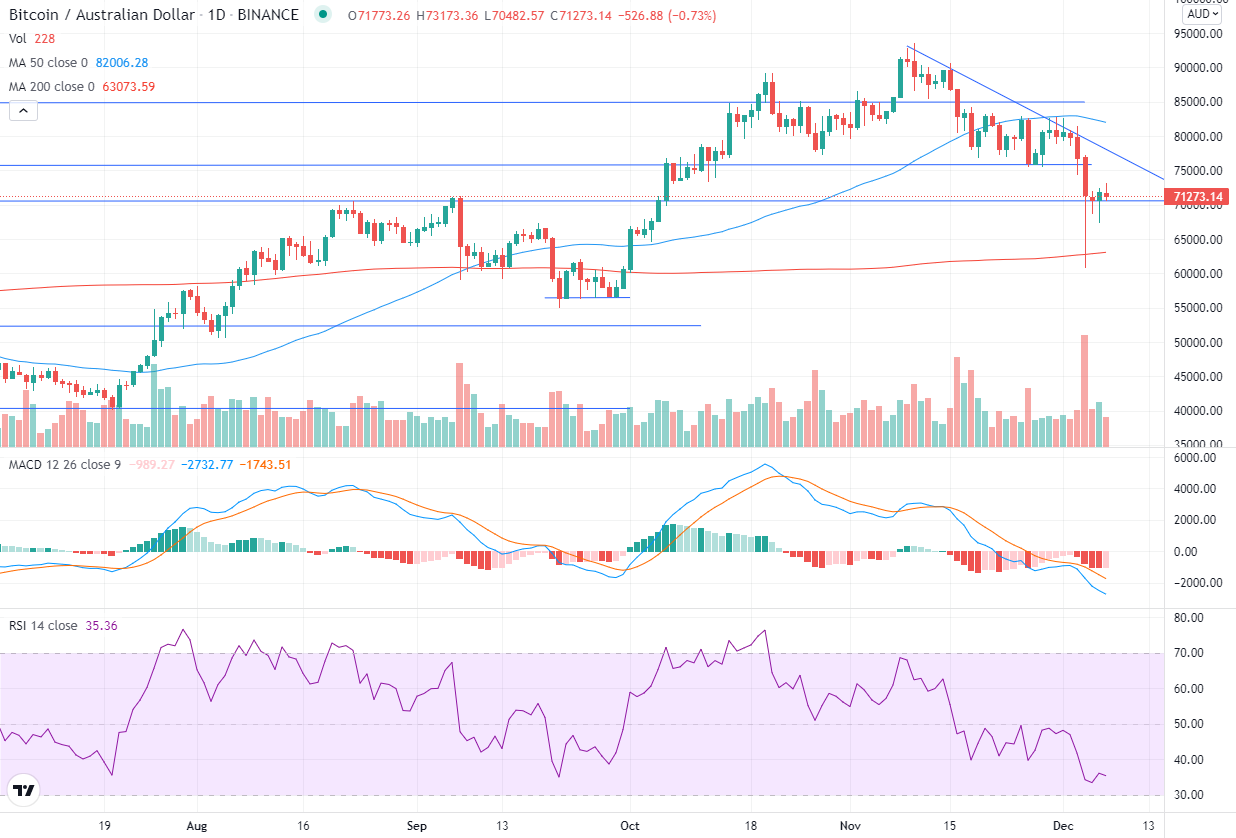 Looking at the technical indicators, Relative Strength Index (RSI) is trending down and approaching oversold, while Moving Average Convergence Divergence (MACD) is still very much bearish. From here, I will be sitting back a little and watching the charts. Even if we see a continuation of this downward trend in the interim, this volatility will present some wonderful trading opportunities. 
Notably, while volatility can bring some great trading opportunities, emotion doesn't belong in any trading strategy. One must always go in with a plan; "Plan to trade and trade the plan". As always, manage your risk and only trade within your risk profile.
Beginners recap:
Bitcoin (BTC) showing some short term weakness.
Moving Average Convergence Divergence (MACD) is very bearish.
Relative Strength Index (RSI) is in a downtrend towards oversold.
Watching for a support zone to form and then trading the volatility.
Disclaimer: Information provided is for educational purposes and does not constitute financial product advice. You should obtain independent advice from an Australian financial services licensee before making any financial decisions.\ As cryptocurrencies remain volatile, all prices and percentages may have changed since the time of writing.