Market update
Cointree Crypto Market Update - December 1st 2021

Market report for traders
What's happening in the market?
Bitcoin's negative sentiment hasn't slowed institutional investors
Despite a lot of negative sentiment for bitcoin (BTC) over the past week, it's up 1.2% and has found support at AU$76k. Ethereum (ETH) has been more bullish, up almost 10%.
El Salvador's president didn't buy into the bearish sentiment and purchased another 100 bitcoins. MicroStrategy has also continued their relentless bitcoin investments, purchasing another 7,002 bitcoin over the fiscal fourth quarter. Now, according to a study by Ernst & Young, 31% of hedge fund managers plan to invest in crypto. 
Closer to home, Australia's Rest Super retirement fund announced they will invest in cryptocurrency for their 1.8 million members.
New Ethereum proposal to tackle high gas fees
High fees on the Ethereum network have been a constant frustration over the past year. While that problem will be solved when Ethereum 2.0 launches, developers are looking to implement a quick fix to help reduce some of those costs in the meantime. Ethereum Investment Proposal 4488 (EIP-4488) could significantly reduce data transfer costs.
Algorand attracts strategic investments
As the Algorand (ALGO) community meets for their Decipher conference in Miami, exciting new investments in the ecosystem have been announced. Hivemind Capital Partners, a fund headed by a former Citibank executive, has announced a strategic AU$2.1 billion crypto fund, with Algorand as a strategic partner. 
Interestingly, a former Goldman Sachs analyst will run a branch of the fund that's exclusively focused on NFT games. Furthermore, a separate fund, Borderless Capital, announced they're launching an AU$700 million investment to build projects on Algorand's blockchain. 
Technician's Take
Bitcoin finds support at AU$76k
Despite many predictions of doom and gloom by some commentators out there, bitcoin (BTC) has found support at ~AU$76k. It has been ranging between that level and then rejecting the 50 day Moving Average (MA). While this is a relative sideways move for now, some of these bounces could have yielded a healthy 8.5% profit for the bounce traders out there.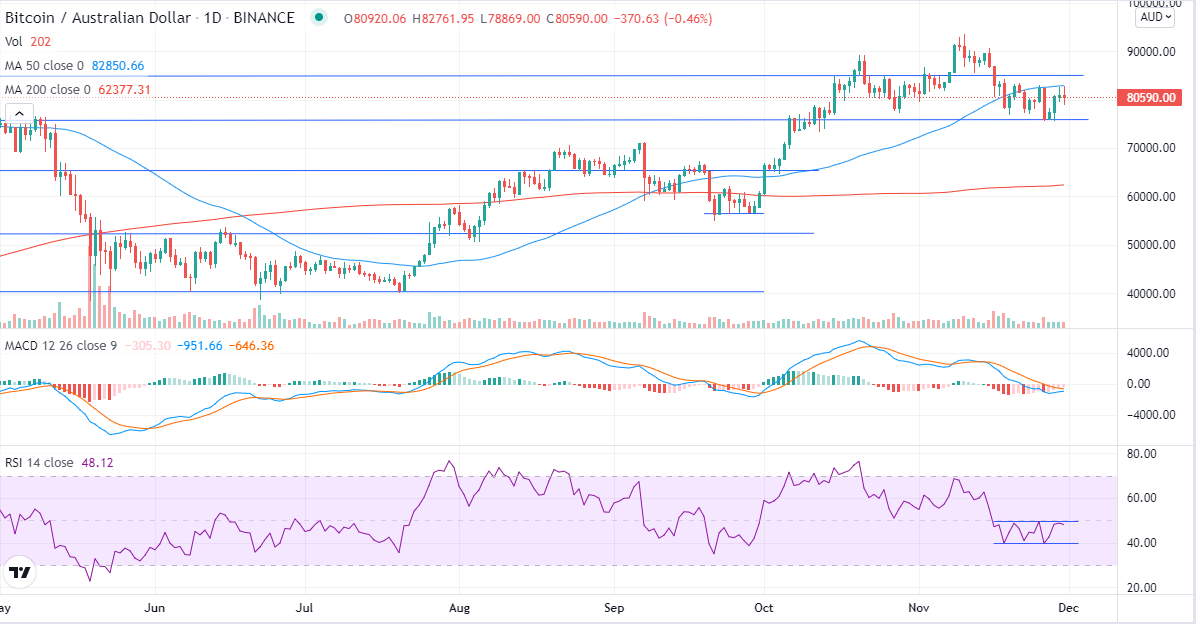 As you can see in the chart above, the Relative Strength Index (RSI) has stayed in a fairly tight range. This is another indicator we'll be watching closely over the next week or two, looking to confirm a trend if it develops.
Moving Average Convergence Divergence (MACD) looks like it wants to make a bullish cross, so this will be another indicator to keep your eye on. Watch for confirmation of a break up (or down).
Beginners recap:
Bitcoin (BTC) is ranging and finding support around the AU$76k mark.
Moving Average Convergence Divergence (MACD) could be making a bullish cross. It gives us a nice setup to confirm any trend that develops over the next week or two.
Relative Strength Index (RSI) is also ranging, so watch for a break up or down to confirm the trend.
Watching those support and resistance zones for bounce trades.
Disclaimer: Information provided is for educational purposes and does not constitute financial product advice. You should obtain independent advice from an Australian financial services licensee before making any financial decisions.\ As cryptocurrencies remain volatile, all prices and percentages may have changed since the time of writing.