Market update
Cointree Crypto Market Update - November 24th 2021

Market report for traders
What's happening in the market?
Most layer-1s dip slightly while Avalanche surges 33%
In a week where Ethereum (ETH) and most other layer-1s are down 3-10%, Avalanche (AVAX) has bucked the trend and is up 33%. Meanwhile, bitcoin (BTC) dipped 8.1% over the week and is now sitting at AU$79.8k.
There's been a lot happening internationally over the past week. While President Biden nominated Fed chair Jerome 'Money-Printer' Powell for a second term and the Indian government submitted a bill to ban crypto, El Salvador is looking to build 'Bitcoin City'.
El Salvador issues billion dollar bond to build 'Bitcoin City'
El Salvador is issuing a billion-dollar bond to fund the city, with AU$692 million earmarked to buy bitcoin and the other AU$692 million to be used to build bitcoin mining infrastructure. Investors across the world could buy the bond with as little as AU$100. 
How would the bond be paid back? Offering a 6.5% coupon, El Salvador will generate bitcoin to sell from their geothermal (volcano) mining operation. Then, from the sixth year, investors will also receive ongoing dividends from staggered liquidations of the bitcoin holdings.
Zcash rises 20% after announcing a move to Proof-of-Stake (PoS)
Zcash (ZEC) hit a six-month high of AU$316 on Monday after an announcement that the protocol would move from Proof-of-Work to Proof-of-Stake over the next three years. The move will make Zcash more environmentally friendly as it reduces its energy demands, while also opening a possible path to making it interoperable and establishing on-chain governance.
Technician's Take
Bitcoin takes a breather
After making new all-time highs earlier this month, bitcoin (BTC) has been ranging between AU$76k and AU$83k this week as traders look for a continuation of this bull run or a breakdown to a lower support level. 
Breaking resistance at the AU$83k resistance level could signal bullish continuation and a possible move towards new all-time highs. Although, falling below the AU$76k level could see bitcoin drop to support at AU$73k. And as we discussed last week, the human psychology that creates 'round-number support' puts the next support level at AU$69k (US$50k).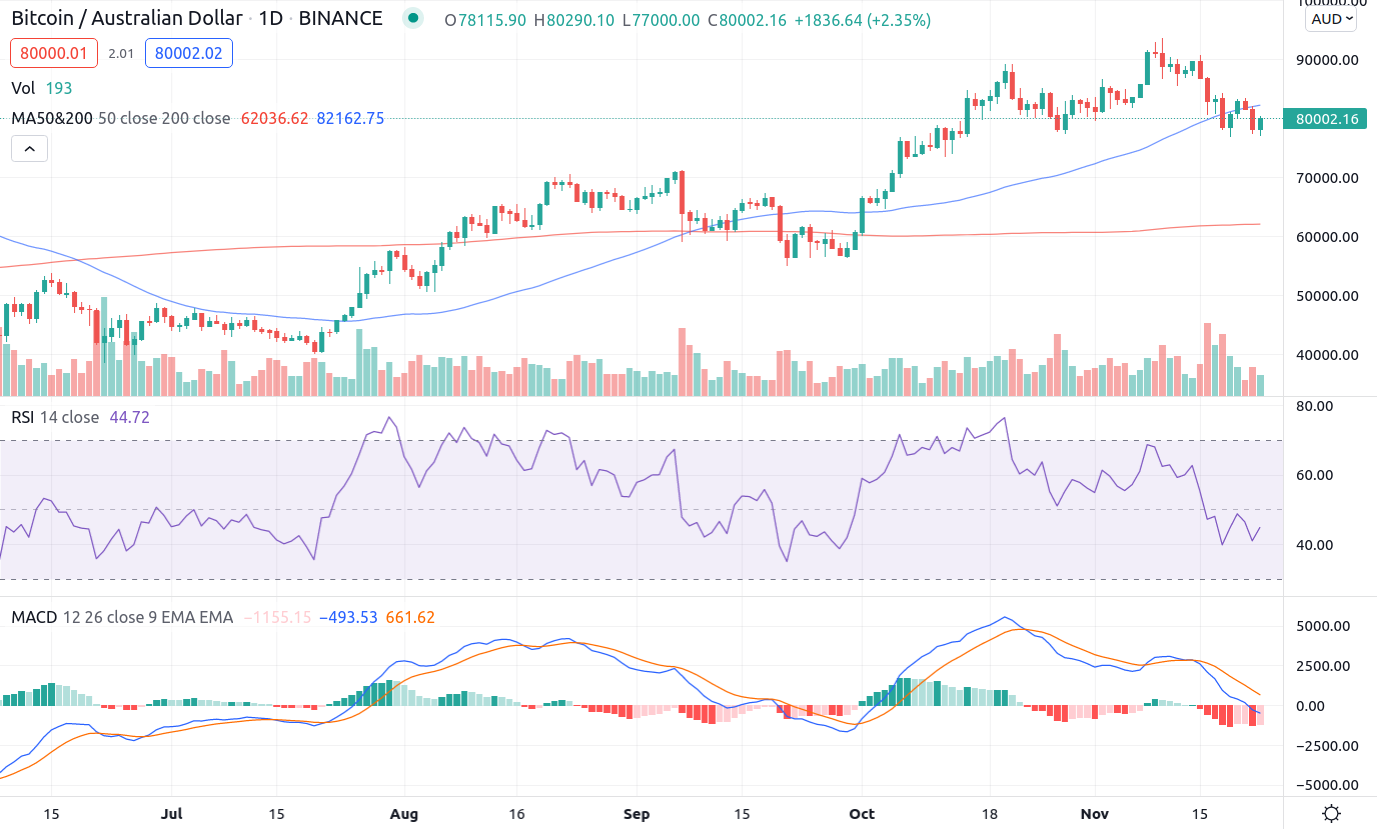 Looking at the technical indicators, the Relative Strength Index (RSI) is in neutral territory, while the Moving Average Convergence Divergence (MACD) continues its recent bearish trend. However, a key on-chain indicator is looking bullish. The 1 year HODL wave (the percentage of coins in circulation that hasn't moved in over 1 year) is making a 4-month high in what appears to be the start of an uptrend. 
As we remain in a bullish trend overall, I'm cautiously optimistic we'll see an uptick in the market. Although, given the news that India submitted a bill to ban crypto, that could increase sell pressure on the market, much like when China banned bitcoin earlier this year. As always, proper risk management is paramount in such a market.
Beginners recap:
Disclaimer: Information provided is for educational purposes and does not constitute financial product advice. You should obtain independent advice from an Australian financial services licensee before making any financial decisions.\ As cryptocurrencies remain volatile, all prices and percentages may have changed since the time of writing.