Market update
Cointree Crypto Market Update - November 3rd 2021

Market report for traders
What's happening in the market?
Ethereum passes AU$6,000 for the first time
Ethereum (ETH) hit new all-time highs today as the Ethereum 2.0 Altair Beacon Chain update has gone off successfully. Passing AU$6,000, it's up over 5% in the last 24 hours and 30% over the past month. The ATH follows bullish news here in Australia. 
Australia leads the way in the crypto industry
On Friday, the Australian Securities and Investments Commission (ASIC) gave the green light for cryptocurrency-focused ETFs for retail investors. Products linked to bitcoin (BTC) and Ethereum are now eligible for approval. This is a positive sign for the crypto industry in Australia, signalling that regulators are welcoming of the growing digital economy. 
In more exciting news for Australia, Iris Energy, an Australian bitcoin mining company that uses renewable energy, filed for an initial public offering (IPO) in the US. They're looking to raise up to AU$134 million. 
Metaverse tokens surge following Facebook's rebrand
Facebook rebranded their company to 'Meta'. It's a play on the word metaverse, a new social and gaming experience that takes place with virtual and augmented reality. Facebook is aiming to "bring the metaverse to life". The news sparked interest in blockchain based metaverses.
Tokens for the decentralised metaverse games Decentraland and Sandbox surged. Decentraland (MANA) is like a hybrid of Minecraft and Second Life and is now up 279% for the week. Sandbox (SAND) is an NFT gaming world and its token is up 300%.
Technician's Take
Bitcoin still strong
Ranging in the AU$78k-85k zone, Bitcoin (BTC) is showing plenty of strength driven by hungry buyers. After the sharp sell down on the 26th of October, the red days were a battle between the bulls and the bears, with neither side giving much away. The following green days showed that the bears really ran out of steam. Bitcoin's price increased by up to 11% over the week, so there were plenty of opportunities to scalp some swings, be it for short term trades or to dollar cost average into your position.
Relative Strength Index (RSI) is still in neutral territory and Moving Average Convergence Divergence (MACD) looks like it could be heading for a bullish cross. The volume has started increasing, though still has a bit to go to match the volume that drove the last bull run.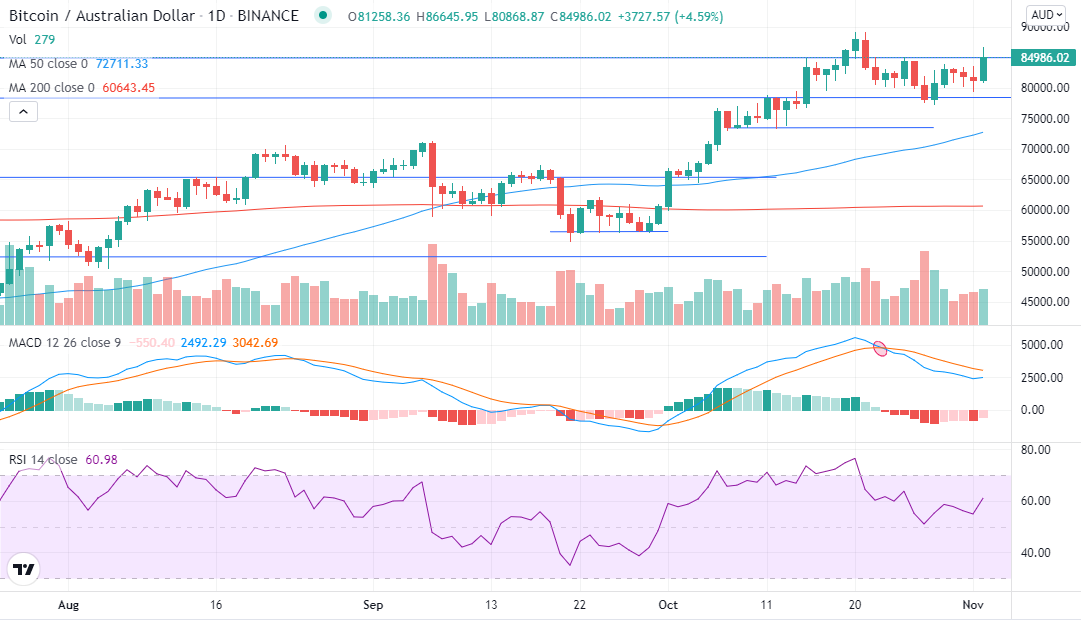 With more positive news keeping the price buoyant, like ASIC approving BTC and ETH ETFs, there should be plenty of upside here. Another interesting aspect to consider is that Binance, the world's largest exchange by volume, has had to put a hold on BTC withdrawals recently due to increased demand. This is right in line with last week's mention of exchange outflows. It shows that people are moving their assets off exchanges, further cementing that Bitcoin is indeed a store of wealth.
Beginners recap:
Bitcoin (BTC) continues to range in the AU$78k-85k support/resistance zone.
Moving Average Convergence Divergence (MACD) looking to possibly move back into a bullish cross.
Relative Strength Index (RSI) is still neutral.
Disclaimer: Information provided is for educational purposes and does not constitute financial product advice. You should obtain independent advice from an Australian financial services licensee before making any financial decisions.