Market update
Cointree Crypto Market Update - October 27th 2021

Market report for traders
What's happening in the market?
Bitcoin breaks all-time high as Mastercard announces plans to integrate BTC
Both bitcoin (BTC) and Ethereum (ETH) hit new all-time highs this week at AU$89,569 and AU$5,820 respectively. But it was bitcoin that stole the show, achieving major milestones for the network.  
Meanwhile, Mastercard is said to be planning to integrate bitcoin into its payment network with bitcoin wallets and crypto credit cards. 
So how big could this be? Mastercard's network includes over 20,000 financial institutions and millions of merchants worldwide. All up, there are 2.8 billion Mastercards in use. The mass adoption of bitcoin as a global payment rail may be starting. "Cryptocurrency could actually become the reserve currency of the world," noted a US Senator. 
Is that possible? Many more institutions wouldn't only have to adopt bitcoin as a payment rail, they'd have to hold it as a store of value. In that regard, bitcoin passed yet another milestone this week with a U.S. public pension fund investing in bitcoin for the first time. The Houston Firefighters' Relief and Retirement Fund has acquired an undisclosed amount of bitcoin. 
Fantom (FTM) hits all-time highs, up 1,300% for the year 
Fantom (FTM) hits all-time highs as the first Fantom Developer Conference kicks off in Abu Dhabi. Already up a staggering 1,300% for the year, the conference will help bring more projects to the platform. There are already over AU$7 billion of Total Value Locked (TVL) in the network and over 80 dapps in the ecosystem, including Curve, Sushi and Yearn. 
Like Solana, Fantom is a high-performance layer-1 blockchain that can scale at speed. But Fantom is also Ethereum Virtual Machine (EVM) compatible. That means it can grow quickly as Ethereum projects can easily port their dapps over to Fantom. Learn more about Fantom (FTM).
Technician's Take
Bitcoin continues strongly
Bitcoin (BTC) almost hit AU$90k and briefly established a new resistance level of around AU$88k, before retreating back into the AU$78-85k support and resistance zones, showing solid volume without any major corrections. While there was a ~7% drop and some brief panic, any bitcoin that hit the market was quickly soaked up.
[Relative Strength Index (RSI)]/learn/relative-strength-index/) is back into neutral territory, however, Moving Average Convergence Divergence (MACD) has made a bearish cross. With the slight drop off of volume, we may see bitcoin take a bit of a breather here and enter a brief period of accumulation. Personally, I think this phase will be short-lived as there's still plenty of upside to the current move.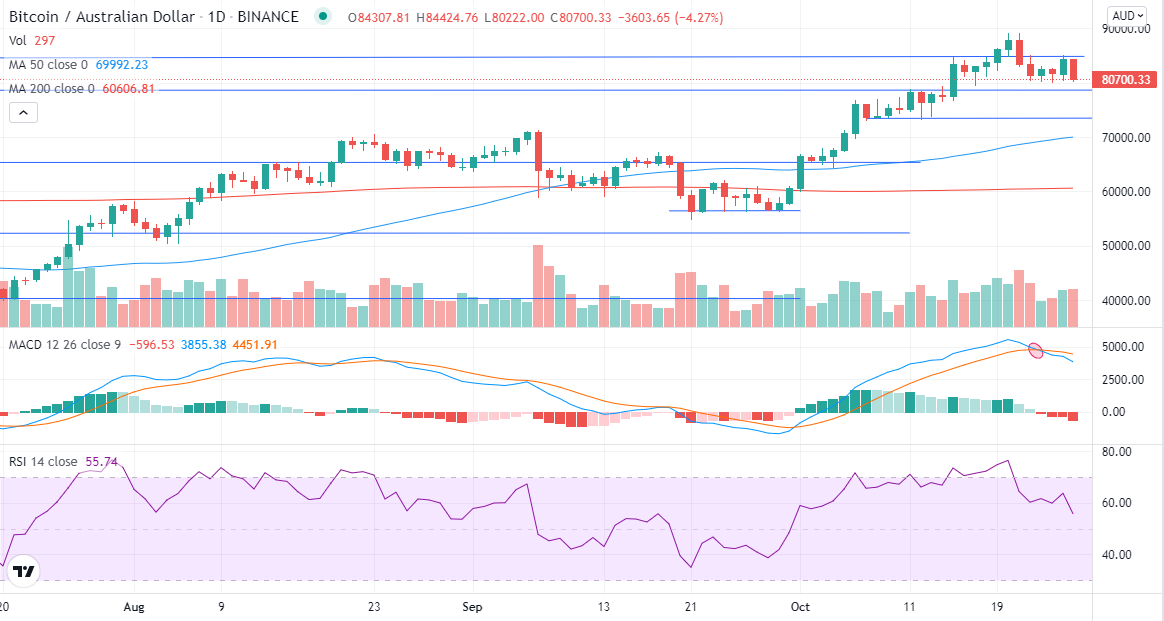 A fundamental on-chain metric that we have not yet spoken about in this column is the exchange net outflow. It's the amount of bitcoin that's held at all exchanges and is available for trading. A reduction of this metric is a strong sign that people and companies are accumulating bitcoin rather than just trading it. Given the finite supply of BTC, that is a very strong signal that the overall value should have more upside than downside. As always, it should be noted that BTC is still volatile, so price corrections can and will still happen.

I'll also be keeping a close eye on altcoins this week, as they have largely lagged behind bitcoin and Ethereum. Any sideways movement in the BTC and ETH markets may see some exciting trading opportunities for altcoins.
Beginners recap:
Bitcoin (BTC) breaks its previous all-time high (ATH) and retreats back into the AU$78k-85k support/ resistance zone.
Moving Average Convergence Divergence (MACD) made a bearish cross.
Relative Strength Index (RSI) is back in neutral territory.
Disclaimer: Information provided is for educational purposes and does not constitute financial product advice. You should obtain independent advice from an Australian financial services licensee before making any financial decisions.