Market update
Cointree Crypto Market Update - October 13th 2021

Market report for traders
Market Recap
Bitcoin getting ready to break all-time highs in Uptober
The month of October has become 'Uptober' in the crypto space, with expectations the market will ascend to all-time highs in the last quarter of 2021. Already, at AU$76,769, bitcoin (BTC) is only 9% off its all-time high. 
Weekly inflows into crypto funds rose to AU$307 million — the highest in five months. According to JPMorgan, money is flowing out of gold and into bitcoin as institutional investors are "seeing it as a better inflation hedge than gold."
However, while analysts are expecting an all-time high this quarter, they suggest there could be two weeks of price consolidation in the near term. Traders somewhat agree, with the options market pricing in a 20% chance of an all-time high before the end of Uptober. 
Ethereum held by miners hits fifty month high
Ethereum (ETH) miners, not to be outshone, are holding almost AU$2.7 billion ETH  — a fifty month high. The increase follows Ethereum's Altair announcement, which moves Ethereum another step closer to their Ethereum 2.0 upgrade. 
Polygon flips Ethereum on active user addresses
Polygon (MATIC) made news when it briefly flipped Ethereum on active user addresses earlier this month, and now less than thirty days later, the entire crypto bridging ecosystem increased by 89%. 
As you know, bridges like Polygon make it possible for different blockchains to connect with each other. And as we've seen in the past, increased network usage often translates into higher demand for the native token. Check the latest price of Polygon (MATIC).
Technician's Take
Bitcoin continues rising, rejecting AU$78,800
Continuing its uptrend this week, bitcoin (BTC) has quickly reached its previous resistance level of AU$78,800. Those of you following the Technician's Take, or those that use support and resistance for entries and exits, would have noticed the respectable 10% increase for the week. While there has been a decent retrace as much as 6.5% for the day, another entry at the short term support level of AU$73,500 would have seen a tidy 3.5% for the day.
Looking at other technical indicators, the Relative Strength Index (RSI) is toying with entering overbought territory. And while the Moving Average Convergence Divergence (MACD) is still bullish, it's showing signs of converging and should be watched carefully. Furthermore, we're currently trading well and truly above both the 50 and 200 day Moving Averages, and while this is very bullish, we may see the price looking for a correction in the short term.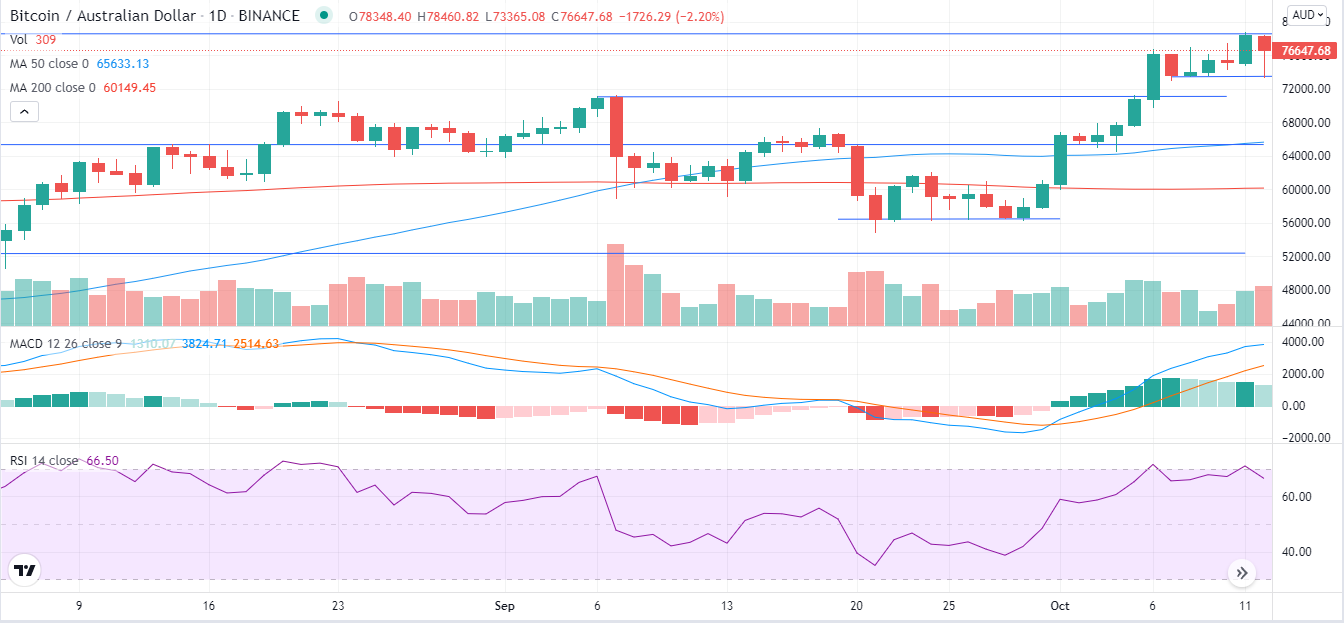 What levels are we focused on? The AU$78k resistance level is most definitely the one to watch again. It's all that lies between the current price and bitcoin's all-time high (ATH). While I don't think BTC reaching or even exceeding its ATH is out of the question, the million-dollar question is, where could it go from there?
As always, tight stops and proper risk management are paramount in such a market.
Beginners recap:
Bitcoin (BTC) making solid 10% gain for the week
Moving Average Convergence Divergence (MACD) is bullish but showing signs of convergence
Relative Strength Index (RSI) is getting close to oversold territory
A break of AU$78k could see a test of BTC's ATH
Disclaimer: Information provided is for educational purposes and does not constitute financial product advice. You should obtain independent advice from an Australian financial services licensee before making any financial decisions.