Market update
Cointree Crypto Market Update - October 6th 2021

Market report for traders
Market Recap
Brazilians may soon be able to buy McDonald's using bitcoin 
Brazil moves another step closer to using bitcoin as a currency thanks to a bill that provides a framework for virtual currencies. If the bill passes the final hurdle, the Chamber of Deputies, then Brazilians will be able to buy houses, cars, and McDonald's with bitcoin. 
This news coincides with another milestone for the Lightning Network, bitcoin's layer-2 payment channel, as it now houses over 3,000 bitcoin. 
Future-based bitcoin ETF has a 75% chance of approval
According to Bloomberg analyst Eric Balchunas, a futures-based ETF in the US has a 75% chance of being approved in October. With more bitcoin ETFs in the pipeline for approval in the following month, this could be the catalyst to spur institutional adoption and push bitcoin well above AU$100k. 
Not wanting to wait, institutions continue moving forward. The fifth biggest US retail bank is now offering bitcoin custody services to fund managers. 
LUNA to the moon following Terra upgrade
Terra (LUNA) hit an all-time high after the Terra network launched its Columbus-5 upgrade to help grow its Dapps ecosystem. It's grown over 14,000% in the past 12 months. 
The upgrade puts deflationary pressure on the token as LUNA is now burned whenever Terra's UST is printed. Notably, Terra's UST is the fastest-growing algorithmic stablecoin over the past year.
More exciting developments are coming. Wormhole V2 is planning to launch support for Terra, which means anyone can import and export assets from Ethereum and Solana.
Technician's Take
Bitcoin up 25% from last week's lows
We'll start this week by looking at the support level for bitcoin (BTC) at AU$56,400. As outlined in last week's post, that level held true and was tested several times before BTC bounced solidly off this level. For anyone like myself who looks at support and resistance for trading bounces, they could have generated a solid 25% return for the week. 
We have seen a solid reversal off the aforementioned level and are now testing a new resistance level of ~AU$71k. This level has been a strong resistance level in recent moves, so any break above this would establish a very nice bullish move to the next level. 
Moving Average Convergence Divergence (MACD) has made a very nice bullish cross and the price has well and truly broken free of the 200 day Moving Average level that proved too hard to break last week.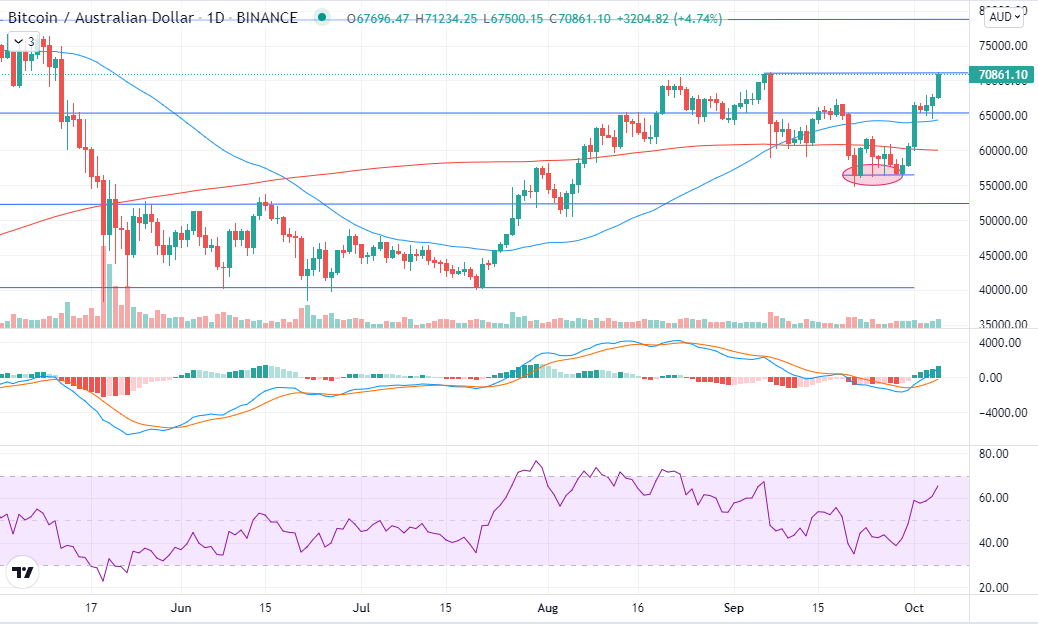 As in recent times, news will still be a major factor in short term moves for bitcoin's price. However, current signs show plenty of strength despite short term corrections.
For this next week, I'll be watching for a break of the recent resistance level around AU$71k for another bullish move. If it rejects off this level, then I'll be watching where it finds its support and look for a possible entry for a bounce trade as it tests AU$71k again. Any signs of a rapid retrace will definitely be watched closely.
As always, tight stops and proper risk management are paramount in such a market.
Beginners recap:
Bitcoin (BTC) making solid moves this week and entering bullish territory
Moving Average Convergence Divergence (MACD) and Relative Strength Index Indicator (RSI) also bullish
A new resistance level of AU$71k will be the one to watch
Patiently watching for bounces to trade
Disclaimer: Information provided is for educational purposes and does not constitute financial product advice. You should obtain independent advice from an Australian financial services licensee before making any financial decisions.