Market update
Cointree Crypto Market Update - September 29th 2021

Market report for traders
Market Recap
Twitter integration could push bitcoin over AU$450k
Twitter has successfully launched its integration with the Strike bitcoin lightning wallet, making sending bitcoin to someone as easy as sending a tweet. 
While the feature is currently available to iOS Twitter users in the US and El Salvador, it's expected to come to Android and other nations soon — creating a quick and easy bitcoin payment channel between over 350 million people. 
This could pave the way for a single bitcoin to be worth AU$450k. As the Strike CEO commented, the move "turns Twitter into one of the best remittance experiences in the world, one of the greatest global creator marketplaces in the world, one of the greatest global payment experiences in the world." 
Investment banks appear to agree. Morgan Stanley just doubled their bitcoin investment, while Citigroup released a report stating that bitcoin could be at the tipping point of being the "chosen currency for international trade." 
Supporting their thesis, a new survey indicates that 62% of institutions will start investing in crypto within a year and the amount of bitcoin held by long-term holders has just reached an all-time high of 80.5%. Recent data also shows institutions are also piling into Ethereum. 
While this week has been a massive step forward for crypto, the news was dampened as China banned bitcoin yet again and fears continued over the potential collapse of the Chinese real-estate developer, Evergrande. Bitcoin finished the week slightly down 2.1%, at AU$56,882.
Technician's Take
Bitcoin rejecting off 200 day Moving Average with reduced volatility
Bitcoin (BTC) has placed itself firmly in AU$53k-$65k level, currently sitting just shy of AU$58k. It has attempted to break the 200 day Moving Average, but has since retreated below this level. 
We're seeing far less volatility now with the market seemingly trying to reconcile the true impact of the recent ban of crypto by the Chinese government, as well as the uncertainty around the financial future of the Chinese real-estate developer, Evergrande.
As mentioned last week, periods of uncertainty and volatility also present opportunities, with BTC going up over 9% at one stage and still trading at a 3.24% premium from last week. 
Given we didn't see a further strong decline makes it very obvious that there are still plenty of buyers willing to hoover up any bitcoin released by shaky hands, including several large investment funds.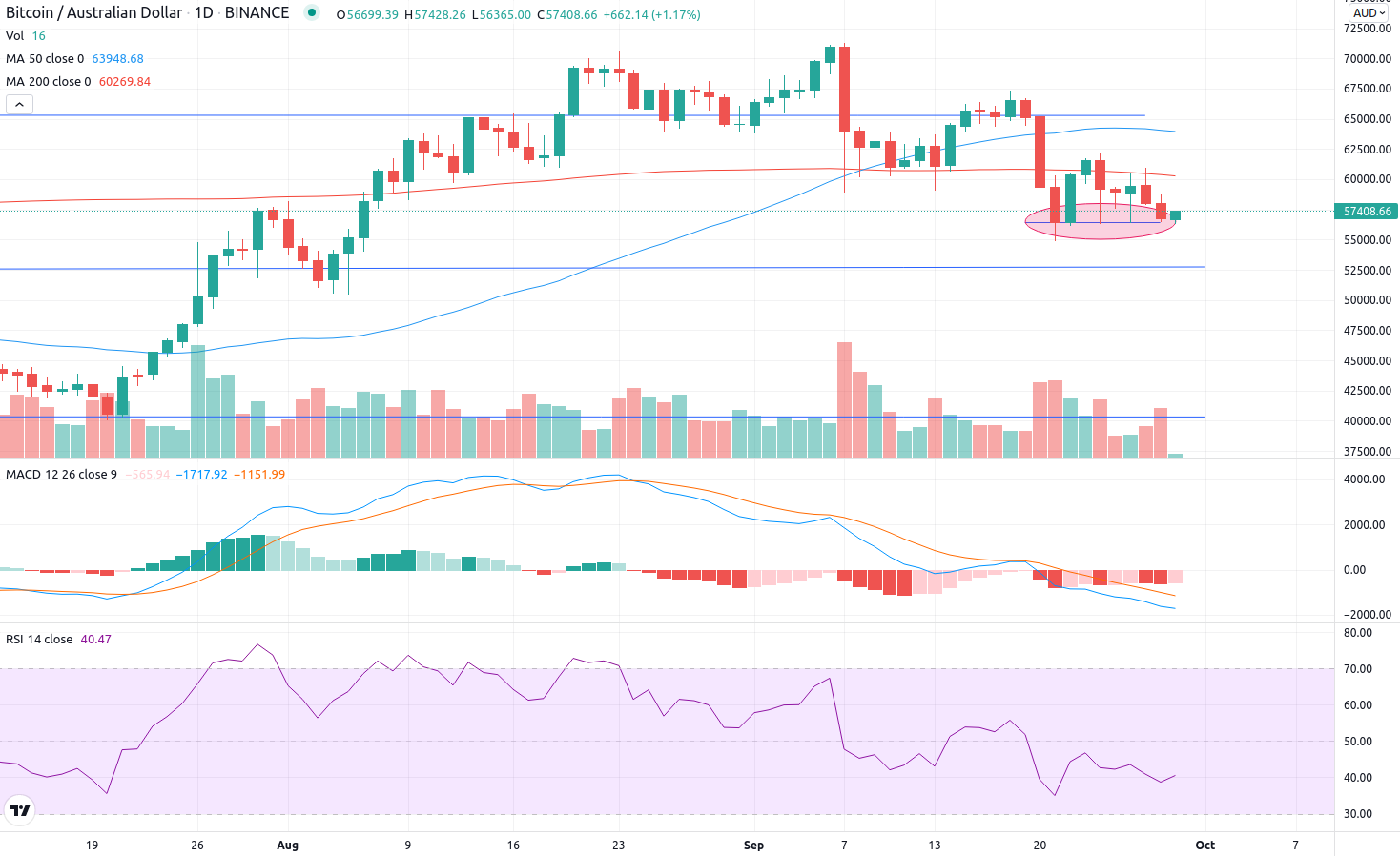 On the technical front, looking at the last seven days, the chart shows real indecision in the market right now. Still, no strong moves further south is very much a positive sign. 
Interestingly, it also looks like bitcoin has found new support around the AU$56,400 mark. I will definitely be watching for further confirmation of this new support level. However, with four out of seven daily candles bouncing off this level in the last week, it may have found a short term support level.
The Moving Average Convergence Divergence (MACD) is still showing bearish momentum and both 50 and 200 day Moving Averages are starting to go downhill — all bearish signs.
From here I'm still looking for bounces to find an entry, a convincing break of the 200 day Moving Average could signal an attempt at resistance of AU$64k. I'll also be looking for negative signals, including a convincing breakdown through the new AU$56.4k support level. I'll interpret any attempt at the lower level of AU$53k as a signal for a further negative move. 
As always, tight stops and proper risk management are paramount in such a market.
Beginners recap:
Bitcoin (BTC) testing 200 day Moving Average and failing
Moving Average Convergence Divergence (MACD) and Relative Strength Index (RSI) are both bearish, but RSI is close to oversold territory
A new support level of AU$56,400 looks to be developing, looking for confirmation over the next week
Patiently watching for bounces to trade
Disclaimer: Information provided is for educational purposes and does not constitute financial product advice. You should obtain independent advice from an Australian financial services licensee before making any financial decisions.