Market update
Cointree Crypto Market Update - July 28th 2021

Market report for traders
Market Recap
Is it a supercycle?
Following a massive short-squeeze that saw over AU$1.2 billion of short positions liquidated, the crypto market shot upwards. Bitcoin touched AU$54K and is now at AU$51,590, sitting 31% higher than a week ago.
Ethereum also has gained 28% over the past week, while Cardano gained 21% and Dogecoin 19%. Could the crypto bulls be looking to break out of the accumulation phase and establish a bull run for the second half of 2021?
World Economic Forum turns to DeFi
As the traditional banking system has been unable to bring financial access to the developing world, the World Economic Forum has come out in support of DeFi as an emerging "tool for smaller businesses in developing markets, particularly for remittances and small loans."
Alongside projects like Curve, which allow conversions between stablecoins, they highlighted several high-throughput cryptocurrencies to scale DeFi across the globe:
NFT gaming surges, led by Axie Infinity and Sandbox
Making up a large part of our best performing portfolios this week were two gaming tokens, Axie Infinity and Sandbox, increasing 210% and 83% respectively. The move saw Axie Infinity hit an all-time high and is now up over 25,000% since its launch in December. This impressive growth has made Axie Infinity the most popular NFT marketplace over the past month.
Technician's Take
Bitcoin makes a solid 31% gain in a week
Bouncing solidly off the AU$40,665 support line, bitcoin (BTC) has shown some real strength and has run straight to the AU$53k resistance line. If you've been following the Technician's Take, you'll notice that those lines have been quite consistent. My view remains the same; be cautious when the support is tested and look for a convincing break of resistance. In the meantime, profit from the bounces.
On the technical side, RSI has increased rapidly and is now entering oversold territory, so we may see some weakness and profit taking unless we see another push higher. While MACD is a lagging indicator, it's still well and truly in bullish territory.
The 50-day moving average (depicted by the blue line on the chart) is now moving upwards, confirming that over the last 50 days the average of the price is slowly heading up rather than down. Remember, this is also a lagging indicator.\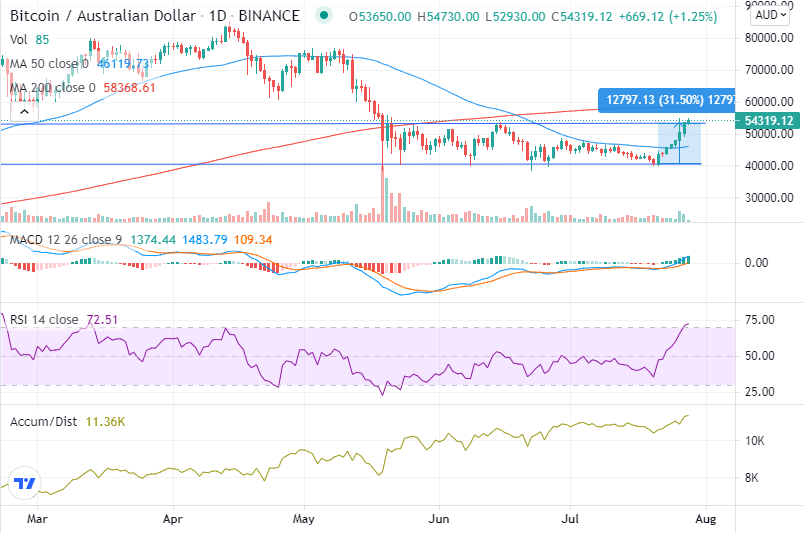 Beginner's Recap
Bitcoin (BTC) bounced solidly off $40k and is now sitting at its previous resistance level.
The 50-day moving average is starting to trend higher, meaning the average prices for the last 50 days are moving higher.
Moving average convergence divergence (MACD) is bullish.
Disclaimer: Information provided is for educational purposes and does not constitute financial product advice. You should obtain independent advice from an Australian financial services licensee before making any financial decisions.