Market update
Cointree Crypto Market Update - December 14th 2022

Market report for traders
🪙 BTC and altcoins
Over the last seven days, bitcoin has inched up 2.37% to AU$25,747 at the time of writing. Meanwhile, Ethereum has also climbed 2.25% at AU$1,912 week-on-week. And in other altcoin movements, Cardano has fallen 1.30% Solana gained 0.93%, Avalanchegained 2.00%, and Polkadot fell 3.58%.
🗞 What's happening in the news?
This is our final market update for 2022, and what a year it has been! 
In 2022, the crypto market cap reached US$2.3tn and the non-fungible token (NFT) market grew exponentially, however, as central banks began to raise interest rates, investors' appetite for risk and speculative investments decreased and caused the crypto market cap to fall by over US$1tn. 
It's certainly been a turbulent time for crypto and traditional markets alike. But as we head towards another year's end, it's a great time to reflect on what has been and what will be. 
This year, we saw the collapse of the algorithmic stablecoin TerraUSD and sister coin LUNA. Celsius Network filed for bankruptcy, as did Three Arrows Capital and FTX, and the local exchange Digital Surge announced it was going into administration. 
Despite the hardships, we also saw some incredible successes in the crypto market throughout 2022. Ethereum was adopted by major corporations and institutions to provide the underlying infrastructure for their blockchain operations, and the DeFi sector continued to thrive. Bitcoin has grown more than 400% since its lowest point in the last bear market, and its adoption rate is expected to continue exploding.
If we look towards the future, there's still a lot of potential for DeFi and blockchain technology. 
Bitcoin has the potential to shape the future of finance and commerce by providing a decentralised, secure, and global means of exchange. With its underlying blockchain technology, it has the potential to revolutionise industries such as finance, real estate, and supply chain management. 
And as more and more people and businesses adopt bitcoin, it has the potential to become a widely-used and accepted form of currency, bringing greater financial inclusion and stability to the global economy.
So as we set aside time to recharge the batteries, what do you think the future will hold?
Let us know on Twitter.
💻 Project news:
Ethereum's Shanghai upgrade has a tentative deadline set for March 2023
✍️ Technician's Take
🔔 Alert Ideas are presented throughout to help identify key levels of interest that may signify significant shifts in market performance. Cointree members can set a price alert directly from their Cointree account.
Weekly chart - Bitcoin reached its highest close in the last five weeks at AU$26,000
Bitcoin (BTC) has increased its bullish momentum to AU$26,000.
Daily chart - Bitcoin has sneaked in past 21 day EMA
Bitcoin (BTC) has managed to break its market structure channel with above average volume in the last 24 hours due to better than expected US CPI data. 
BTC has also continued to make higher highs and higher lows with a close above the 21 day Exponential Moving Average (EMA) at AU$25,400. Surprisingly, the upside move showed a decrease in volatility. Usually, large movement in price results in higher volatility but this was not the case. The Average True Range (ATR) has dropped from 4.53, 2.63, 1.98 and 1.89 in the last four weeks.
For the bulls, BTC needs to break its next major resistance at AU$26,760 and ideally close above its 50 day Simple Moving Average (SMA) of AU$27,000 with above average volume to continue its upswing momentum. If you have missed on the move, a pullback entry at around 21 EMA of AU$25,000 with tight stop loss could provide a good risk and reward opportunity.
For the bears, it is not looking good technically in the last few weeks. BTC would still need to break below this year's support low at AU$23,400 to be back in control.
The daily RSI (Relative Strength Index) has continued its uptrend momentum increasing from 32, 43, 48 and 56 in the last four weeks to put the bulls in the driver's seat.
🔔 Alert Ideas breaking above resistance of AU$26,760 could indicate an uptick in bull activity, suggesting further strength.
Key:
50 Simple Moving Average (SMA), blue line
200 Simple Moving Average (SMA), black line
21 Exponential Moving Average (EMA), red line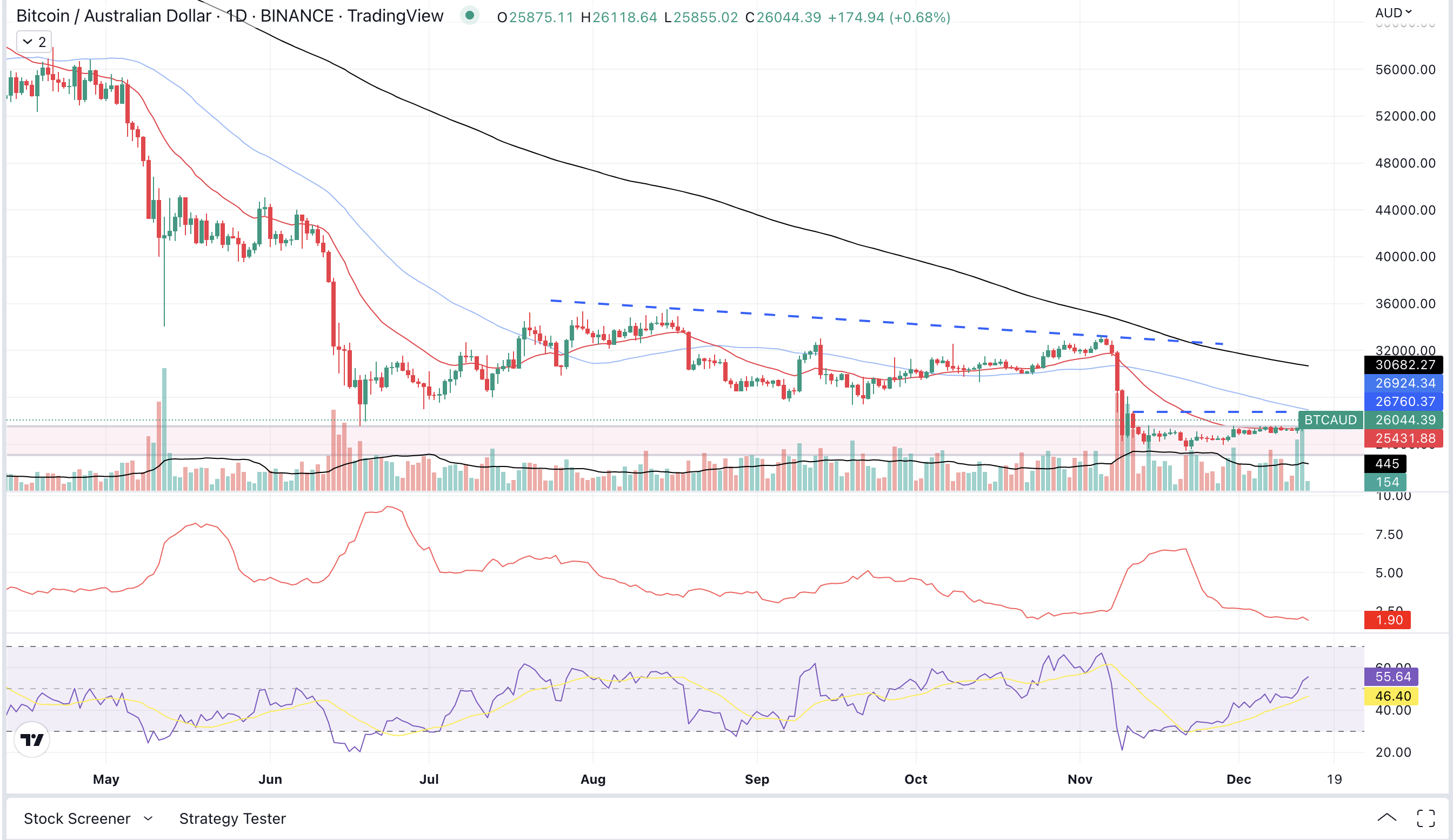 Beginners recap
Bitcoin has increased to AU$26,000
Bitcoin has continued trending up in the last four weeks.
Disclaimer: The information provided is for educational purposes and does not constitute financial product advice. You should obtain independent advice from an Australian financial services licensee before making any financial decisions.