Market update
Cointree Crypto Market Update - November 16th 2022
Market report for traders
BTC and altcoins
Over the last seven days, bitcoin has fallen 6.67% to AU$24,613 at the time of writing. Meanwhile, Ethereum is down 5.67% at AU$1,808 week-on-week. And in other altcoin movements, Cardano has dropped 10.05%, Solana retracted 21.67%, while Avalanche and Polkadot fell 14.73% and 3.22% respectively.
What's happening in the world of crypto?
There has been a lot of bad news over the past week, with the collapse of crypto exchange, FTX, and a later hacking, rumours of Crypto.com funding Gate.IO to prove their Proof-of-Reserves, to the potential bankruptcy of crypto lender, BlockFi. 
While the full severity of the impacts from FTX's demise may still be unknown, this isn't our first rodeo …
We've been helping Australians safely access crypto since 2013 and over the past near-decade have seen multiple events take place. 
In 2014, the hacked Japanese crypto exchange, Mt Gox, ceased trading and tanked the market by more than 40%.
In 2018, the Bitcoin community were at war and drove the market down more than 80% over the year. 
And in 2022, FTX's failings have reduced the market cap by just under 20%.
But, if we look back on the last decade, bitcoin is up 12,870%. Ethereum is up 120,185%. And DeFi has never seen this level of activity. 
There's a lot to come for the industry and arguably, one of the most important technologies in the world. What are your thoughts? Let us know on Twitter. 
Project news:
Cristiano Ronaldo launches first NFT collection with Binance 
Crypto stablecoin issuer Circle adds Apple Pay support
Cosmos community rejects ATOM 2.0 white paper
Technician's Take
🔔 Alert Ideas are presented throughout to help identify key levels of interest that may signify significant shifts in market performance. Cointree members can set a price alert directly from their Cointree account.
Weekly chart - Bitcoin reached AU$24,000
Bitcoin (BTC) has broken its major support at AU$25,600 to drop as low as AU$23,700.
Daily chart - Bitcoin is in an uptrend but volatility has increased
Bitcoin (BTC) has dropped to as low as AU$23,700 with very high selling volume and very high volatility. The volatility indicator has almost doubled which is shown by The Average True Range (ATR) from 3.52 to 6.53. Even though this indicator reading is still lower than the June low of 9.26, the risks remain high. Depending on investor/trader risk profiles, high risks may offer high rewards.
For the bulls, things are not looking good, BTC has remained below its 21 day Exponential Moving Average (EMA) and 50 day Simple Moving Average (SMA). Despite the sell-offs, bulls have stepped into the arena with two green candles in the last two days but with light volume.
On a positive note, from November to December of 2020, a sideways trend between AU$23,000 and AU$25,000 created a market structure, which we can use as an indicator on what may happen next. Price action moved between support and resistance of AU$23,000 and AU$25,000 for around 30 days. A break out either side of this now could tell us who is in control.
For the bears, it's clear that BTC is back to its downtrend. As long as BTC remains below AU$28,000 then the downtrend may continue. The daily RSI (Relative Strength Index) has improved a little bit, increasing from 21.59 to 31.41 with a recent bounce off the low. The next major support is at AU$23,700 and if this breaks it may drop to the next support of AU$17,500.
🔔 Alert Ideas breaking below resistance of AU$23,700 could indicate an uptick in bear activity, suggesting further weakness.
Key:
50 Simple Moving Average (SMA), blue line
200 Simple Moving Average (SMA), black line
21 Exponential Moving Average (EMA), red line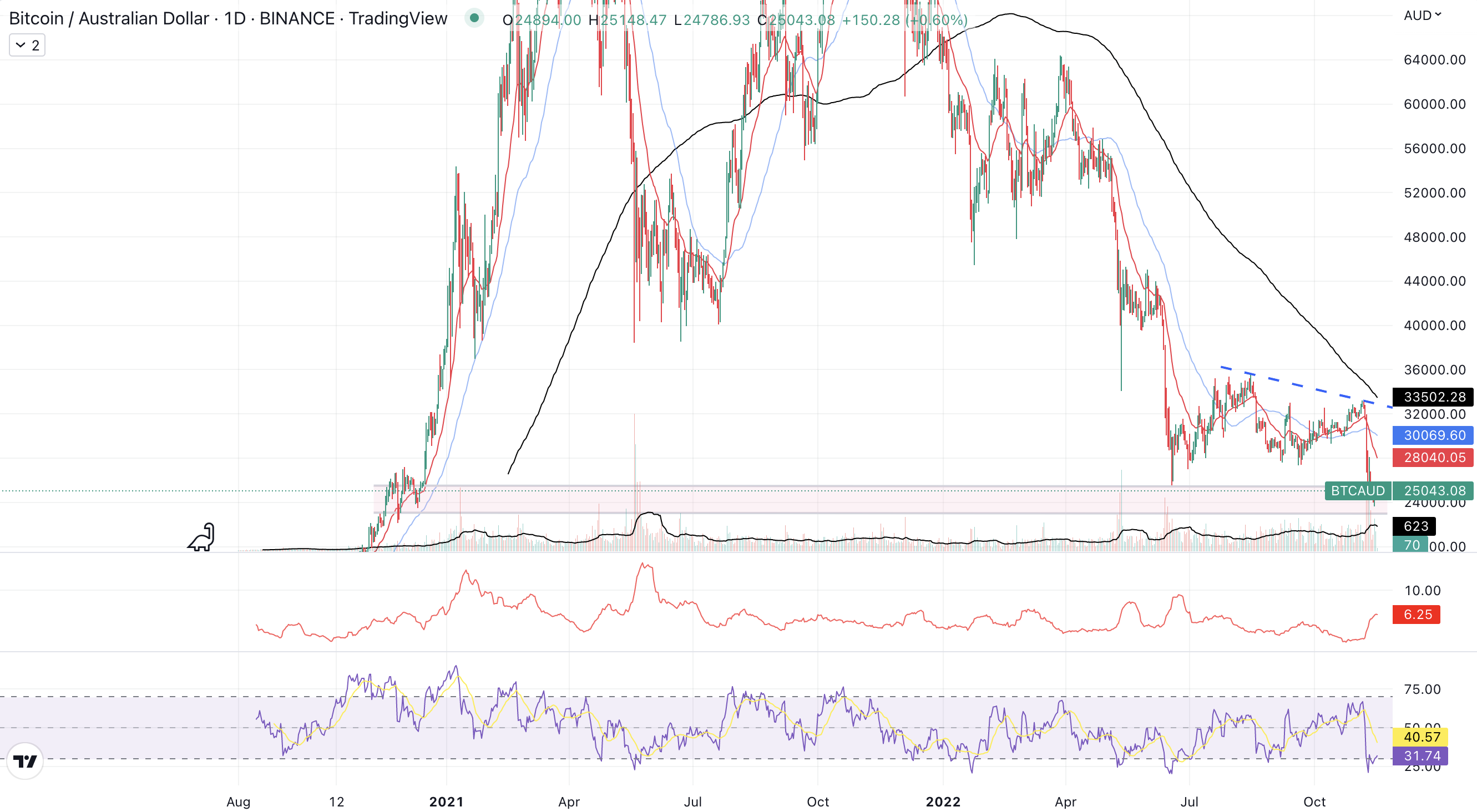 Beginners recap
Bitcoin dropped to as low as AU$24,000
Bitcoin is in a downtrend.
Disclaimer: The information provided is for educational purposes and does not constitute financial product advice. You should obtain independent advice from an Australian financial services licensee before making any financial decisions.