Market update
Cointree Crypto Market Update - November 9th 2022

Market report for traders
BTC and altcoins
Over the last seven days, bitcoin has fallen 12.24% to AU$27,855 at the time of writing. Meanwhile, Ethereum is down 17.24% at AU$1,958 week-on-week. And in other altcoin movements, Cardano has dropped 8.8%, Solana retracted 31.66%, while Avalanche and Polkadot fell 17.45% and 6.76% respectively.
What's happening in the world of crypto?
If there's one story people will be talking about, it's this… 
Crypto exchange FTX is about to get bought out by rival exchange Binance due to a "significant liquidity crunch". 
Last week, Alameda research, a trading company owned by Sam Bankman Fried (SBF), was found to have been overleveraged in FTX's (also owned by SBF) FTT Token. 
While both of SBF's businesses are different, the balance sheet of Alameda showed about 40% of the firm's US$584 million worth of assets were attributed to FTT, sparking doubt about the financial stability of the companies.
Following the revelations, Binance's CEO Changpeng Zhao (CZ) took to Twitter to say that he would liquidate the remaining balance of FTT they have from its US$2.1B FTX equity exit that took place last year.
CZ is a big supporter of crypto and did say that this would be done across the coming months to minimise market impact, yet over the past two days FTT Token's price has plummeted more than 70%. 
Some have argued that this was an attempt to damage FTT's price - though CZ says otherwise, in reality, Binance has been hot and cold on FTX ever since they launched in 2019. 
FTX was hit with a lawsuit shortly after launching that claimed they tried to manipulate the price of bitcoin futures on Binance. Later that year, CZ admitted it was an accident and Binance made a strategic investment in FTX to "further develop the cryptocurrency ecosystem." 
However it seems the two founders can't agree on what that development should look like. 
CZ claims FTX has been secretly lobbying against other industry players. It's also been rumoured throughout the crypto community that FTX has been running a fractional reserve - which, similar to banks, would mean that while they hold a proportion of assets in liquidity, they were lending out the remainder to borrowers, another thing CZ is not in favour of. And then there's the issue that they may only be solvent due to the balance of its token it holds…
So what's Founder to do? Looks like CZ thinks, if you can't beat them, buy them. 
Overnight, CZ tweeted that his exchange had signed a "non-binding" letter of intent to fully acquire FTX, adding that "FTX asked for our help" amid a liquidity crunch. 
Talk about drama… 
Project news:
Technician's Take
🔔 Alert Ideas are presented throughout to help identify key levels of interest that may signify significant shifts in market performance. Cointree members can set a price alert directly from their Cointree account.
Weekly chart - Bitcoin below AU$29,000
Bitcoin (BTC) has erased all the gains in the last few weeks and dropped to as low as AU$27,000 for the first time since the end of June.
Daily chart - Bitcoin is in an uptrend but volatility has increased
IIn the last seven days, bitcoin (BTC) has dropped from AU$33,000 to AU$26,900 with a huge selling volume and sharp increase in volatility. The volatility indicator that is shown by The Average True Range (ATR) has increased from 2.40 to 3.52. This should signal caution for lower risk traders/investors.
For the bulls, things were looking good with the uptrend in the last few weeks where BTC has continued to stay above its 21 day Exponential Moving Average (EMA) and 50 day Simple Moving Average (SMA). 
The major warning sign was in the huge selling volume. The selling volume was higher than the low of June which means that for whatever reason the 'crypto whales' have been dumping BTC. 
As a retail trader or investor, it's important to understand that only 'crypto whales' or big institutions with deep pockets can move the market in either direction.
Unfortunately, all the gains have been erased in the last 24 hours where BTC dropped below its 21 EMA, 50 SMA and below the psychological support of AU$30,000. At the time of writing this article, it is currently sitting at its strong demand area and resistance between AU$27,200 and AU$28,000.
For the bears, they have been waiting for this moment in the last three months. It seems that the uptrend has been broken, which is also confirmed by the daily RSI (Relative Strength Index) dropping from 66.91 to 31.63. To confirm that BTC is back on the downtrend, BTC needs to break its current resistance and fall below its major support at AU$25,600.
🔔 Alert Ideas breaking above resistance of AU$33,000 could indicate an uptick in bull activity, suggesting potential market strength and recovery.
Key:
50 Simple Moving Average (SMA), blue line
200 Simple Moving Average (SMA), black line
21 Exponential Moving Average (EMA), red line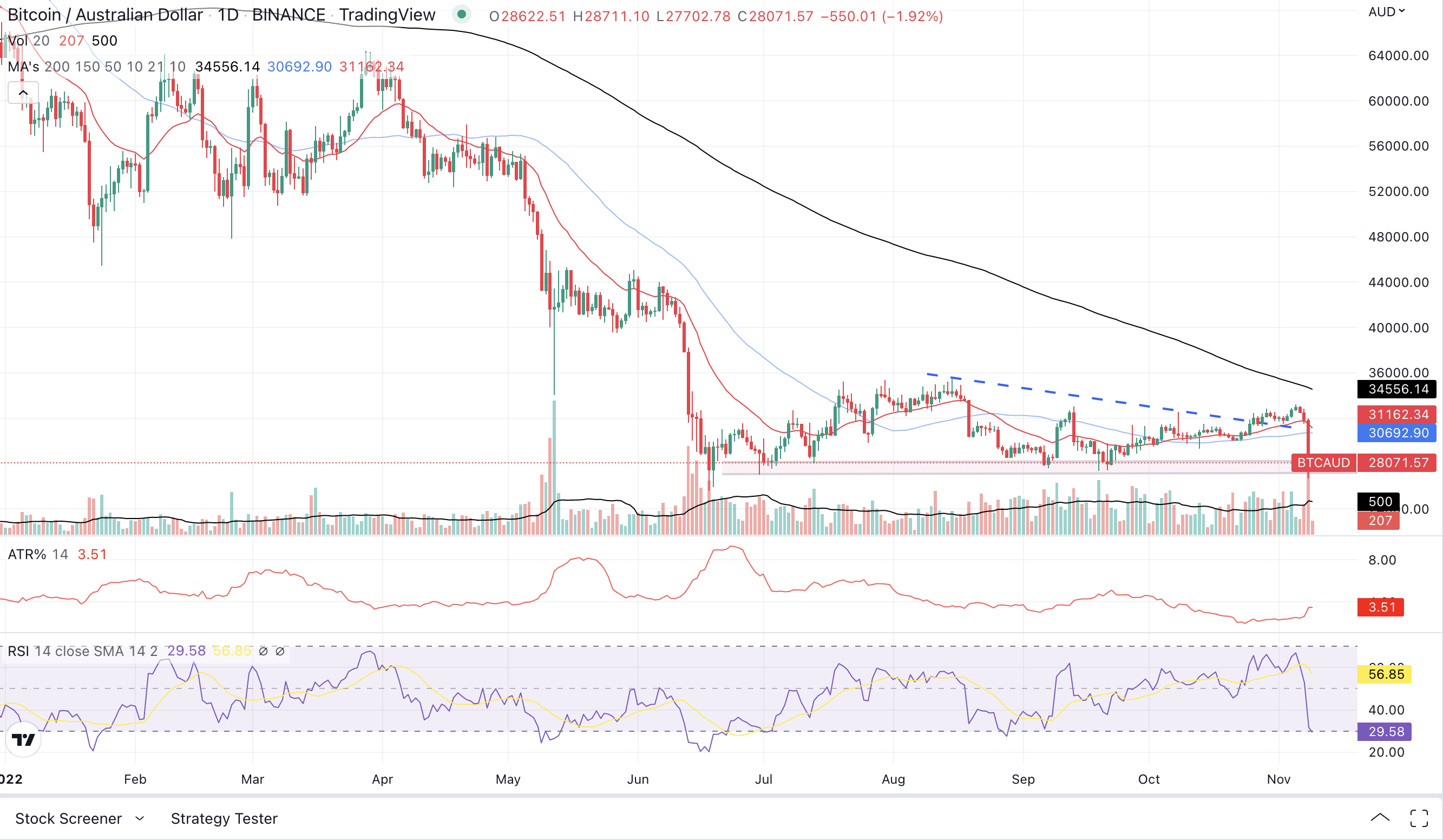 Beginners recap
Bitcoin is below AU$29,000 with increasing volatility
Bitcoin has broken its uptrend momentum
Disclaimer: The information provided is for educational purposes and does not constitute financial product advice. You should obtain independent advice from an Australian financial services licensee before making any financial decisions.