Market update
Cointree Crypto Market Update - October 5th 2022

Market report for traders
BTC and altcoins
Over the last seven days, bitcoin has gained 3.11%, at AU$30,720, at the time of writing. Meanwhile, Ethereum climbed 1.04% week-on-week to AU$2,042. And in other altcoin movements, Cardano is down 1.01%, while Solana is up 0.11%, Avalanche and Polkadot climbed 0.11% and 0.49% respectively.
What's happening in the world of crypto?
Kimmy, Kimmy, Kimmy, look at me, please. Look at moi. Look at moii. Now I've got one word to say to you, Kim.
Banned. 
That's right! Kim Kardashian has been banned from promoting crypto for three years and hit with a US$1 million fine by the US Securities and Exchange Commission (SEC) for not properly disclosing that she received payment to promote crypto security on Instagram to her 330 million followers. It's reported that she was paid $250K for the social media post, which must also be handed back.
But it's not all success for the SEC…
The SEC was dealt a blow last week when a US District Court judge ruled to release emails and other correspondence written by former SEC Corporation Finance Division Director William Hinman related to a speech where he said ether (ETH) was not a security because, like bitcoin, it was "sufficiently decentralised."
In a case that is nearing its two-year mark, these communications will form the cornerstone of Ripple's legal strategy.
Closer to home, the Governor of the Reserve Bank of Australia,  Philip Lowe, announced an increase in the cash rate target by 25 basis points, bringing the current cash rate to 2.60 per cent.
And if you're worried about inflation, watch our recent webinar with gold expert Mark Pey who talks about the value of gold in times of inflationary pressure.
Project news:
Chainlink announces staking plans
The Aave community is voting on how to deploy the latest update to its decentralized lending protocol
Arbitrum may soon airdrop its ARB token
Technician's Take
🔔 Alert Ideas are presented throughout to help identify key levels of interest that may signify significant shifts in market performance. Cointree members can set a price alert directly from their Cointree account.
Weekly chart - Bitcoin is in a range
Bitcoin (BTC) steadily climbed from the low of AU$29,600 to the high of AU$31,400 over the week. 
Daily chart - Bitcoin is still holding its support
Bitcoin (BTC) has been steadily climbing over the past seven days with five out of the seven mostly supported by bulls, and for the first time since Sept 13 climbed over the 50 day SMA.
BTC climbed to a top of AU$31,900 at the time of writing and providing the pressure remains from the bulls, could see its price climb higher. Still, BTC needs to stay above both 21 EMA and 50 SMA levels to break the downtrend.
🔔 Alert Ideas breaking above AU$33,000 could indicate an uptick in bullish activity, suggesting the bulls are in control
Key:
50 Simple Moving Average (SMA), blue line
200 Simple Moving Average (SMA), black line
21 Exponential Moving Average (EMA), red line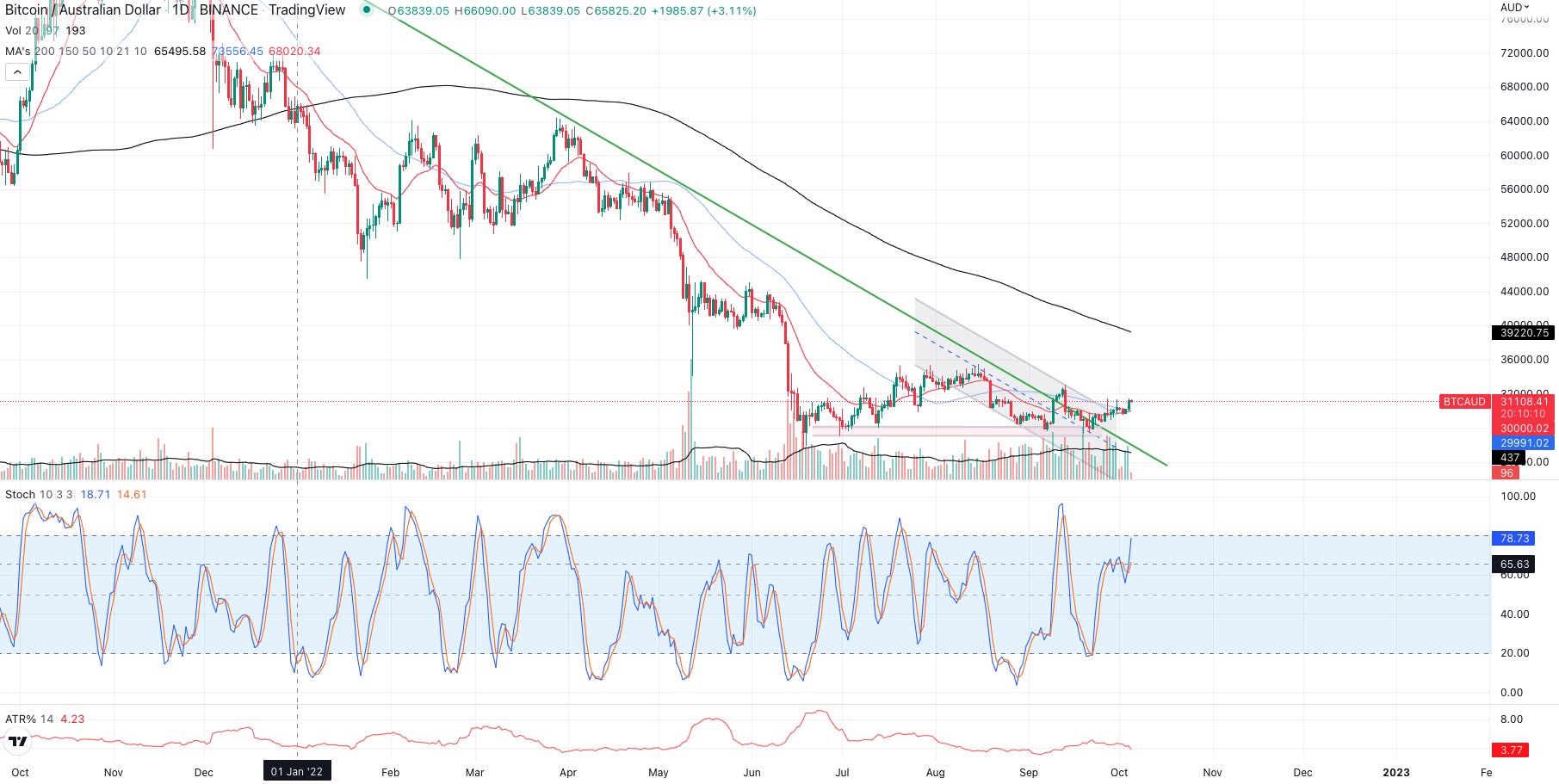 Beginners recap
Bitcoin (BTC) ranged between AU$29,600 and AU$31,900
Disclaimer: The information provided is for educational purposes and does not constitute financial product advice. You should obtain independent advice from an Australian financial services licensee before making any financial decisions.