Market update
Cointree Crypto Market Update - August 3rd 2022

Market report for traders
BTC and altcoins
Over the last seven days, bitcoin is down 3.11%, at AU$32,696 at the time of writing. Meanwhile, Ethereum fell 5.02% week-on-week to AU$2,282. And in other altcoin movements, Cardano dropped 0.54%, Solana, also down by 9.12%, and Avalanche dropped 3.20% while Polkadot climbed a modest 2.51%.
In market news
Eyes are on the majors this week with bitcoin continuing to move in a parallel channel with low trading volumes and narrowing trading ranges indicating a lack of conviction, whether bearish or bullish. And investors await the anticipated Ethereum merge which moves into its final testnet before the network's transition to proof of stake.
Does the market even care about Elon?
Only a few months ago the SpaceX Founder could cause a tsunami of activity with a single tweet about DOGE and drive the price up 10, 20, or even 30%. Yet news of Tesla selling off 75% of its bitcoin holdings barely rocked the market. So does the market even care about what Elon Musk believes anymore? Or has it simply become more stabilised?
Inflation set to continue climbing
ICYMI, yesterday, the Reserve Bank of Australia (RBA) raised interest rates for the fourth month in a row, raising the cash rate to 1.85 per cent in an effort to cool rising inflation.
While the rising inflation is causing some markets to fluctuate, the RBA board expect to take further steps to normalise monetary conditions over the coming months. 
This is causing investors to reconsider their portfolio allocations; investors are looking for ways to manage the risks of high inflation by using a mixture growth and defensive investment strategies.
Defensive strategies help investors hedge against inflation with assets such as gold, which is known for maintaining its purchasing power across the centuries even during times of high inflation.
Interested in learning more about gold as a defensive strategy? Read on here.
Hackers target wallets
Solana has taken a 3.49% dive in the last 24 hours following news of an unknown attacker who drained thousands of Phantom wallets containing at least US$4 million worth of Solana and USDC. 
Meanwhile MetaMask users are being warned by Blockchain security firm, Halborn's Technical Education Specialist, Luis Lubeck, about a new phishing attempt that seeks to uncover MetaMask passphrases.
Technician's Take
Weekly chart - a healthy uptrend
Looking at the weekly chart, the average volume has shown an uptrend which means that buyers are supporting the price and coming back to the market.
In addition, the weekly RSI bottomed at 26 and then started an uptrend, currently sitting at 36. Historically, low weekly RSIs have proven that BTC has bottomed and started the bull market
I put blue arrows on the weekly charts below to show the uptrend is healthy because of higher buying volume, RSI on uptrend and the candles are making higher highs and higher lows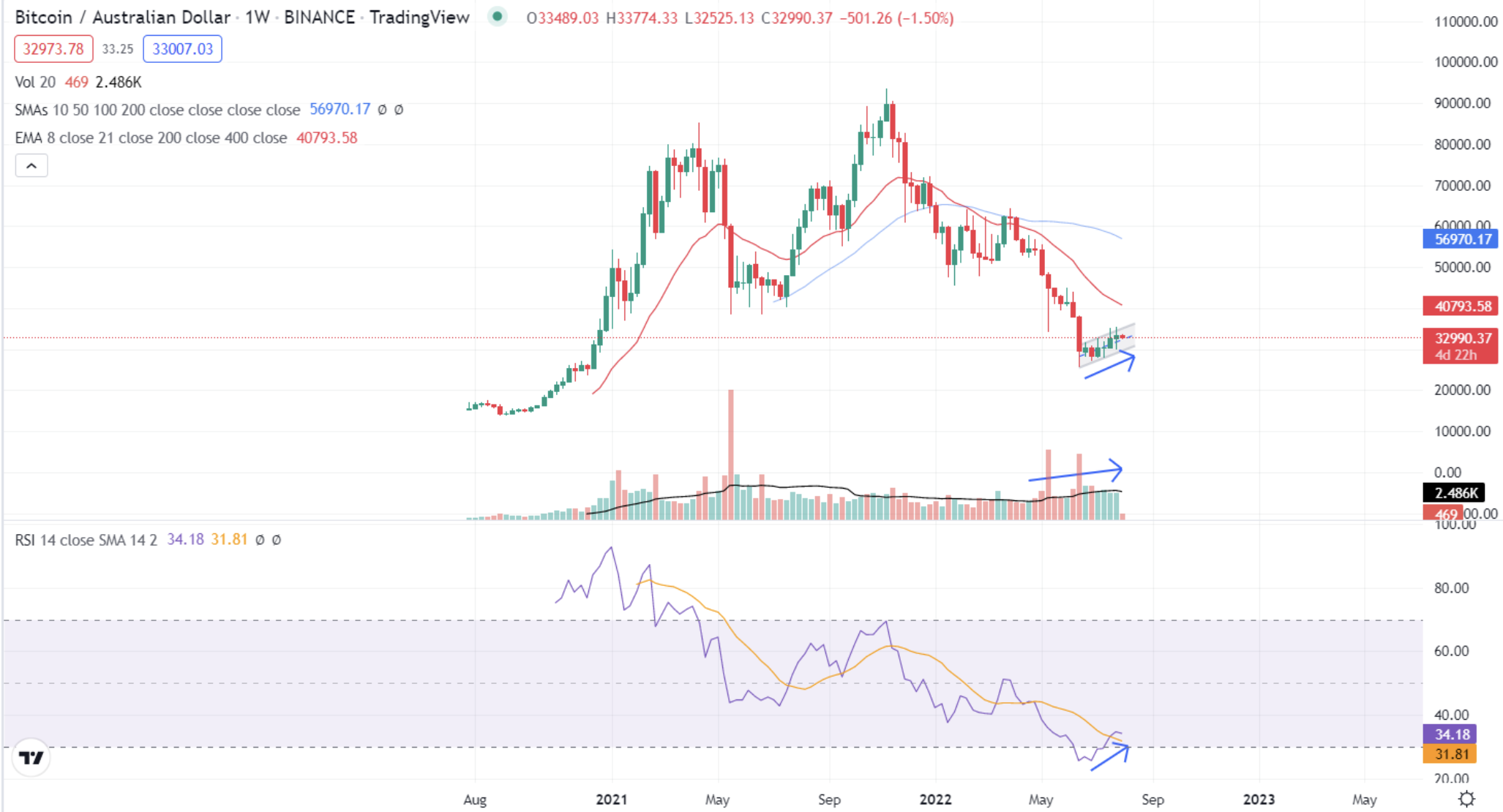 Daily chart - Bitcoin jumped 10% and started its uptrend
Bitcoin bulls started buying around AU$30,500 with healthy buy volume (A) and its price rallied to AU$35,000 in two days before retracing back to AU$33,000 with low sell volume (B), bitcoin volatility has also reduced which also reduced the risks.
A positive sign of strength is that bitcoin has stayed above 50 day Simple Moving Average (SMA) and 21 day Exponential Moving Average (EMA).
For swing traders, support of the lower parallel channel at AU$30,000 - AU$31,000 presented a good entry point with a target sell at AU$35,000 which would have delivered a 15 - 20% gain for the week.
Long term target is for bitcoin to start climbing to 200 SMA (black line) at $47,000 that shows a 42% upside
Key:
Simple Moving Average (SMA), blue line
Exponential Moving Average (EMA), red line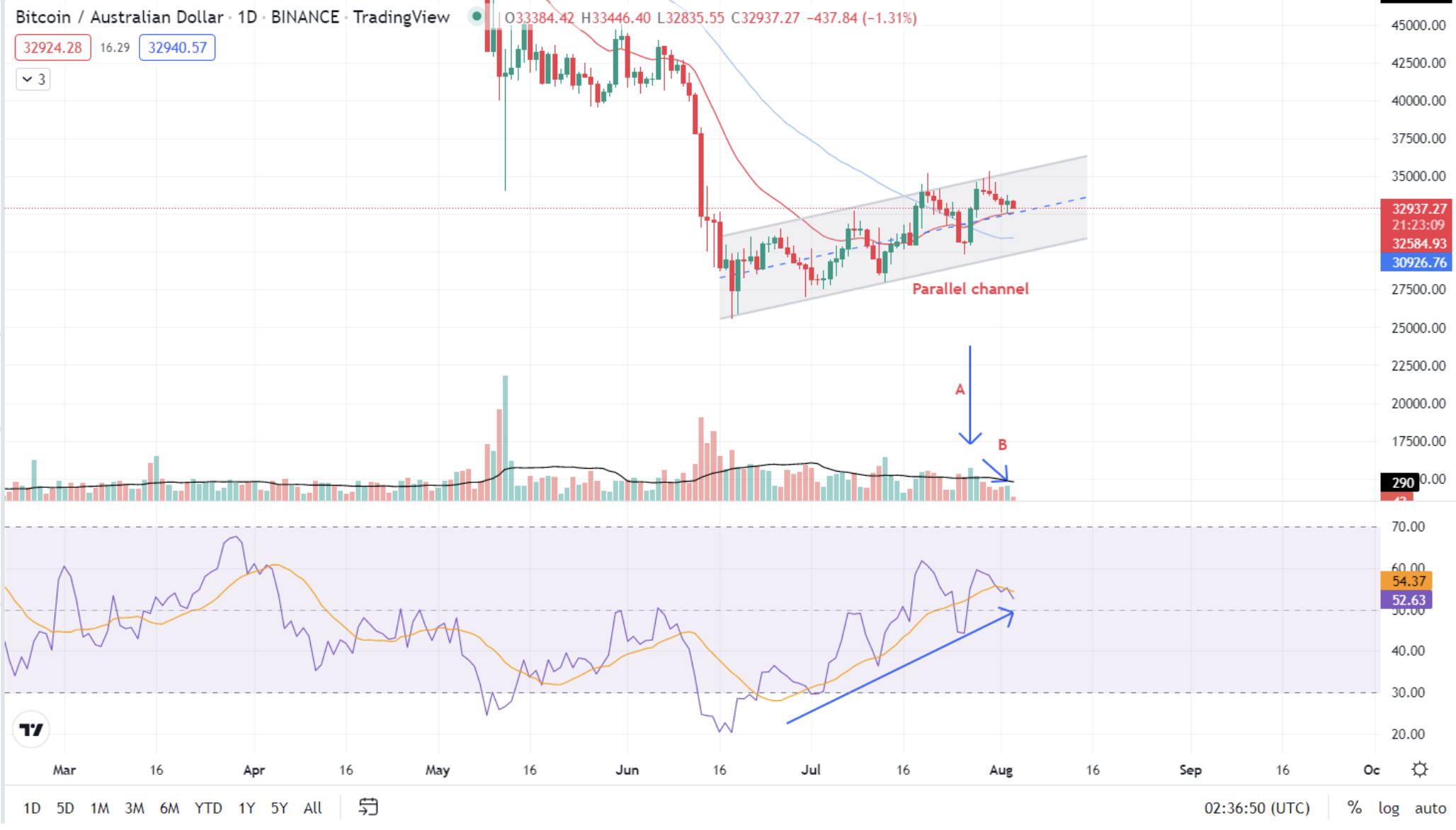 Beginners recap:
Weekly chart that shows bitcoin (BTC) uptrend is sustainable because it is supported by good buying volume and uptrend in RSI
Volatility can present opportunities but is probably reserved for the more experienced and disciplined traders
Disclaimer: The information provided is for educational purposes and does not constitute financial product advice. You should obtain independent advice from an Australian financial services licensee before making any financial decisions.