Market update
Cointree Crypto Market Update - July 20th 2022

Market report for traders
BTC and altcoins
Over the last seven days, bitcoin is up 11.77%, at AU$33,635 at the time of writing. Meanwhile, Ethereum fell 13.73% week-on-week to AU$1,512. And in other altcoin movements, Cardano charged up 17.02%, Solana, also up by 20.38%, and both Avalanche and Polkadot rose by 25.71% and 15.35% repectively.
In market news
Everyone's eyes are on the markets right now with many cryptocurrencies flashing green. But if you're like us, you're probably still wondering, have we seen the bottom?
A report from Glassnode suggests signs of seller exhaustion are creating conditions which resemble a market bottom for bitcoin.
The extent to which investor capitulation was demonstrated can be seen through realised losses, or assets sold by those who had initially bought them at higher prices and now want out.
With bitcoin (BTC) up ~17% for the week, our Technician's Take takes a deeper look into the movement and what this may mean.
Australia could privatise the rollout of a digital currency
It's no surprise that Australia has found itself in the top five positions of Coincub's latest Global Crypto Ranking report. And while we have dropped from second position, we've remained in the top five thanks largely due to government and institution optimism towards blockchain payment technology.
When it comes to Central Bank Digital Currencies (CBDCs) however, which have been the talk of many international governments over the past few months, the RBA Governor, Phillip Lowe suggested suggested Australia may take a different approach. 
Last week, the RBA Governor spoke on the challenges faced by governments to introduce a central bank issued token, acknowledging the private sector of being better equipped to do so - providing "... we can get the regulatory arrangements right".
Lowe and his fellow panellists agreed that more needed to be done to create a robust regulatory framework for such tokens and shape regulation.
Technician's Take
BTC sees a little momentum, will it continue?
The recent lower resistance line around the AU$32.6k mark has been broken over the last couple of days. While it's still early and volume is quite low, the push-up is looking quite solid right now. Whether this is a definitive push north or just signs that bitcoin (BTC) might be moving into a regime of more volatility that could see some more opportunities for trading the reversals is anyone's guess.
It seems movements in the altcoin market over the last week have rubbed off on BTC, with some solid gains largely leaving BTC behind in a cloud of smoke, even still, BTC is up a respectable ~17% from the lows of last week.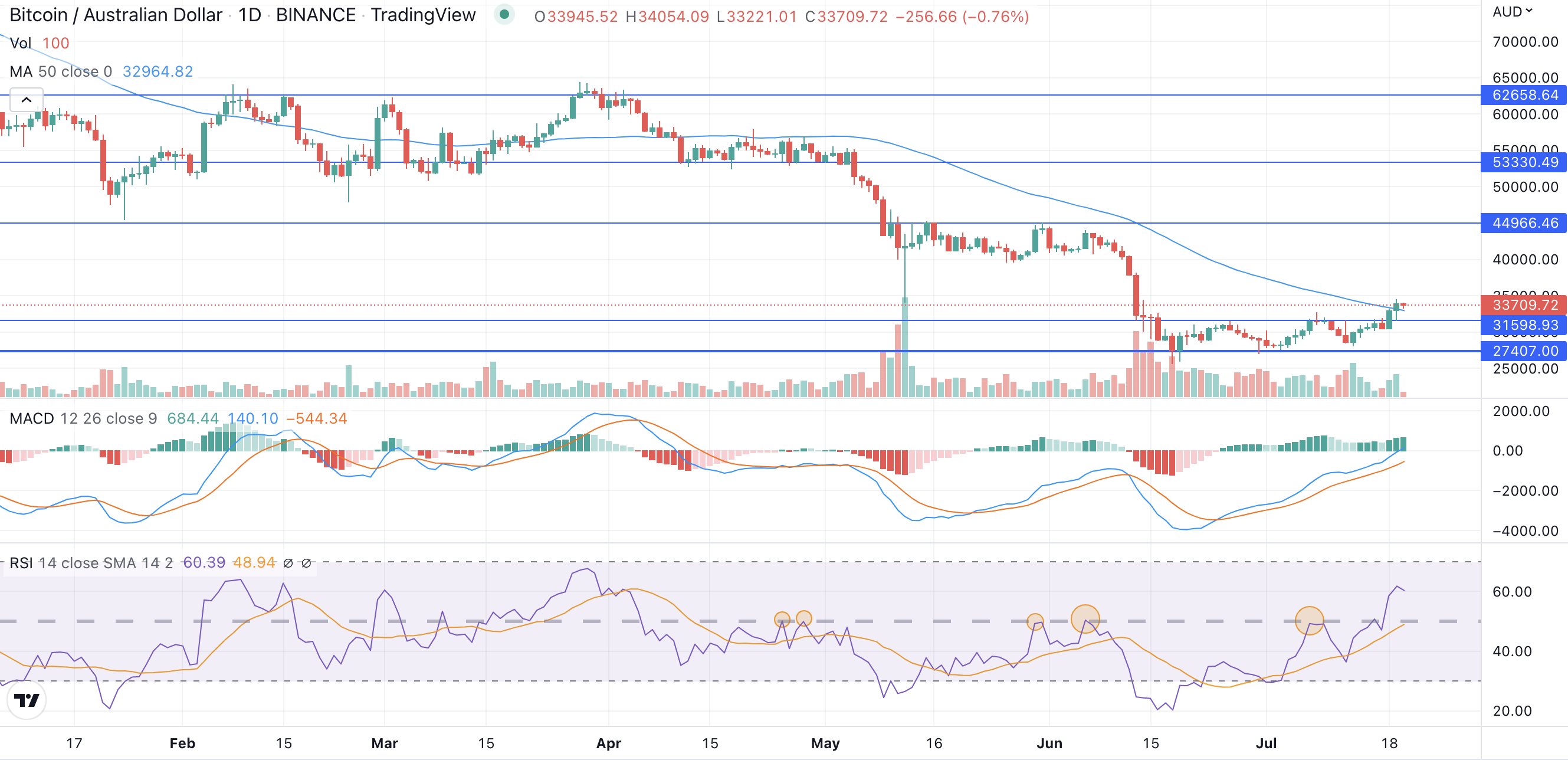 While it looked like MACD was heading for a bearish cross, I was indeed wrong and the MACD has actually gone more bullish! Of note are the RSI rejections at, or around the 50 mark over recent months. This week we saw another attempt at this level and rejection, only to try again and break it convincingly. This is not insignificant and shows us that finally, buyers are taking over control from the sellers. Whether this will be the beginning of a longer-term push is to be seen, but will make for interesting watching, not to mention trading!
Beginners recap:
Bitcoin (BTC) has broken the lower resistance at ~AU$32,600
Moving Average Convergence Divergence (MACD) is bullish
Eyes on earning season to see what the effect may be for the cryptocurrency market at large
Volatility can present opportunities but is probably reserved for the more experienced and disciplined traders
Disclaimer: The information provided is for educational purposes and does not constitute financial product advice. You should obtain independent advice from an Australian financial services licensee before making any financial decisions.