Market update
Cointree Crypto Market Update - June 15th 2022

Market report for traders
BTC and alt coins
Over the last seven days, bitcoin has dropped, sitting at AU$30,058.27 at the time of writing, a fall of 28.18%. Meanwhile, Ethereum is down 36.12% week on week, landing at AU$1574.92. In other altcoin movements, Cardano fell for the first time in two weeks, down 25.49%, Solana is down 28.54%, Avalanche decreased 36.04% and Polkadot dropped 20.81%.
Markets bear all
The last seven days have been a bloodbath for markets, crypto and traditional alike. Bitcoin fell below AU$30k for the first time since December 2020, while the ASX saw its most brutal day of trading since the pandemic, with AU$116 billion wiped out on Tuesday.
Bitcoin, the king of crypto, is down ~30% over the past seven days while its nearest competitor, Ethereum, also saw declines of more than 33%, leaving many in the crypto community sitting idly, waiting to see whether the price will drive further downward or if we've seen the worst of it.
Some experts claim that BTC has found solid support in this lower area, pointing to data on bitcoin's realized price while others say it is too early to call.
Viewpoints aside, it's certain that markets globally have entered bear territory and eyes are on the Federal Reserve meeting taking place on Thursday, Australian time, where the FED is expected to announce 75 basis point rate hikes. In May the FED raised rates by half a point which saw the equities and crypto markets climb following the announcement.
Celsius cease operations
Crypto lending firm, Celsius, announced early Monday it would pause withdrawals along with its swap and transfer products, citing "extreme market conditions".
Following the TerraUSD Luna crash, the news sent shockwaves across the whole crypto market, causing widespread concern about crypto's future and contributing to the four-day price drop.
Rumours are circulating that Celsius may be insolvent and speculation concerning the company's money issues started well before the company paused operations.
To help it negotiate its complex financial condition, the crypto lending firm has hired Philadelphia-based attorneys who specialise in business restructuring.
Technician's Take
Markets crashing - how low can they go?
Markets globally are in freefall as news of growing inflation reverberates throughout pretty much every market, crypto is no exception. Bitcoin was down as much as an eye-watering 31% for the week and is currently sitting on just 25% at the time of writing.
Pretty much every market has seen unprecedented growth over several years, with the quantitative easing during the pandemic further propping them up. Now with the looming recession in the USA, it appears that we're seeing a re-rating of financial assets. This last part should not be taken lightly, while many argue that crypto is anti-inflationary and of course, certain coins could be considered, the important takeaway here is that crypto is behaving like a financial asset. In my humble opinion, this is not a minor point, we could be witness to the crypto market maturing into what every crypto believer has been arguing since the beginning.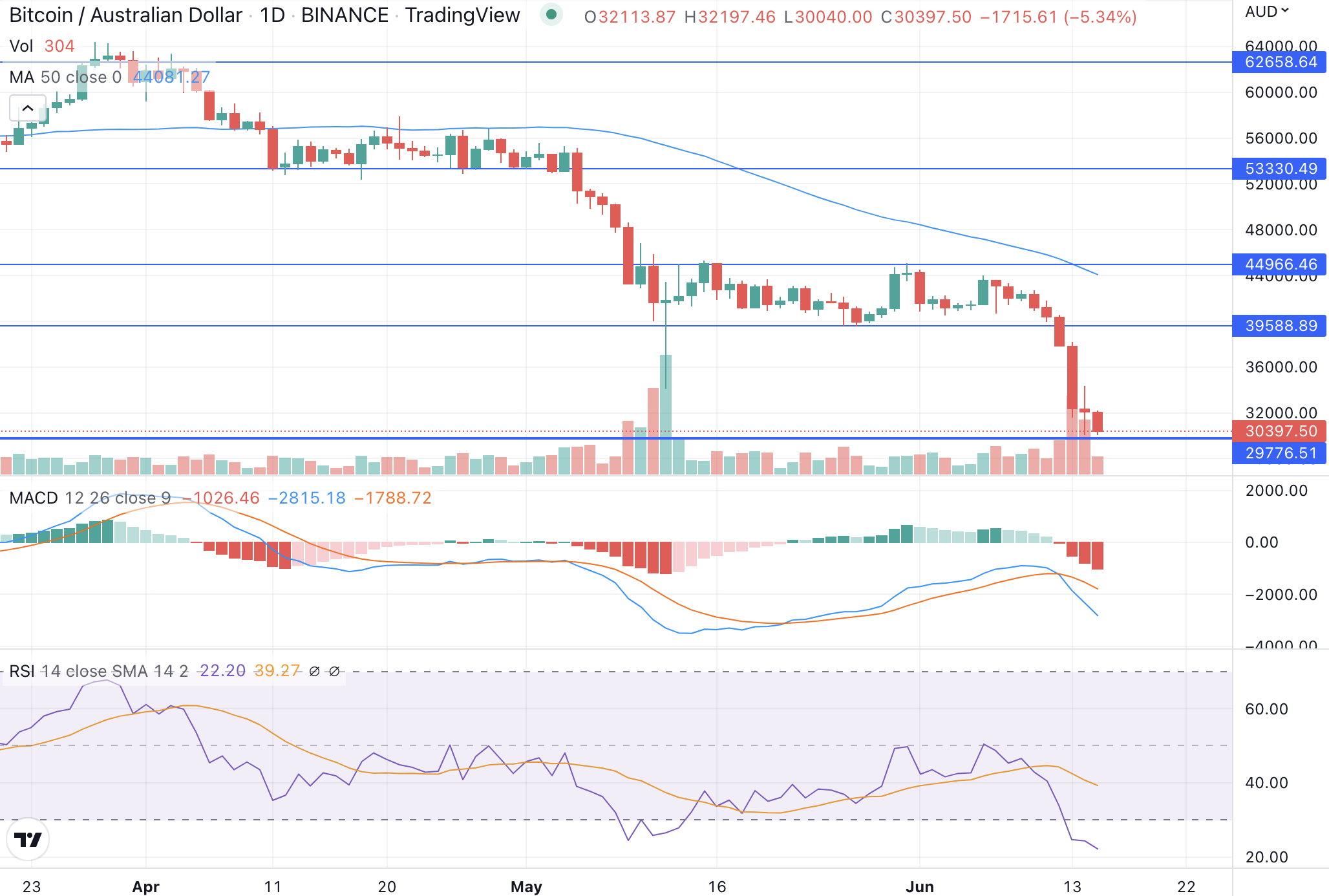 On the technical side, well it's not a hard guess that pretty much every indicator is bearish. Volatility will present opportunities, but in such a volatile market I would only suggest the most disciplined trader trades the bounces. This is most definitely not the time to chase one's losses.
Beginners recap:
Bitcoin (BTC)  is down 25% at the time of writing
Global markets have entered bear markets
Volatility can present opportunities but is probably reserved for the more experienced and disciplined traders
Disclaimer: The information provided is for educational purposes and does not constitute financial product advice. You should obtain independent advice from an Australian financial services licensee before making any financial decisions.