Market update
Cointree Crypto Market Update - October 20th 2021

Market report for traders
Market Recap
Bitcoin hits all-time high and is the world's 8th most valuable asset, and could be AU$130k by 2023
Exciting times! The total crypto market cap is reaching all-time highs with bitcoin (BTC) leading the way, having touched its all-time high in Australian dollars at AU$86k. Ethereum (ETH) is now less than 10% off its all-time high at AU$5,107. 
The rise saw bitcoin surpass Facebook's market cap, making it the 8th most valuable asset in the world. Fuelled by the narrative of 'digital gold', bitcoin only needs to increase another ~17% to overtake silver. And if bitcoin were to overtake gold, it would require a 10x price increase from here.
The director of Fidelity Investments global macro division thinks that's possible. "It has an ever scarcer supply and gold does not have the network dynamics that bitcoin does, so it makes sense that bitcoin would outperform gold." In the shorter term, he sees bitcoin reaching AU$130k by 2023. 
The recent rise has been spurred on by the news that a US-based bitcoin futures ETF will be approved. Many see this as bullish as it makes it possible for massive institutional investors like pension funds to allocate funds to crypto. 
Polkadot nears ATH ahead of parachain auctions
Polkadot (DOT) is also nearing all-time highs ahead of its parachain auction, set to start on November 11. Parachains (parallelised chains) are blockchains integrated within the network and leverage its security. Unlike other layer-1s, they make the network both highly scalable and easily interoperable. 
Ahead of the auctions, Polkadot has launched an AU$1 billion development fund. Check the latest price for Polkadot (DOT) now. 
Technician's Take
Bitcoin hits ATH!
What a week it has been for crypto. Bitcoin (BTC) is sitting just above AU$86,000 up 17% from the week's lows. We saw textbook rejections at our support and resistance lines, including at the previous all-time high (ATH) around AU$83k, before making a solid break to hit a new ATH.
The news of the approval of a BTC based ETF most definitely was the catalyst BTC needed to break its previous ATH, with the US$1 billion trading volume on the first day bolstering the base asset's (BTC) price.
The Relative Strength Index (RSI) is showing overbought, while the Moving Average Convergence Divergence (MACD) is in a strong bullish upward trend with no sign of weakness right now. I would expect some profit taking at these levels, so we may see a bit of a retrace. However, hitting the ATH should spur an influx of buyers, so it will be interesting to see if profit takers outnumber the buyers.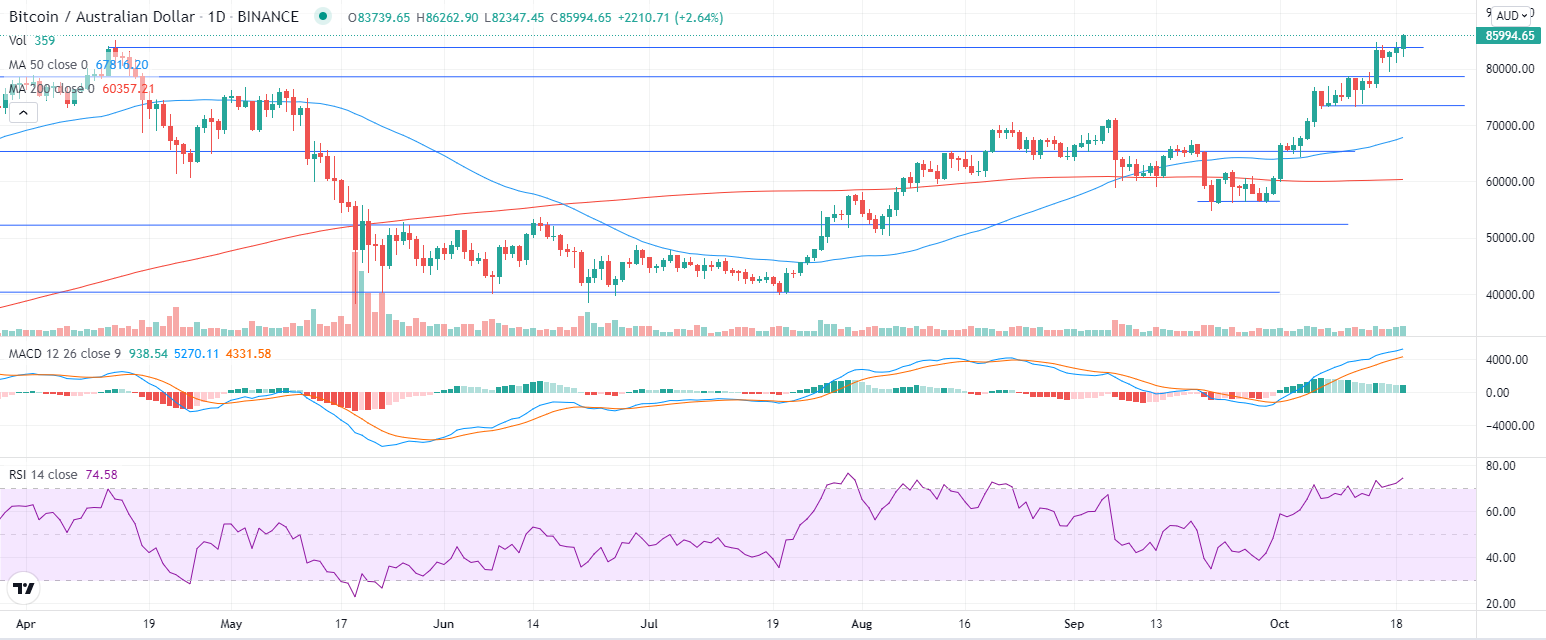 From here, I'll be watching for further moves up or down and picking my entries based on the price and volume. We could enter a sideways move here if there is a fight between the bulls and the bears, or we could see the start of a much stronger bull run. Interesting and exciting times ahead!
As always, tight stops and proper risk management are paramount in such a market.
Beginners recap:
Disclaimer: Information provided is for educational purposes and does not constitute financial product advice. You should obtain independent advice from an Australian financial services licensee before making any financial decisions.