Market update
Cointree Crypto Market Update - September 22nd 2021

Market report for traders
Market Recap
Contagion fears hit prices while five charts indicate AU$100k+ imminent
As fears of financial contagion from Evergrande rippled across the markets, bitcoin has dropped 7.9% over the week while Ethereum fell further, down 14.9%. 
What's the story with Evergrande? No, they're not the container ship that blocked the Suez Canal. They're a Chinese real estate giant that could go bankrupt and default on over AU$4 billion worth of debt if the Chinese government doesn't bail them out. 
While their collapse will most likely be contained, some worry it will spill over into China's financial markets and spread across the globe. Nervous investors have sold stocks and crypto in a risk-off move… others are buying the dip. 
There's good reason to buy the dip according to Bloomberg Intelligence chief analyst Mike McGlone. He's currently watching five different charts that all indicate bitcoin will hit at least AU$138k. He expects this move could come soon, commenting, "Crypto's declining supply vs. mainstream adoption suggests a significant advance in 2021."
Ethereum PR team working overtime
Internet Computer (ICP) announced it will soon integrate Ethereum into its decentralised internet, while a Thai company is set to prove another use-case for Ethereum, using the blockchain to allow traders to invest as little as $150 in expensive real estate properties. Not to mention, Vitalik Buterin was listed as one of Time's 100 Most Influential People of 2021.
Coinciding with the bullish news, more than AU$1.6 billion worth of Ether has been withdrawn from centralized exchanges within 24 hours. When this happened earlier this year, Ethereum's price rallied by 60% in the following 30 days.
Technician's Take
BTC sees weakness along with other markets
We've seen quite a few red days this week, not only in crypto markets, but in the financial markets at large. Investors are worried about several prominent Chinese property developers going bust, with just one, Evergrande representing a potential AU$414 billion default if it comes to pass.
Bitcoin (BTC) has busted through previous support of AU$65k and is potentially heading for the AU$53k level we were previously trading in. Breaking the 200 day Moving Average, we've seen the same negative impact this event usually has on price, as hinted to last week. Both the Moving Average Convergence Divergence (MACD) and the Relative Strength Index (RSI) are showing bearish action, although RSI is close to entering oversold territory.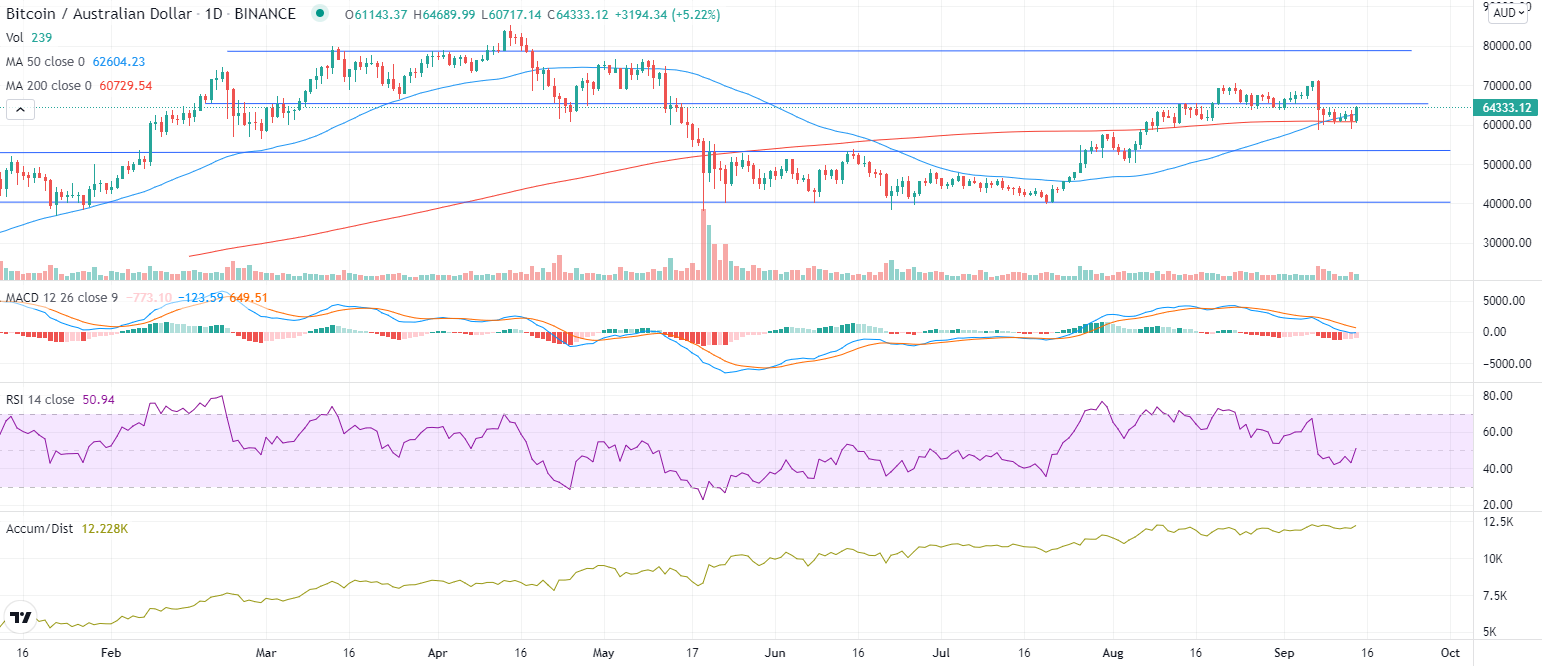 From here I'll be watching whether the AU$53k level acts as a support level or if we break through it. For me, this would be a strong signal that it'll quickly hunt for the previous longer term support level around the AU$40,500 mark. I'll also be watching for more volatility and keep an eye out for signs of a bounce as it could offer some short term or dollar cost averaging opportunities to patient traders. 
As always, tight stops and proper risk management are paramount in such a market.
Beginners recap:
Bitcoin (BTC) broke down through the 200 day Moving Average, signalling a strong bearish move.
Moving Average Convergence Divergence and the Relative Strength Index (RSI) are also bearish, but RSI is close to oversold territory.
Watching for a break of the AU$53k support level.
Patiently watching for bounces to trade.
Disclaimer: Information provided is for educational purposes and does not constitute financial product advice. You should obtain independent advice from an Australian financial services licensee before making any financial decisions.