Market update
Cointree Crypto Market Update - September 15th 2021
Market report for traders
Market Recap
British bank sees bitcoin hitting AU$136k by early next year
"We're now as a bank moving into crypto, as a lot of banks are," said Geoffrey Kendrick of Standard Chartered, a British multinational financial services company.
His team is predicting that bitcoin will hit AU$136k either late this year or early next year, while they considered Ethereum to be structurally valued at AU$35k to AU$47.6k. Those predictions are more than 2x the current price of bitcoin and up to 10x the price of Ethereum, currently sitting at AU$63k and AU$4.5k respectively.
Kendrick will primarily focus on bitcoin, as its first-mover advantage "would suggest that bitcoin is the most likely winner in that space."
Australian conglomerate backs 'green' bitcoin mining
Major Australian financiers are also entering the crypto space. The Sydney based conglomerate, Macquarie Group, announced a partnership with Blockstream Mining to build bitcoin mining facilities that use renewable energy.
In another milestone for miners, this week they produced the 700,000th block since Bitcoin's inception. And as Bitcoin continues to produce block after block, MicroStrategy continues to buy and buy — adding another 5,050 bitcoin to its balance sheet this week.
Technician's Take
BTC Finds Support on the 200 Day MA
While Bitcoin (BTC) has broken the previous support line at AU$65k, it is bouncing nicely off the 200 day Moving Average (MA). With a solid 5% gain today, it will be interesting to see whether BTC has enough steam to break back through the AU$65k level.
The Relative Strength Index (RSI) is floating in neutral territory and the Moving Average Convergence Divergence (MACD) is still bearish, but it could quickly turn bullish if we see a couple of positive price moves.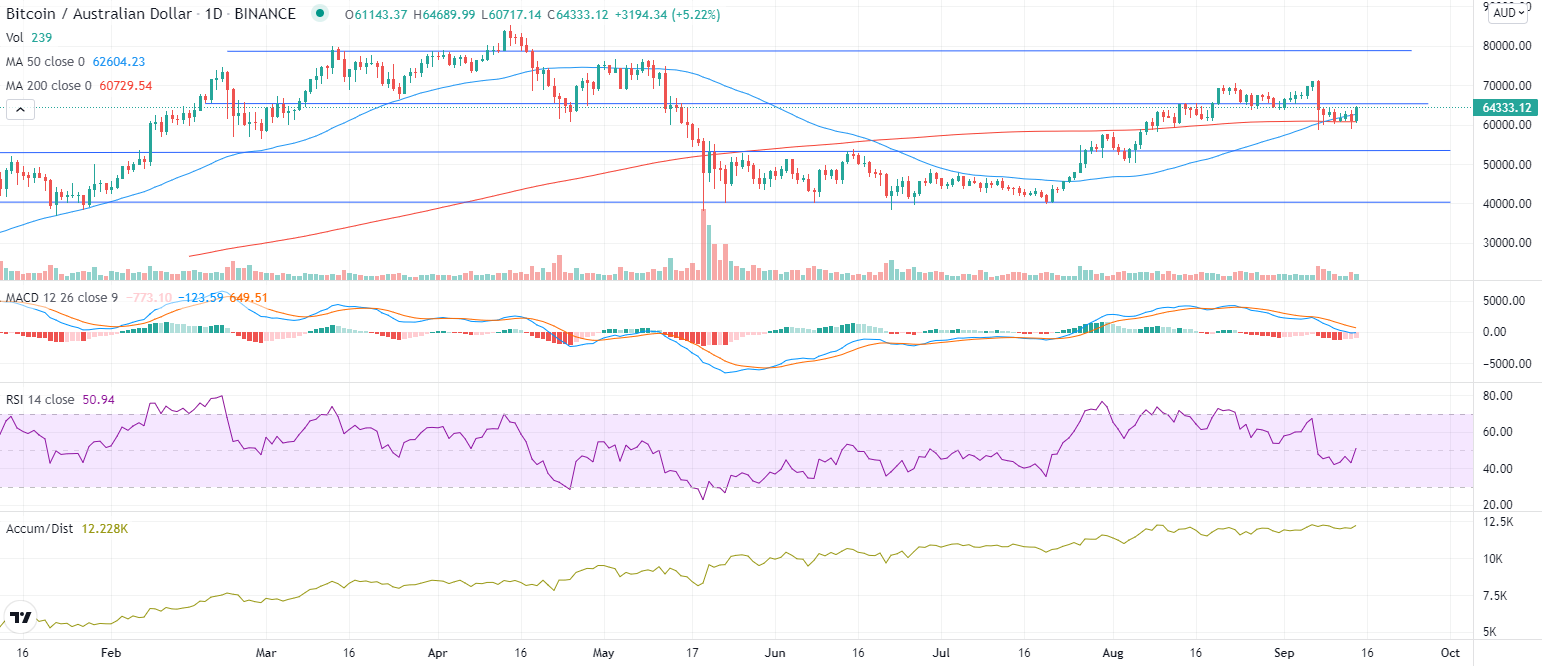 There's a lot of significant news expected this week, including how the U.S. Securities and Exchange Commission (SEC) will approach cryptocurrency exchange regulation. In a positive sign, they've signalled they may not regulate crypto exchanges that solely trade bitcoin BTC and Ethereum (ETH).
This could encourage U.S. based investors to reallocate their portfolio in favour of bitcoin (BTC) and Ethereum (ETH). However, this is all speculation and there is still a lot of water to flow under that bridge before we get a clear indication of the SEC's intent.
Personally, I'll be watching for two main things on the chart:
Solid break of AU$64k to signal a possible bullish move.
A break of the 200 day MA to signal a bearish move.
Beginners recap:
Bitcoin (BTC) bouncing off 200 day Moving Average.
Watching for a break of the AU$64k support level.
Monitoring the news on the U.S. SEC next move on crypto.
Disclaimer: Information provided is for educational purposes and does not constitute financial product advice. You should obtain independent advice from an Australian financial services licensee before making any financial decisions.