Market update
Cointree Crypto Market Update - August 11th 2021

Market report for traders
Market Recap
Is this a buy signal for bitcoin?
Bitcoin has continued its climb upwards to AU$61,162, increasing another 15% over the past week—now up 34% over the month. This has pushed bitcoin's price above the 200 Day Moving Average, which is a bullish technical indicator. According to Fundstrat's Tom Lee, "You always buy bitcoin when it breaks above its 200-day moving average."
Ethereum's upgrade launched, was it successful?
The EIP-1559 launched successfully. As Vitalik Buterin summarised, "Now it gets much easier to send a transaction that will get included in the next block and that's very important to user experience." That's not all. Over AU$107 million of ETH has been burned (destroyed) since the change, supporting the 'ultra sound money' narrative and pushing Ethereum's price up 20% over the week.
Will the 'wormhole' launch affect the market?
Solana is launching a 'wormhole' that connects it with Ethereum, Binance Smart Chain and Terra. Basically, this communication bridge means that the Solana blockchain can send and receive crypto assets, DeFi tokens, and price data to the other layer-1 blockchains.
Will the early bird catch the worm? This could add a lot of value to both Solana and its DeFi projects, such as Serum (already up 18% this week).
Is Dogecoin ready for another leg up?
Dogecoin has risen fast to 33 cents, up 26% this week. A panel of crypto experts predict that Dogecoin will be worth 57 cents by the end of the year, a further 72% increase from its current price.
Technician's Take
Bitcoin breaks support, where to now?
During the last couple of months, we've had only moments of brief excitement (or dread), with bitcoin (BTC) bouncing around in the AU$40k-$53k range. We have now seen two considerable pushes above the upper range and are now firmly heading for our next resistance zone of around AU$65k—with AU$75k next if the trend continues.
BTC is now holding nicely above the 200 Day Moving Average, a positive sign, especially given the sharp selldown we saw when BTC crossed below this indicator. Moving Average Convergence Divergence (MACD) is still in bullish territory, while the Relative Strength Index (RSI) is signalling that the market is overbought.
In the short-term, we might see a little sell pressure here, or at the very least, see BTC take a little breather before making any major moves. I'll also be watching developments around the US infrastructure bill closely, as that could have both positive and negative effects on the price.\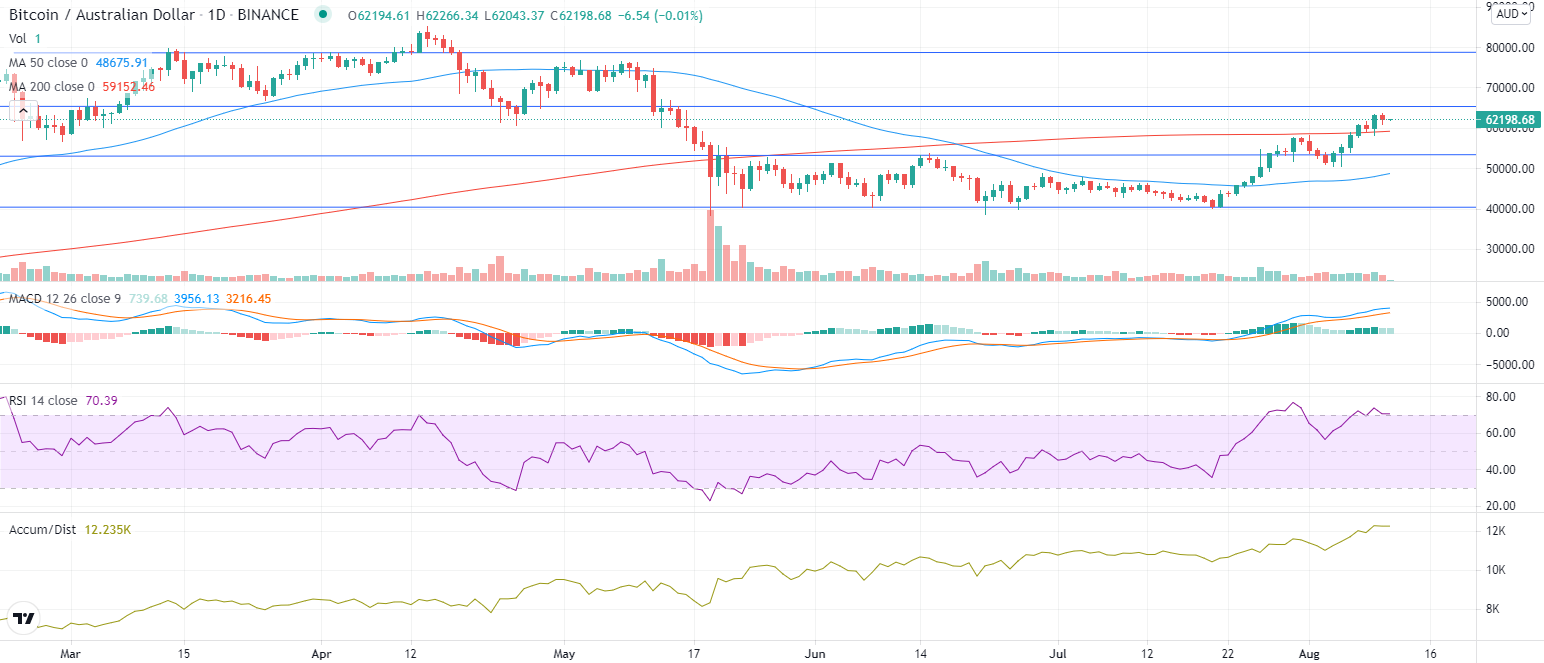 Beginner's Recap
Bitcoin (BTC) over 200 day moving average
Approaching next resistance level of AU$65k
Moving Average Convergence Divergence (MACD) is still bullish
Relative Strength Index (RSI) in oversold zone, so may see a little selloff before next move
Watching news on US Infrastructure Deal
Disclaimer: Information provided is for educational purposes and does not constitute financial product advice. You should obtain independent advice from an Australian financial services licensee before making any financial decisions.