Market update
Cointree Crypto Market Update - July 14th 2021

Market report for traders
Market Recap
The bulls believe we're in the 'calm before the storm.'
"We are clearly in a consolidation phase which can also be called the 'calm before the storm,'" said Kiana Danial, CEO of Invest Diva. "That means, we are bound to see a breakout soon."
The cryptocurrency analyst Willy Woo agrees. Much like late 2020, long-term holders are accumulating bitcoins, while short-term holders are selling. Woo predicts that soon demand will dramatically outweigh supply and bitcoin's price will skyrocket.
At least one institution agrees with these analysts. The AU$2.7 trillion asset manager, Capital International Group bought 12% of Microstrategy—equivalent to more than 10,000 bitcoins.
The bears fear the unlocking of GBTC shares.
The Grayscale Bitcoin Trust (GBTC) is a publicly traded company that holds more bitcoin than any other financial institution in the world, an incredible 654,885 bitcoin. When buyers purchased shares of the trust earlier this year, they agreed they could not sell any shares for 6 months. That agreement ends in July.
The bears argue that holders will sell their shares as soon as they're unlocked and investors will buy these shares instead of actual bitcoins, therefore decreasing bitcoin demand. The key date to watch is July 18 when 16,240 of those bitcoins are unlocked.
Although this narrative is hotly debated, it remains the bears' chief short-term concern.
Bitcoin remains a "miracle."
While the short-term prospects of bitcoin look uncertain, the long-term prospects are better than ever. On the back of US inflation hitting a 13-year high, Apple Co-Founder Steve Wozniak has reinforced bitcoin's narrative as a 'digital gold' inflation hedge, saying he believes that bitcoin is more precious than gold because it is more scarce.
Wozniak called bitcoin "the most amazing mathematical miracle."
Technician's Take
Bitcoin continues its accumulation phase
Bitcoin (BTC) continues in a fairly tight range between AU$43k to AU$45k, closely hugging the 50-day moving average.
We're not really seeing anything exciting here and BTC has yet to signal a clear direction. The positive takeaway here is it looks like we've built a bit of support and most of the selling pressure has gone.
While there are some that predict a major retrace to the early 20s, the chart tells a very different story. People are holding fairly tightly and we're only seeing quite small quantities changing hands in comparison to recent bull and bear runs. As you can see in the chart below, recent peaks in the trading volume are much smaller than the peaks we saw earlier this year.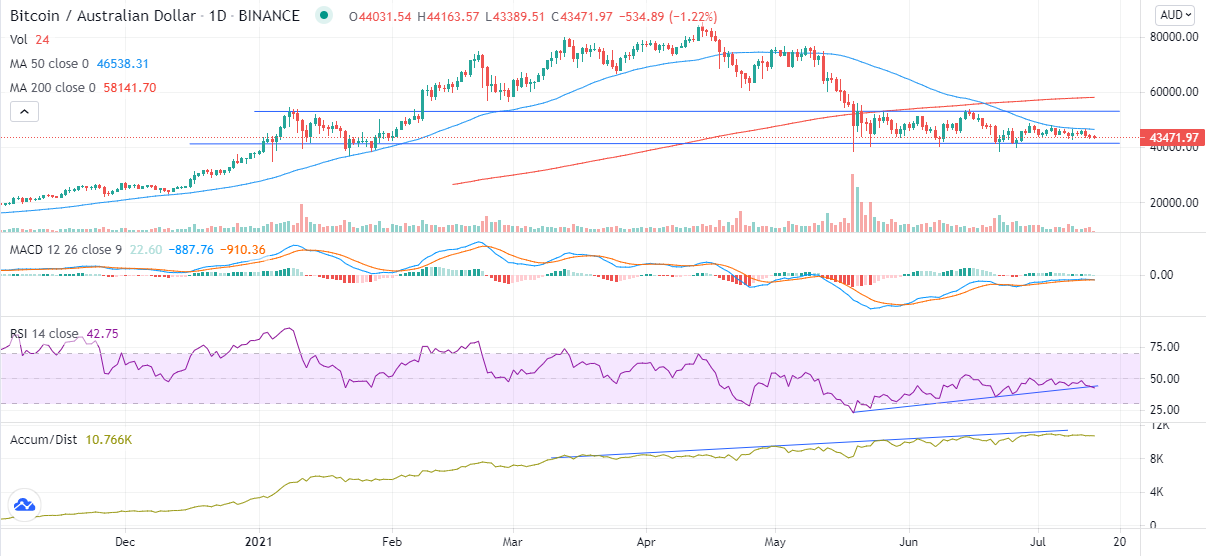 My personal position hasn't really changed from last week, I'll keep watching for any surges in volume. Whether that is on the buy or sell side is yet to be determined but could be a great indicator of future direction for BTC. Given the current action and given we've got a good level of support it would take more sell pressure to break out of the bottom of the range than it would take buy pressure to break out of the top.
Beginner's Recap
Bitcoin (BTC) continues in its tighter trading range
Firmly in accumulation territory, meaning people are soaking up BTC at these prices, showing that the market feels there is value to be had here
Continue watching for buy or sell volume to try to gauge the next moves
It will take considerable sell pressure to break this support level
Any decent influx of buy pressure could easily see the resistance level tested
Disclaimer: Information provided is for educational purposes and does not constitute financial product advice. You should obtain independent advice from an Australian financial services licensee before making any financial decisions.