Market update
Cointree Crypto Market Update - June 30th 2021

Market report for traders
Market Recap
What's happening with bitcoin?
After showing strong support at the key AU$39K level, bitcoin has rebounded 11% in the past 7 days. The bounce comes as support for bitcoin adoption in Latin America continued, although this time the Mexican government warned against bitcoin rather than advocating for it like in El Salvador.
Recently, the Mexican billionaire with 10% of his wealth invested in bitcoin, Ricardo Salinas Pliego, declared his intent over the weekend to make Banco Azteca the first bank in the country to do business in bitcoin. His support comes as Mexico's central bank fights to keep inflation in check, which just climbed over 6%. As you already know, bitcoin's fixed supply has made it a popular hedge against inflation.
In response, the central bank of Mexico issued a statement saying that cryptocurrencies like bitcoin are not legal tender and are prohibited from being used in the country's financial system. "The country's financial institutions are not authorized to carry out and offer to the public operations with virtual assets, such as bitcoin, Ether, or XRP."
Meanwhile, the technologists continue to build. The venture capital firm Andreessen Horowitz launched a US$2.2-billion fund that will invest in cryptocurrency projects. "This fund allows us to find the next generation of visionary crypto founders, and invest in the most exciting areas of crypto." This follows their previous billion dollar crypto investment made in August of last year.
From a broader perspective, we can see that bitcoin has now been range-bound between ~AU$43K and $51K for the past 5 weeks. We'll be watching closely whether this consolidation phase continues or we see a breakout in the near future.
Technician's Take
Strong sell pressure sees volume stepping up.
As hoped last week when we left off bitcoin (BTC) made its way back into its previous range, between AU$43k and AU$51. Those who entered last week would have seen a solid 11% return for the week. While this is nowhere near the returns one could have expected a few months ago, it's definitely not something to be sneezed at. While volatility in the market can bring some very large gains, they can equally come with large losses.
News of the UK clamping down on the world's largest exchange and the fact that China has followed through on threats to miners over the last week should not be ignored here, not as much for the news but for the fact that the market did not react adversely. Could this be a sign of a more rational market?
On the technical front, we're still in the range and frankly, I still see us remaining in this range for the time being. I'll continue to watch volume and any major test of the top and bottom of the range. RSI is still sitting in neutral territory, however MACD has made a bullish cross.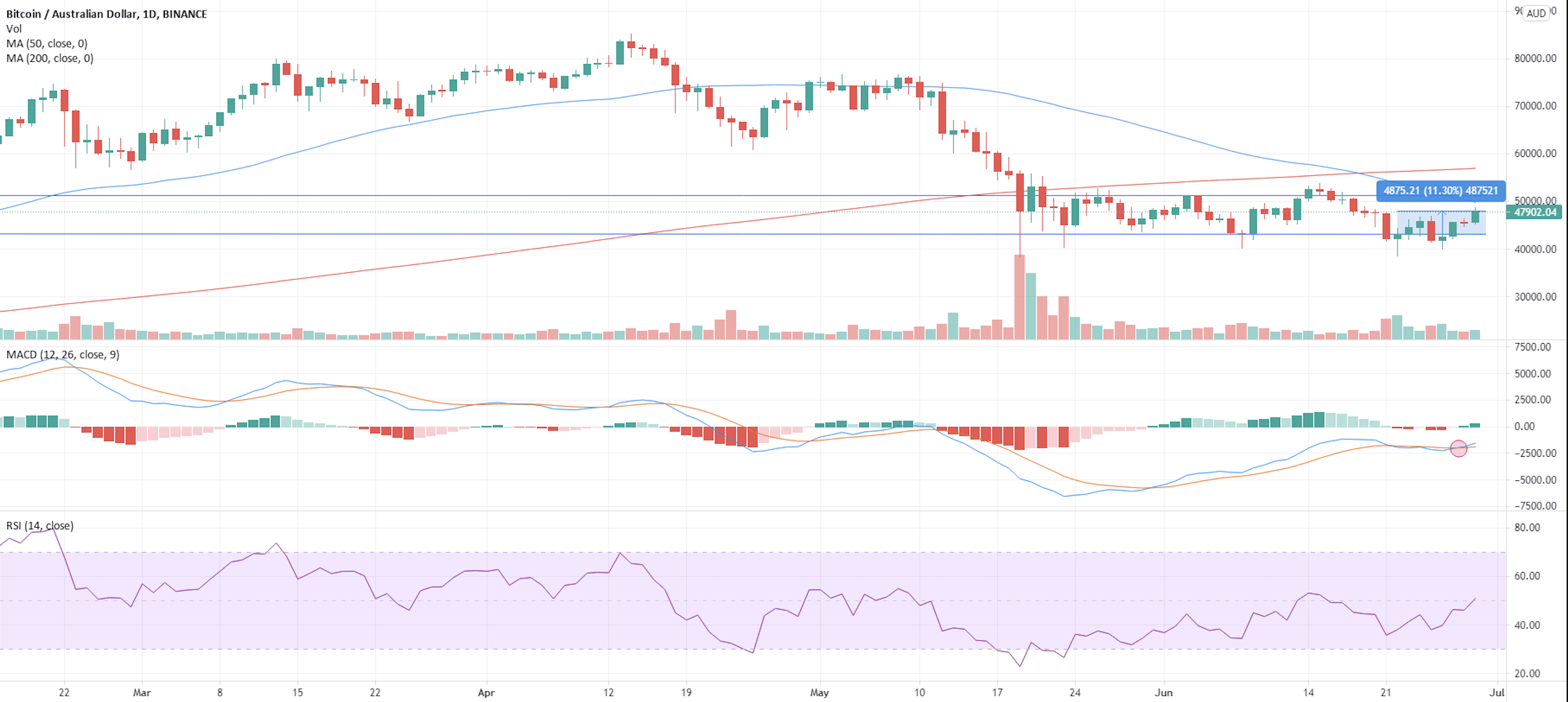 Beginner's Recap
Bitcoin (BTC) back into its previous trading range and rejected any tests of the bottom of the range.
Moving Average Convergence Divergence (MACD) made a bullish crossover.
Watching volume and test of the top and bottom of the range.
Most definitely some good trading opportunities to be had for the patient when picking the right entry at the bottom of the range.
Disclaimer: Information provided is for educational purposes and does not constitute financial product advice. You should obtain independent advice from an Australian financial services licensee before making any financial decisions.