Market update
Cointree Crypto Market Update - June 16th 2021

Market report for traders
Market Recap
A positive week for bitcoin as nations pursue adoption.
Since El Salvador has made bitcoin legal tender, it has received a negative response from both the IMF and the Bank of International Settlements who questioned it as a means of payment. However, the law drew a favourable reaction from the Central American Bank for Economic Integration who announced they will help El Salvador adopt bitcoin.
The president of another small nation, Tanzania, has urged the country's central bank to "be ready for the [cryptocurrency] changes." Perhaps more notably, India looks to possibly classify bitcoin as an asset class.
Are the banks bullish as well?
Major banks continue to support cryptocurrency adoption, with Goldman Sachs planning to offer both Ether options and futures contracts while JPMorgan analysts calling for a $146,000 bitcoin price target. This news comes in the wake of further institutional adoption. Six large insurers recently invested in cryptocurrencies and hedge fund icon Paul Tudor Jones is saying he wants to allocate "5% [of his portfolio] in bitcoin."
Tesla and Twitter to accept bitcoin.
In other news, Tesla is going to start accepting payment with bitcoin again once mining uses 50% renewable energy, while Twitter is considering integrating bitcoin micropayments into the platform. Although more fundamental to the bitcoin network, the Taproot update to Bitcoin's protocol is set to go ahead, improving privacy, security, and scalability.
Technician's Take
Bitcoin bounces nicely and looking for next leg up.
With a textbook morning star break up, bitcoin (BTC) saw a nice move to the top of the range outlined in our last update. Those technically minded people out there who spotted the morning star forming were in for a tidy 22% profit for the week. The only worry here is a steady drop off in volume. If bitcoin can hold that AUD $52k line and some positive news flows in, a move to the next support and resistance line of AUD $60-65k is possible. On the flipside, any weakness could see a return to test AUD $39k. However with the MACD and RSI still looking bullish, here is hoping it is more in favor of a positive move, however the low volume is a concern.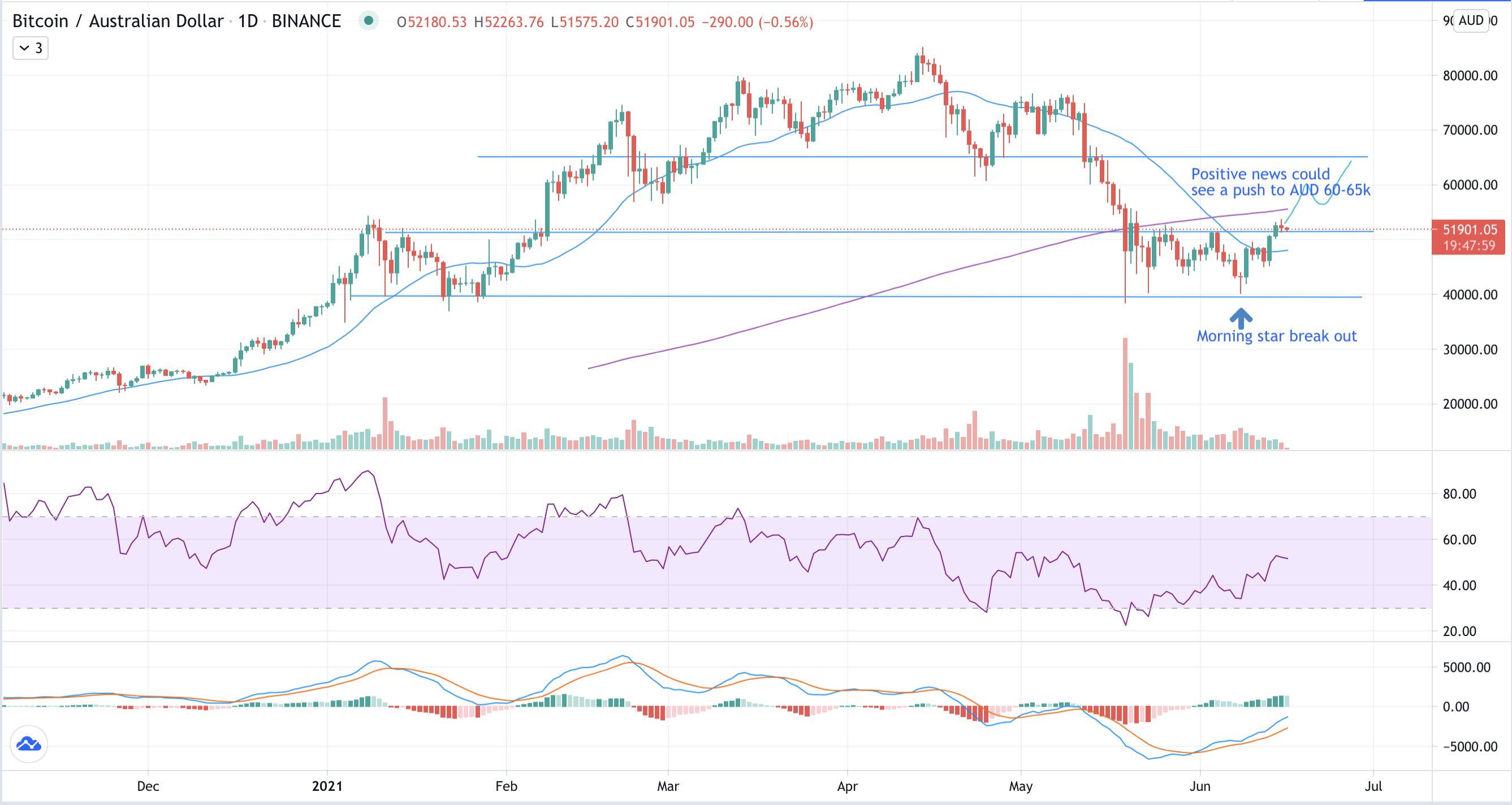 Beginner's Recap
Nice Morning Star breakout to have BTC sitting at the top of it's recent range.
Good news or some buy pressure should see BTC testing the AUD $60-65K level.
Negative news or more sell pressure will most likely see it return to trading in the existing range we've been seeing BTC trade in.
Moving Average Convergence/Divergence (MACD) and Relative Strength Index (RSI) are still leaning on the bullish side, however a lack of solid volume is a concern.