Market update
Cointree Crypto Market Update - June 9th 2021

Market report for traders
Market Recap
As the superpowers denounce crypto, Latin American nations embrace it
El Salvador's President Nayib Bukele is sending a bill to Congress to make bitcoin legal tender in the Central American nation, while congressmen from Mexico, Argentina, Brazil, Paraguay, and Panama encourage adoption.
Across the Pacific Ocean, China has stepped up its crackdown on bitcoin trading and mining, censoring many crypto-related accounts on the Twitter-like Weibo platform while the Chinese media intensified criticisms. Finally, Former U.S. President Donald Trump can agree with China on something, telling Fox Business that he doesn't like bitcoin because it competes with the dollar.
What's the macro strategy?
The dollar has been a hot topic, as U.S. Treasury Secretary Janet Yellen commented that President Biden's $4 trillion spending proposal may "lead to a rise in interest rates." While many see the higher hike as diminishing the appeal of inflation hedges like gold and bitcoin, others see the growing debt balloon as bullish for gold and bitcoin.
Will bitcoin outpace gold? While Citigroup has said gold is "losing luster", Goldman Sachs has argued that the two assets can coexist and SkyBridge Capital said, "Both are likely to rally." MicroStrategy CEO, Michael Saylor, is playing to bitcoin's macro strength with a new subsidiary cleverly named 'MacroStrategy LLC', which is offering a $500 million bond so they can buy more bitcoin.
Meanwhile, mainstream adoption continues unabated.
The payments company Square is investing $5m to build a solar-powered bitcoin mining facility, and are considering making a hardware wallet that could help drive mainstream adoption. Down under, a recent survey showed that 40% of Australian millennials consider crypto a better investment than property. Bear market? No worries, she'll be right, mate.
Technician's Take
Bitcoin meanders between $45k and $51k; searches for support.
Another week of the battle of the bulls and bears sees bitcoin (BTC) meander in the AU$45k to $51k range with dips down to the $40k range today. The RSI is still sitting close to the oversold range as the 25 day moving average crosses the 200 day moving average, all signs we might be seeing BTC head lower before we see some recovery. While this sounds largely negative it also brings with it some great opportunities. We've seen dips towards AU$40k quickly being absorbed by buyers resulting in a good bounce. Some of these bounces can see great short term profit opportunities as well as a potential for a longer term entry. I'll be looking to see if this range can withstand today's test, another rejection at this level could be a good confirmation of support at this level.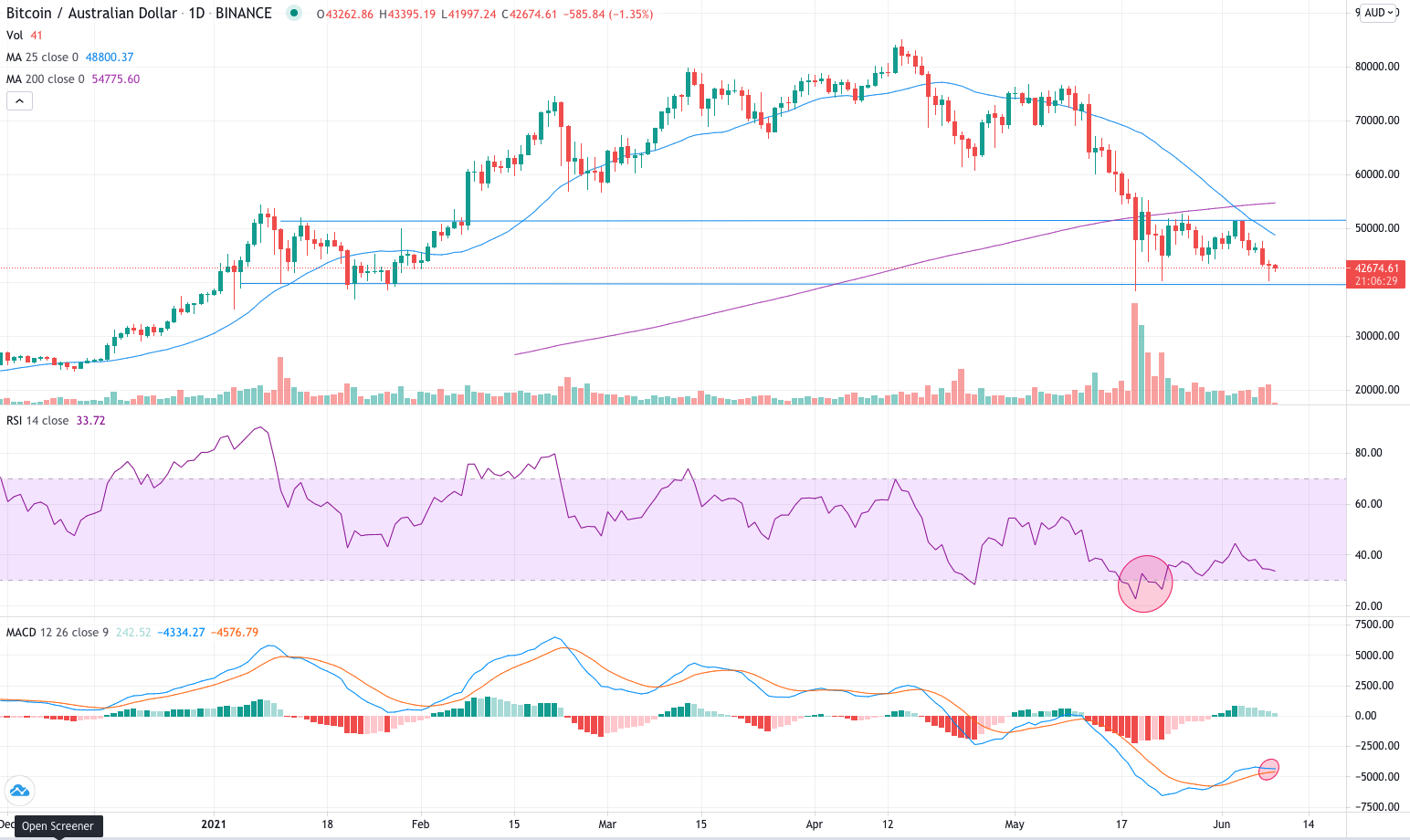 Beginner's Recap
Bitcoin continued to meander in the AU$45k to $51k range with dips down to the $40k range today
The Relative Strength Index (RSI), which helps analysts evaluate overbought or oversold conditions, is still showing bitcoin is close to being oversold
The 25 day moving average crossed the 200 day moving average this week, which indicates the longer term trend seems lower
These dips in the past have seen buyers enter the market, causing the price to bounce back
AU$40k is the range analysts are watching to see if support can be maintained